Somewhere on the northwestern fringes of Nairobi, 16 gay men gathered on the terrace of an old, gray colonial house to begin a wildlife safari. The group—mostly white, mostly affluent, mostly American—sat in a semicircle around Rob Sharp, founder of Out Adventures, a gay tour operator based out of Toronto.
After Sharp ran us through the itinerary and introduced us to our local guides, Ken and Mustafa from African Horizons, he closed with a sobering reminder: Just weeks earlier, Kenya's High Court upheld colonial-era laws that criminalized gay sex.
Kenya is one of 71 countries that still criminalize homosexuality, with same-sex relations in the East African nation punishable by up to 14 years in prison.
Laws are not always representative of public sentiments, as locals may be tolerant and welcoming. And vice-versa'same-sex relations have been legal in Turkey since 1858, and yet homophobia is widespread.
My initial reason for joining the trip was to understand how LGBT people can safely travel to a place where it's illegal for them to exist. In a recent survey by Community Marketing & Insights, 64 percent of LGBT travelers reported safety as their main concern while traveling abroad. I wanted to understand how these laws were playing out in the real world—to see if anti-gay laws were actually being enforced in Kenya or if they were just the antiquated relics of British colonizers. Would 16 gay Americans——five couples and six singles, ranging in age from 30 to 70—be in any real danger. Or were these laws applied mostly to queer Kenyans?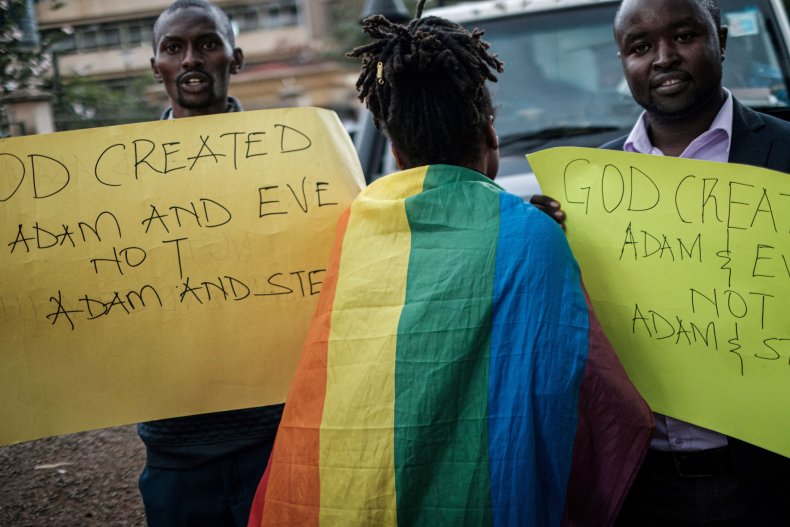 In the pre-dawn hours, our group departed the hilly farmlands of Kiambu for a seven-hour drive to Amboseli National Park, a desert area famous for its elephants. The road to Amboseli traces its way back through Nairobi, winding along roadside markets where children run barefoot through dirt lots. Outside locals blink away mosquitos and peddle soapstone knick-knacks.
By the time we arrived at Amboseli, it was approaching dusk. The air was thick enough to obscure any sign of Mount Kilimanjaro, but the rust-colored elephant lumbering outside our jeep was close enough to touch.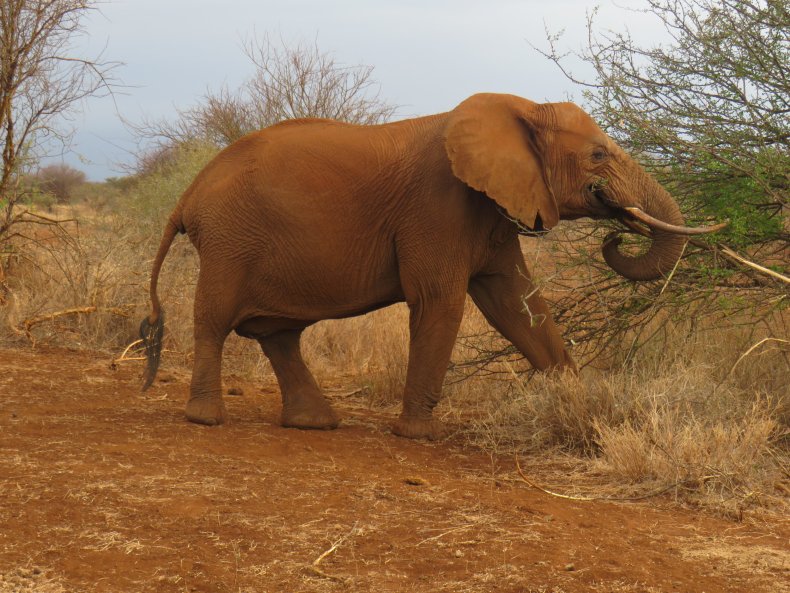 We spent our first night at Satao Elerai, an eco-friendly lodge set inside a 5,000-acre conservancy. Masai warriors in red-checkered blankets greeted us with watermelon juice and escorted us to our tents, which were sturdier and more glamorous than the majority of hotel rooms I'd stayed in. Sure, the electricity was fleeting and the wifi nonexistent, but there was hot water and a large, comfy bed with sweeping views of the savannah.
That first night, I skipped dinner to read about the most recent efforts to decriminalize same-sex relations in the country. The case was spearheaded by gay attorney and activist Eric Gitari. "The police here have prosecuted nearly 600 cases of homosexuality across Kenya in five years," Gitari told Newsweek. "In case there's any doubt whether or not these laws are being enforced."
He adds that tourists and foreigners—particularly white, wealthy Westerners—are often targets for blackmail and extortion. "They should be very fearful of being arrested and getting involved in our criminal justice system, which is unpredictable."
At dawn, the sky over Amboseli turned pale. Our simple breakfast at the camp was accompanied by the chirping of crickets, snorting hippos and the faint growls of hyenas. That second day, our group spent the afternoon peering through the sunroof of our Land Cruisers, our cameras at the ready. Quickly we spotted herds of elephants and zebras.
By late afternoon, I had glimpsed a lioness hiding in tall grass and giraffes drinking timidly from a lake. I filled my memory card with hundreds of photos of grazing zebras beside lonely acacia trees.
This was the Africa of my dreams.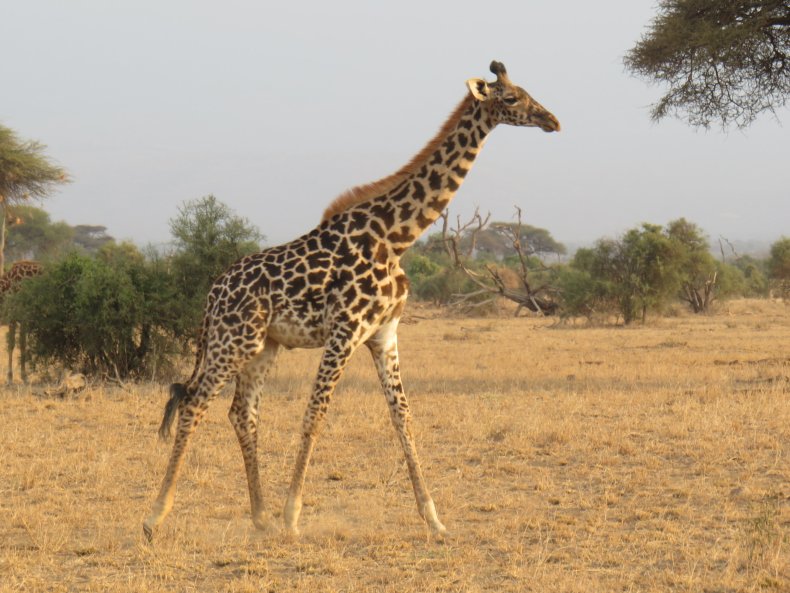 A trip to Africa had long been on my bucket list but always felt out of reach. Even beyond the legal issues, there were financial and logistical considerations, as well as mounting safety concerns.
"I had a nasty experience two years ago in Kenya," Gitari said. "My partner and I were denied access in a hotel. They said two men sharing a room might lead to them engaging in illegal sexual acts, so they wouldn't let us stay. If you can come with a group or tour operator and they have connections and certain protections, that is very helpful."
That was a sentiment I'd hear over and over, from both LGBT travelers and queer locals: "Knowing my clients are LGBT, I have protection for them and work with advocates, just in case things go south," Michael Kujabi, the openly gay managing director of the Uganda-based McBern Tours told Newsweek. The concerns are legitimate: In June, the owner of a Chicago-based tour group with mainly gay clientele canceled a trip to Ethiopia after receiving death threats.
I took Kujabi's precautions to heart, and so my first trip to Africa became my first experience with an LGBT tour operator.
I learned about Out Adventures from a colleague who'd traveled with Sharp to Thailand and Cambodia. Over the last decade, Sharp has led thousands of gay men (and a few women) to LGBT-friendly destinations in Thailand, Europe, and Australia, but his team also offers trips to countries where it's a crime to be gay, including Morocco, Kenya, Tanzania and India (prior to 2018, when it was still a crime to be gay there).
Out Adventures has also led groups to Turkey and Nepal where, though homosexuality has been decriminalized, it can still be unsafe for queer travelers.
"Turkey was the first place we went with legislation that was not in our favor," Sharp told Newsweek. "Experiences like that were eye opening for me. We are kind of ambassadors of the LGBT community. By traveling, we have the ability to change hearts and minds. It may be on a small level, but a revolution starts with one."
He launched Out Adventures in 2008, when he was just 25. Today, his is one of the few LGBT tour operators offering trips to destinations that may be uninviting.
"Part of that conversation is determining how welcoming the operator or hotel is and if they're open to working with a gay group," he said. "I'm not shy. It's my job to make sure the people on my trips are comfortable and safe."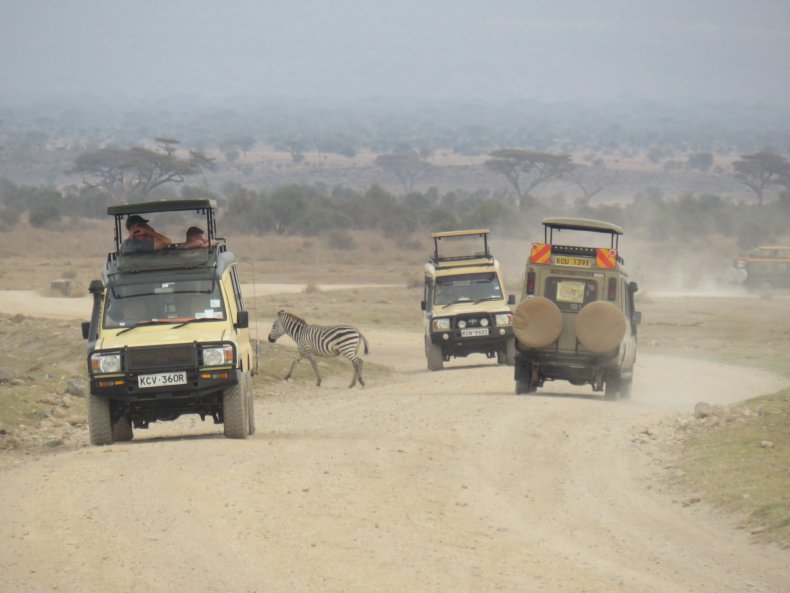 By the fourth day, our group began to develop a certain camaraderie. Turns out, spending seven hours bucking and bouncing around in a Land Cruiser is something of a bonding experience. We had left Amboseli and were about 30 miles from Masai Mara National Reserve when I asked our guide, Ken, if he'd known any gay Masai.
"Maybe one," he said. "Life was very hard for him. He was forced to leave and go out onto his own. The Masai are very conservative."
"And do you see that changing?" I asked.
"Not for a long time," he said.
Most LGBT people here hide themselves until they're financially independent, he tells me, or can move to a more urban place like Nairobi. Or, as many queer locals told me, they lead a double life.
"Life is not easy for LGBT person in Kenya," said Jordan, a trans man living in Nairobi. "For many of us, we are either kicked out of the house or killed."
As a gay American millennial, I didn't spent much time in the closet or worrying about my physical safety. But as the sun dropped over Masai Mara, the older gays in our group began sharing stories of leading double lives themselves: One man from Boulder told me he didn't come out until he was 50. On a later stretch of the drive, another man shared photographs of his adult daughters from his 27-year marriage to a woman.
Sharp is providing these men with something that went beyond a safe vacation: He's giving them a chance to take back some of the years they lost and feel like it wasn't too late to find their tribe.
That night, under a torrent of rain, Rob helped check us into the Ashnil Mara, a luxury tented camp close enough to the Mara River for us to hear grunting hippos. The camp is a kind of oasis, if a bit too touristy: An adult treehouse loaded with amenities but remote enough to feel a bit dangerous.
On the morning of our last day, I woke up to the sounds of a mongoose scurrying around my patio. Because it would be our final game drive, Sharp had asked us to gather early. By 6 a.m., our Land Cruiser was threading its way through sun-dappled thicket—past skittish Thomson's gazelles and herds of migrating wildebeests—toward the stubby acacias that shimmered on the horizon.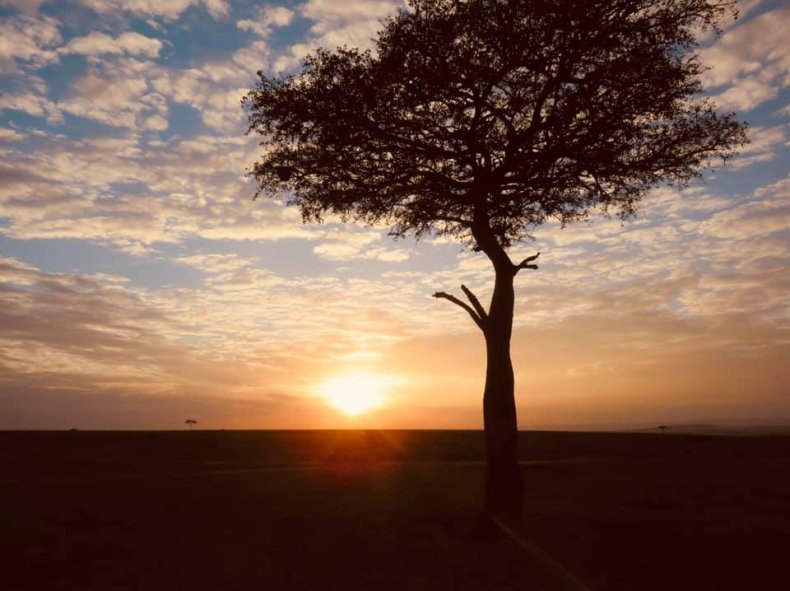 One of our guides, Mustafa, a gregarious man who seemed to never stop smiling, peered through his binoculars. "There," he said, pointing way out where he saw lions in the distance.
If you're lucky in this life, you'll get to experience an African safari. And if you're really lucky, like I was, you'll get to see two lions having sex. I zoomed in close on the lioness with my camera as she roared (or yawned, it was hard to tell) while the male mounted her. The act was violent, brutish and short—lasting all of about 12 seconds before the male dismounted and promptly fell asleep. (The guy next to me shook his head and sighed, "Typical man.")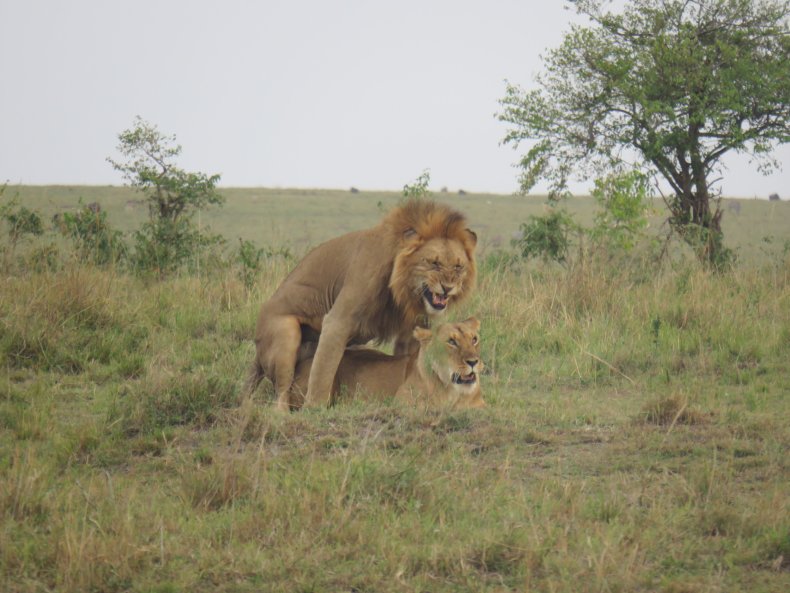 We had used up the daylight and, as the sun sank, the sky turned to amber. We found a tree on a hill where we ate our picnic and shared cocktails. Slowly it began to set in that the trip was coming to an end. Just as we had gotten to know each other, it was time to say goodbye. The group, a new tribe of sorts, began taking photos and Sharp gave a short but touching speech thanking us for coming all this way.
For him, the trip had commemorated his tenth anniversary leading LGBT people around the world.
Just then, one of the guides hopped on his radio and made an urgent announcement of a rare and unusual spotting: a hippo and a crocodile had gotten into a gruesome fight. We hopped frantically in our Land Cruisers and sped off to the edge of the river crossing for one last wildlife hurrah.
By the time we'd arrived at the riverbank, it was pitch black, the only light coming from our headlights. The Land Cruiser skidded to a stop and Mustafa shut off the engine. Outside, a man from our hotel stood with a bottle of champagne and a white cloth napkin draped elegantly over his forearm. It was all a ruse: There was no fight. Instead, Sharp and his team had set-up a surprise fireside dinner in the brush. It was one final gesture—a thank you and a farewell.
We had our final meal together outside in the heart of Masai Mara. The bonfire crackled as we soaked in the final ours of our time in Africa.
Beside me, one of the older men recounted his many trips with Rob and Out Adventures: Together they'd been to Sri Lanka, Peru, Ecuador, Norway and Vietnam.
"It's a courageous thing," he said. "People don't always know how dangerous it is for us out here. But the more they meet us, the more we can change the way they think. It's important we keep traveling. It's important the whole world sees who we really are."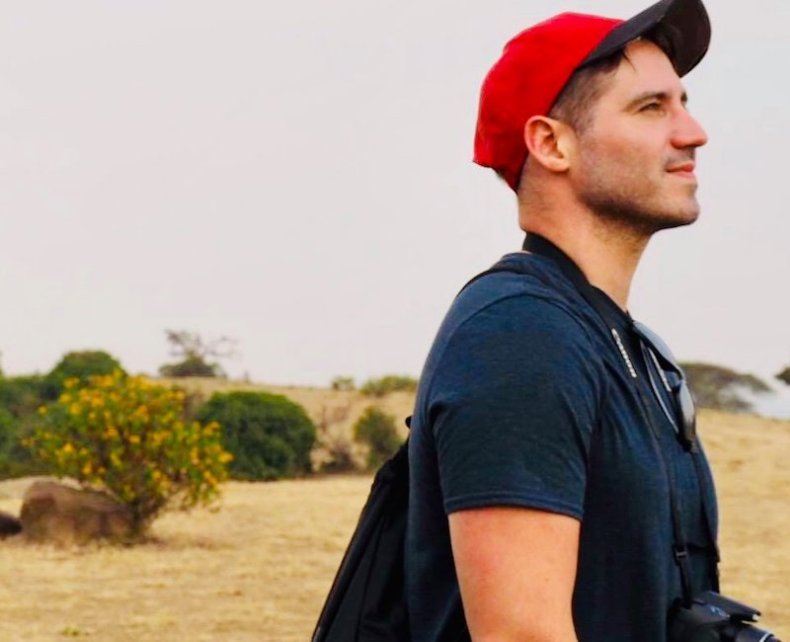 Kenny Porpora is the New York Times best-selling author of The Autumn Balloon and the co-founder of HospitableMe, an agency specializing in LGBT travel strategy, education and marketing.