Unconscious Man Who Was Shot in Head Dragged Cop With Car, Crashed: Police
Police are on the hunt for a suspect who allegedly shot an individual in the head before fleeing a North Carolina neighborhood, eventually leading to life-threatening injuries as well as a scare for an on-scene officer.
Alem Battle, 20, is sought by the Rocky Mount Police Department in the shooting of 32-year-old Jonathan Nixon.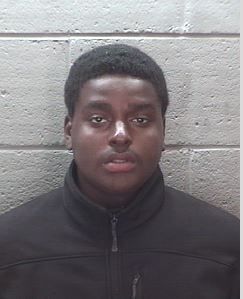 Authorities have prepared warrants for Alem Battle, 20, in the shooting of 32-year-old Jonathan Nixon Sunday morning in North Carolina.
Rocky Mount Police Department
The Rocky Mount Police Department told Newsweek that about 9:30 a.m. February 13, officers responded to an unknown 911 call in the Lincoln Drive area. While on their way to that call, dispatch received another 911 call reporting a shooting involving an injury in the 600 block of Lincoln Drive.
Officers and fire personnel arrived at the block and reportedly observed a stationary vehicle at the local intersection of Berkshire and Sutton roads.
Police said an unconscious male, later identified as Nixon, was sitting in the driver's seat with what appeared to be a head injury. Mark Bieber, an officer with the department, then exited his patrol vehicle to assist Nixon.
According to police, Nixon "incoherently accelerated" the vehicle, trapping Bieber's arm inside while he attempted to render aid. The officer was dragged for approximately 15 feet before crashing into a fire truck.
Nixon was transported to Vidant Medical Center and listed in critical condition. Bieber, who was initially transported to UNC Nash Health Care with injuries deemed non-life- threatening, was treated and released today.
First responders at the scene when the car drove into the fire truck were unharmed.
Police said a preliminary investigation following the shooting incident "determined this to be a domestic-related incident," with all parties involved knowing each other. The suspect, who police say is Battle, fled the scene before authorities arrived on Sunday.
CBS 17 News reported that local Councilman Richard Joyner, who was on his way to church to preach, saw Nixon's vehicle and approached the victim minutes after the shooting occurred.
"When I came up, (Nixon) was sitting in there," Joyner told CBS 17. "Person in it (the car) looked like he was not doing good."
He also observed the vehicle accidentally accelerate and hit the fire truck.
The Rocky Mount Police Department Criminal Investigation Division developed two arrest warrants for Battle, one charging attempted murder and the other charging assault with a deadly weapon inflicting serious injury, with intent to kill.
Anyone with information regarding Battle's whereabouts or who witnessed the shooting is requested to contact the police department at (252) 972-1411, Twin County Crime Stoppers at (252) 977-1111, or text "RMPOL" and a message to 274637.