Despite Rising College Costs, Undergraduates Have Taken Out Smaller Federal Loans For Years
Full-time undergraduate students have for years been taking smaller average loans to pay for their education, even as the nation's student loan debt continues mounting.
The average amount the federal government loaned to full-time equivalent undergraduate students dropped for the seventh consecutive year in the 2017-2018 academic year, according to the College Board's "Trends in Student Aid 2018" report.
In the 2010-2011 academic year, these undergraduates took an average loan amount of $5,830 in 2017 dollars. By 2017-2018, that figure had dropped to $4,510.
The cost of attending college has taken a prominent role in national discussion, with senators Bernie Sanders and Elizabeth Warren unveiling proposals to eliminate student loan debt and offer free public college as part of their presidential platforms. (Warren has proposed eliminating most of the country's student debt, while Sanders wants to clear all outstanding debt.)
Despite the country's massive $1.6 trillion student loan debt and skyrocketing costs of attending college, higher education borrowing has decreased for seven consecutive years and annual loans dropped by $22.2 billion in 2017-2018.
That's because of economic improvements since the Great Recession.
"When the economy is bad, more people go to college, because the alternatives are bad," Sandy Baum, a nonresident fellow in the Center on Education Data and Policy at the Urban Institute, told Newsweek.
Undergraduate students have strict limits on the amount of money they can borrow from the Federal government. Aggregate student loan borrowing for undergraduates is capped at $31,000 for dependents and $57,500 for independent undergraduates. Undergraduates can still take out private loans, but non-federal loans account for a relatively small portion of undergraduate student funding. Such loans only accounted for 11 percent of all loans given in the 2017-2018 academic year, and the College Board report said that the amount of undergraduates taking private loans was just 6 percent in the 2015-2016 academic year.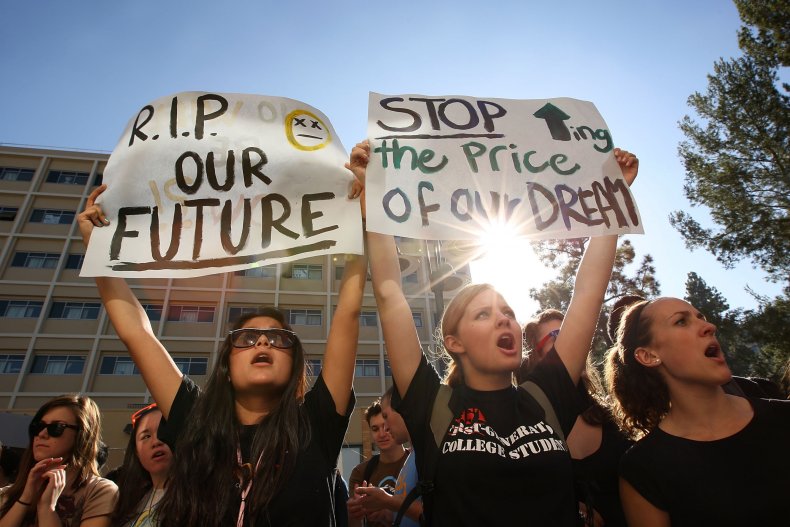 While undergraduates have been receiving smaller loans, parents who take federal loans to pay for the education of their children have been borrowing increased amounts of money. Parents can take out Parent PLUS loans for the cost of attendance and have been borrowing increasing amounts of money from the government in recent years.
An April report by Baum and two other experts on education financing noted that Parent PLUS loans are comprising an increasing amount of federal lending. These loans accounted for 14 percent of federal lending in the 2012-2013 academic year but made up 23 percent of federal loans in the 2017-2018 year.
"A small share of parents borrow, but when they borrow, they borrow a lot of money," Baum told Newsweek.
Graduate student loans are also regulated by looser rules than undergraduate loans. Full-time equivalent graduate students received an average loan of $17,990 in loans in 2017-2018, a third annual increase from average loans of $17,340 in 2014-2015, according to the College Board. The average loan amount taken last academic year was, however, less than that in 2010-2011.