The Undertaker Made a Surprise Appearance on the RAW After WrestleMania
The Undertaker was the latest WWE Superstar to interrupt Elias in a surprise appearance on the Monday Night RAW after WrestleMania 35.
Elias, who threatened anyone in the WWE who would dare interrupt him would regret his words when The Dead Man appeared in front of the RAW after 'Mania crowd in the Barclays Center.
Take a look at the Undertaker and Elias interaction below.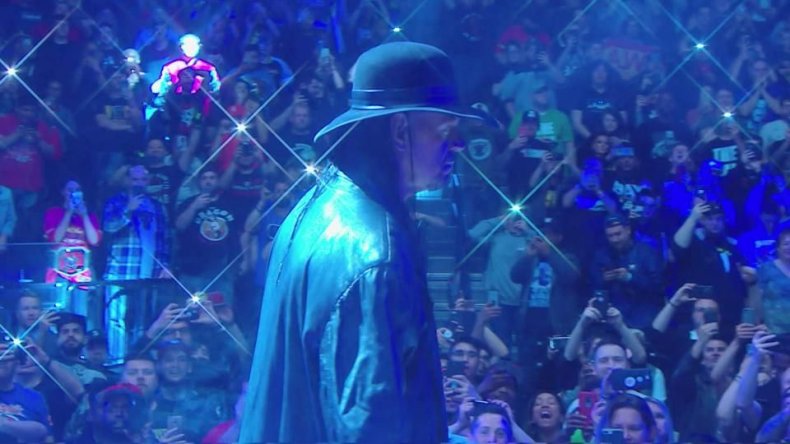 This segment was set up earlier in the night when Elias told the WWE Universe that he , was furious with John Cena for interrupting his WrestleMania performance on Sunday. He was told by the McMahons that he would have all the time tonight to give his performance and that there would be "Hell to pay" for anyone who interrupted. It didn't matter if they were current superstars, former or NXT superstars.
During his performance, Elias mocked Cena by dropping some rhymes of his own. Here's what Elias would say:
I'm sick of John Cena, WWE I'm your biggest star
But if you want the doctor of thuganomics, then guess what Elias is going to rap a few bars.
John brought out the golden shovel although I can't be buried
That's what you do
I'm sitting here holding up three fingers, John the middle one is for you.
Every Superstar want to make their name on Elias, I get it you're a fan
But mark my words, the next one to interrupt me is a dead man.
After the last line, the iconic "gong" resonated through the arena as The Undertaker made his first WWE appearance since the Crown Jewel pay-per-view in November when he teamed with Kane to take on Triple H and Shawn Michaels.
Elias would have a stare down with the Undertaker before trying to sucker punch him, but The Phenom would deliver a big boot and then a Tombstone to a huge pop from the WWE fans.
What did you think of The Undertaker's surprise appearance on Monday Night RAW? Do you want to see The Undertaker have another match? Let us know in the comments section below.