WWE Monday Night RAW Live Results: What Happened on the RAW After WrestleMania
It's the RAW after WrestleMania and the WWE is expected to pull out all the stops as it entertains what is usually the hottest crowd of the year.
Following an eventful, and crowd-pleasing, WrestleMania, Monday Night RAW should be a good one. New storylines and feuds will be born tonight, while unexpected returns can happen at any moment.
But what can WWE fans expect? Becky Lynch will be in the building after winning both of the Women's Championships last night. She'll have something to say to the WWE Universe, but the controversial way the match ended means we're likely to hear from Charlotte and Ronda Rousey, too.
Expect the seeds for Becky's first title defense to be planted tonight. It might even happen.
Perhaps the biggest surprise of the night was Seth Rollins finally "slaying the beast" in the show's opening match when he took the WWE Universal title from Brock Lesnar. Now that the Universal Champion will once again be a fixture on weekly WWE television, what is next for The Architect?
In one of many feel-good moments, Zack Ryder and Curt Hawkins captured the RAW Tag Team Championships on the WrestleMania Kickoff Show. With their improbable victory over The Revival, what's next for the former "Edge Heads"?
A lot is expected to go down tonight so here's everything that happened on the April 8 episode of Monday Night RAW.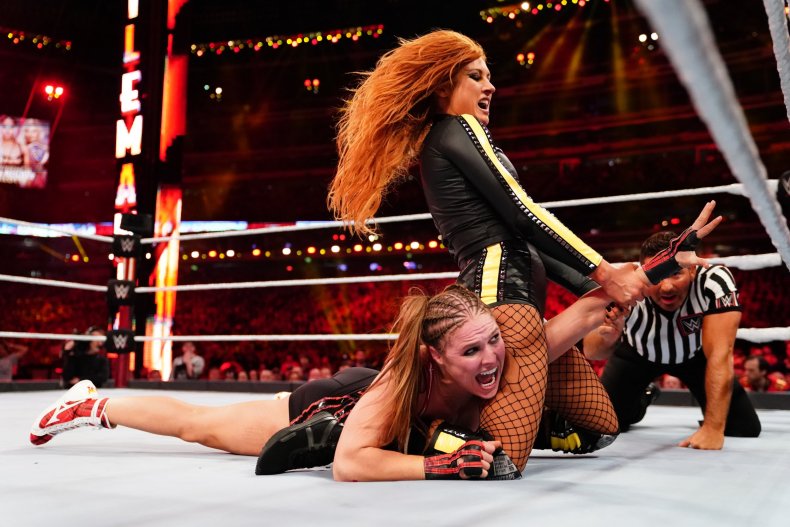 MONDAY NIGHT RAW LIVE RESULTS
Opening Segment
Seth Rollins starts the night off with the crowd chanting "you deserve it" but Seth says we deserve it. He says he's waited a long time to become Universal Champion but he has to admit that he feels terrible after his match with Lesnar. He feels terrible but he got back up after taking everything Brock Lesnar dished out. Seth says he had to take questionable tactics to win, but he didn't do anything that Lesnar wouldn't have done to him.
Seth says that he heard that Brock and Paul Heyman were going to Las Vegas to have negotiations and that they can stay there. He will be a fighting chamption that everyone can be proud of.
Seth is interrupted by The New Day. Big E says that they couldn't wait for SmackDown Live to celebrate Kofi's win at WrestleMania. Kofi says that watching the women's main event gave him an idea, to have a winner take all match against Seth Rollins tonight. It won't be New Day vs Shield, it'll be Kofi vs Seth.
Seth accepts.
Zack Ryder and Curt Hawkins (c) vs The Revival - RAW Tag Team Championship Match
Hawkins pins Dawson after a roll up
Finish was set up by The Revival hitting Ryder with the Shatter Machine but not realizing Hawkins tagged himself in.
Baron Corbin Promo
Corbin says he showed the WWE Universe that Kurt Angle doesn't deserve to be in the same ring as him. Corbin says that after defeating a gold medalist, he deserves one of his own.
Corbin is interrupted by Kurt Angle. Angle says that at 'Mania, Corbin was the better man and that his career is officially over. But Corbin's career is just getting started and he wishes him luck. The two men shake hands before Angle pulls Corbin close and says "bad luck" before hitting the Olympic Slam and Ankle Lock.
All of a sudden, Lars Sullivan's music hits and Lars gets into the ring and hits Angle with the Freak Accident and a Flying Headbutt.
Alexa Bliss vs Bayley
Bliss wins via pinfall after a DDT
Becky Lynch Promo
She says that Ronda Rousey and Charlotte Flair kept talking about their accomplishments but it didn't matter at WrestleMania because the woman who came in with nothing left with everything.
She says she became a master of surviving and will always find a way to win in the end. Becky says that when Ronda is done sulking she can challenge Lynch again. She says that Charlotte will probably get handed the Women's Tag Team Championships just to help her get over losing again.
Becky says she knows she's a marked woman and that the roster on both shows want what she has and she will be ready for anyone.
As Becky is leaving, Lacey Evans comes out and hits Becky with the Woman's Right and walks away. Becky runs after Lacey and the two women brawl on the ramp. Becky is about to hit the Dis-Arm-Her but Lacey slips away before Lynch gets pulled away by the referees.
Seth Rollins Interview
Seth says that he respects The New Day's challenge but if they think they can come to his show and take his title away they have another thing coming. Seth says he knows what Kofi is capable of after his WrestleMania performance, but he will beat him.
Ricochet and Aleister Black vs Chad Gable and Bobby Roode
Gable and Roode are noticeably more aggressive
Ricochet pins Gable
After the match, Roode hits Ricochet from behind.
Elias Promo
Elias is frustrated after John Cena interrupted him on Sunday. Elias says that the McMahons are giving him all the time to perform his rock opera and if anyone, no matter who they are, interrupts him there will be "hell to pay."
Creepy Vignette
A vignette of a buzzard puppet coming out of a smoking cardboard box is shown. Bray Wyatt?
Dean Ambrose vs Bobby Lashley (with Lio Rush)
Advertised as Dean's last match in WWE
Before the match, Bobby says that when Dean's gone he'll make sure to take care of his wife for him. This incites Ambrose and the two fight up the ramp, all of this happening without a bell ringing. Lashley eventually slams Ambrose through the announce table.
Renee Young and refs come to Ambrose's aid.
Mojo Rawley Vignette
Mojo asks his reflection where he was during WrestleMania. We see blue lines drawn on one half of Mojo's face and he says, "there he is."
Sami Zayn vs Finn Balor - Intercontinental Championship Match
Before the match, Sami addresses the WWE Universe and says his schedule is wide open and would like a match and calls someone from the back to come out.
Finn Balor answers Sami's call and it's announced the match will be for the IC Title.
Balor wins via pinfall after a Coup' de Grace
After the match, Sami says that this match reinforced what he knew for months that the WWE Universe missed him. He goes on to say that he can honestly say that he didn't miss this or the fans. He says that the WWE Universe is what makes the company toxic. Sami says he will come out every week to hold the fans accountable for their actions.
Backstage Interview
Dana Brooke says that there's a line of women looking to fight Becky Lynch and that she may not be in the front of the line but she's not in the back anymore.
Elias Segment
Elias says that John Cena is riding his coatails of popularity and that the WWE Universe saw it at WrestleMania. Elias drops some rhymes to show how easy it is to rap.
The Undertaker interrupts Elias and walks into the ring. Elias slowly tries to get out of the ring but decides to stay. Elias takes off his kimono and stares the Dead Man down. Elias turns around and looks like he changed his mind but tries to sucker punch Undertaker. Undertaker hits Elias with a Big Boot and then a Tombstone.
Kofi Kingston (c) vs Seth Rollins (c) - Winner Take All Champion vs Champion Match
During the match, Sheamus and Cesaro attacked Kofi Kingston causing a DQ.
The Bar beat down Kofi and Seth, but Rollins calls them out to have a tag team match.
Kofi Kingston and Seth Rollins vs The Bar
Seth pins Cesaro after a Stomp