Who Qualifies for the $400 Unemployment Benefit? Millions May Not Be Eligible
President Donald Trump's executive action to provide an additional $400 per week in unemployment benefits could exclude millions of Americans, with women and people of color particularly hit.
The memorandum—which was signed on Saturday—says that a lost wages assistance program will provide $400 per week to eligible claimants from the week ending August 1. However, it also states that to be an eligible claimant you must receive at least $100 per week of unemployment compensation in the form of Pandemic Emergency Unemployment Compensation, Pandemic Unemployment Assistance (PUA) or others.
However, in a statement signed by 22 organizations on Monday, concerns were raised restrictions to those receiving less than the threshold could further hurt families and the economy.
"States can only distribute the $300 weekly federal benefit if they partially match it with $100 per week," explained the National Employment Law Project (NELP) in a joint statement. "It appears that the Administration will allow state UI [universal income] payments already being made to count as the $100 per week, which means that if this benefit is paid, it will only be $300 in supplemental funding, not $400.
"Egregiously, the Memorandum excludes workers whose state benefit is below $100, a senseless policy that will disproportionately hurt people of color and underpaid workers."
The Economic Policy Institute estimates that extending the $600 UI benefits, which expired in July, through to the middle of 2021 would provide an average quarterly GDP boost of 3.7 percent, as well as sustain the employment of 5.1 million workers.
But according to NELP, this action by President Trump will result in roughly 30 million workers losing their $600 compensation, instead receiving an average of $370 a week.
"It is worse for Black workers, who disproportionately live in states with the lowest benefit levels," says NELP. "Without the $600 federal payments, the most an unemployed worker in Florida or Alabama can receive is $275 a week.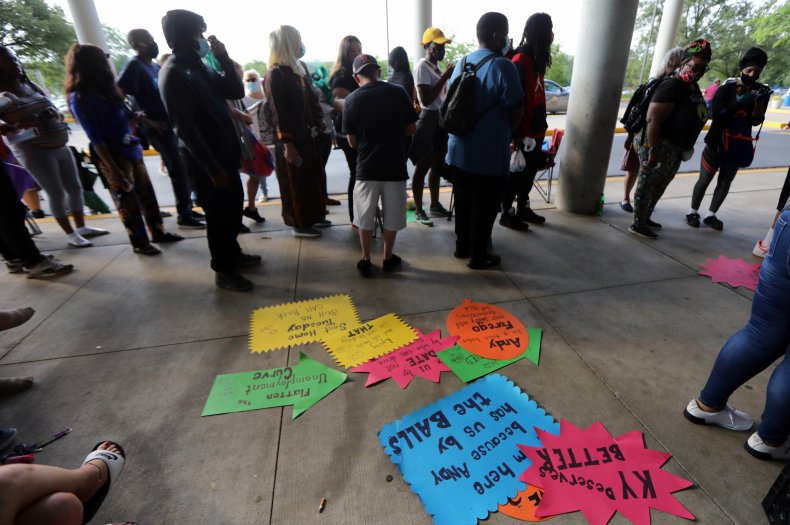 "The maximum benefit works out to $6.88 an hour for a full-time worker—not nearly enough to cover basic living costs like rent, utilities, and food," its statement continues. "Many workers receive far less. The unconscionable decision to allow the $600 payments to lapse particularly hurts women and people of color—and especially underpaid Black and Latinx workers who have never been paid enough to accumulate savings."
Speaking to Newsweek, Gary Burtless, an economist and senior fellow at the Brookings Institution, says that confusion around the president's plan isn't helping.
"There is some confusion about the states' $100-per-week supplement," he says. "Some appear to interpret the president's plan as eliminating any federal top-up payment to workers whose weekly UI or PUA benefits are below $100 per week—under this interpretation, workers who qualify for very low regular UI or PUA benefits would be excluded from receiving the new federal top-up benefit.
He explained that at least two governors—Mike DeWine (R-OH) and Andrew Cuomo (D-NY)—have seemingly interpreted the president's plan in another way, which requires states to appropriate $100-per-week-per-beneficiary from state funds if the state's residents are to qualify for the $400-per-week top-up.
"Under this interpretation, UI and PUA recipients in a state will receive an additional $300 per week in federal benefits and $100 per week in state-funded benefits, but will only qualify for the $400-per-week top-up if the state appropriates extra funds."
The president expressed another view on the executive action, adding further fog to the landscape. According to CBS, President Trump told reporters on Sunday evening that states could make an application to have the federal government provide all or part of the $400 payments and that decisions would be made state-by-state.