Unemployment Boost Could Be Extended As GOP Flips Script in Stimulus Talks
Congressional Republicans and the White House are considering a short-term extension of the federal boost to state unemployment insurance that would prevent millions of Americans from having their benefits likely cut by more than half starting next week, several GOP lawmakers confirmed Wednesday.
"There's discussion of that. That's one of the topics," Senator John Barrasso (R-Wyo.), a leadership member, told reporters. "The question is length and price."
What remains to be determined is for how long the extension would last and at what amount. The current federal plus-up to jobless benefits is $600 per week, an amount that most Republicans say is far too high and creates a disincentive to go back to work. The average state benefits are only $370 per week.
The federal supplement expires this weekend amid negotiations between the Trump administration and Congress over the terms of another stimulus package, which Republicans don't expect to pass by the end of July. The potential short-term deal was first reported by Bloomberg.
"We cannot allow there to be a cliff in unemployment insurance, given that we're still at about 11 percent unemployment and about 17 million Americans out of work, some through no fault of their own," said Senator Rob Portman (R-Ohio).
Senator Lindsey Graham (R-S.C.), a confidant to President Donald Trump, said the temporary rate should be reduced to 70 percent, or roughly $420 per week. Trump adviser Stephen Moore suggested it should be 70 percent of a worker's former salary, an idea Graham said would likely be too complicated compared to a flat rate.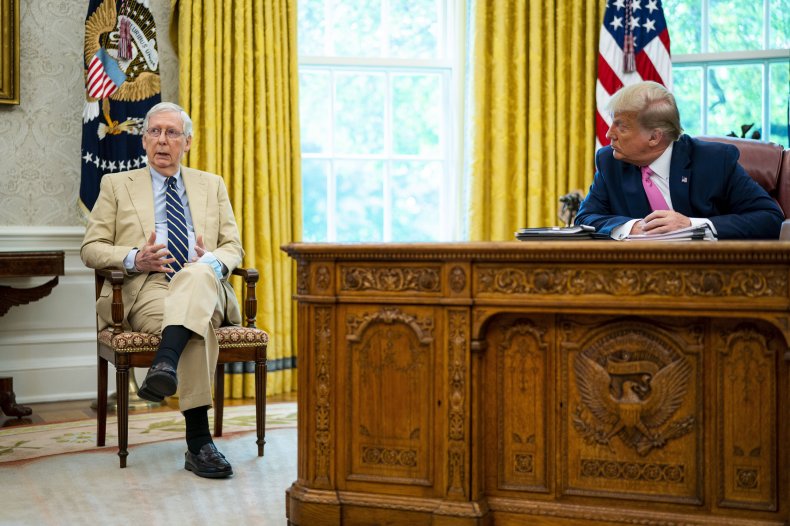 The terms of a broader stimulus package, one that is expected to include another round of individual checks and aid for schools, have already succumbed to fierce partisan debate, including an intra-party struggle among Republican senators. Once the plan is finalized, Republicans will turn to their Democratic colleagues and try to hammer out a final agreement that all sides can accept, including Trump.
Democrats want the unemployment boost to be extended at its full $600 weekly rate through January 2021.
The entire process is expected to last for the next several weeks, long past when the enhanced unemployment benefits will lapse. There is still debate among Republicans and the White House about how—and if—the federal boost to jobless benefits should be extended long-term.
Several GOP senators indicated they could support a temporary extension, based on the time length and dollar figure. The support represents a change in tune for members of the Grand Old Party, most of whom were, until recently, opposed to continuing the enhanced benefits. They suggested the rate may need to be reduced, even for the short-term extension.
"That makes sense to me," Graham said. "I want to help people, but you can't pay people more not to work than they were making when they were working."
"Its certainly on the table," Senator Mike Braun (R-Ind.) said. "For people dislocated from their work, unemployment will be the simplest way to get it. And for how enhanced that benefit will be, that will be the discussion."
Senator Marco Rubio (R-Fla.) said he had yet to hear of the potential side deal, but indicated he could back something like a two-week extension while Congress continues their stimulus talks.
Senator Mitt Romney (R-Utah), who opposes more stimulus checks, said he could support an unemployment extension of some form.
However, others cast outright opposition to the proposal.
"I'm not in favor of any extension for unemployment," said Senator David Perdue (R-Ga.). "What I'd prefer is, if you want to give a few bucks to people, put it into a direct payment. But right now, we have provided an incentive not to go back to work."
White House officials are slated to meet with GOP congressional leaders Wednesday at 5 p.m. on Capitol Hill, according to Senate Appropriations Committee Chairman Richard Shelby (R-Ala.).
This is a developing story and will be updated as more information becomes available.