Unified Behind Deb Haaland, Indian Country Praises Bipartisanship Amid Tough Confirmation Hearings
Support for Representative Deb Haaland is strong among Native Americans as the New Mexico Democrat appears likely to be confirmed as the new head of the U.S. Department of the Interior.
If Haaland is confirmed, she will become the first Native American woman to hold a position within a presidential Cabinet.
Haaland, a member of the Pueblo of Laguna tribe, faced tough questioning during her two-day confirmation hearing before the Senate Energy and Natural Resources Committee this week, but words of support from West Virginia Senator Joe Manchin on Wednesday afternoon indicated her confirmation is likely. Manchin, a Democrat whose vote for Haaland was initially uncertain, commended Haaland's "commitment to bipartisanship" in his Wednesday statement.
Haaland's history of working across the aisle is one of many reasons she has "unified" support from tribes throughout the U.S., according to Aaron Payment, the vice president of the National Congress of American Indians and the chairman of the Sault Ste. Marie Tribe of Chippewa Indians. In a Wednesday conversation with Newsweek, Payment acknowledged the historic nature of Haaland's nomination but said support for her extends beyond her opportunity to break another glass ceiling in the nation's capital.
In the time since Haaland was elected to represent New Mexico in the House of Representatives in 2018, she "demonstrated that she's a fair and balanced person when it comes to policy, reaching across the aisle, looking for productive solutions," Payment said. He added that he has been closely watching Haaland's confirmation hearings, though he said he found parts of the questioning she faced "disturbing."
"Some of the questions yesterday were really borderline offensive," Payment said. He contrasted Haaland's confirmation hearings with those of former Education Secretary Betsy DeVos, whom he said was on the receiving end of "softball questions" in comparison with those posed to Haaland.
"Several senators were asking her questions about her environmental policy, and really it's a hint toward her being a Native American, as if she's going to be some kind of sleeper cell that is going to have her own covert conspirational platform that she's going to push," Payment said. "Anybody that knows Deb Haaland knows that absolutely couldn't be further from the truth."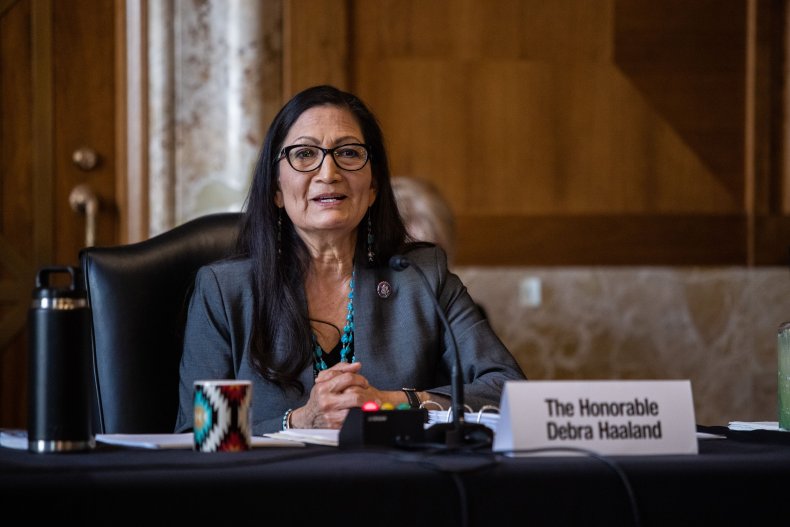 Haaland announced she supports the Green New Deal in 2019 and has also come out strongly against fracking and the country's dependence on fossil fuels. Wyoming Senator John Barrasso raised concerns on Tuesday about those positions, which he said were likely to be considered "radical" by many of his constituents. The Republican outlined the importance of the interior secretary's job to his state, which he said is the top producer of coal, uranium, trona, bentonite and federal natural gas in the U.S., as well as the country's second-biggest producer of federal oil.
"I am willing to work with Representative Haaland and the Biden administration to conserve our national parks and monuments, uphold our nation's trust responsibilities, and protect multiple uses of our public lands," Barrasso said Tuesday. "But if Representative Haaland intends to use the Department of the Interior to crush the economy of Wyoming and other western states, then I'm going to oppose the nomination."
Barrasso questioned Haaland on Wednesday about how her support for the Green New Deal and opposition to fossil fuel reliance would impact the ways in which she would advise Biden as the head of the Interior Department.
"President Biden's agenda would be my agenda if I am confirmed. I recognize that the roles are different," Haaland told Barrasso. "The role of a congresswoman in one district in the country is much different than the role of a secretary who is fighting and working for every single American and all of our public lands across the country. Those are two different things; I recognize that."
Haaland went on to say that a "balance" is needed when making decisions on fossil fuels and the environment. "We need to care as much about the environment as we do about the fossil fuel infrastructure in your state and other states. We need to balance those priorities," Haaland told Barrasso.
Payment told Newsweek he believes Haaland will be "fair" and "balanced" in advising Biden, who will ultimately be in charge of making final decisions.
"She will do her best to bring to bear and advocate for the best solutions, incorporating science, incorporating traditional ecological knowledge, incorporating her background as an American Indian," Payment said. "But once she's made that advice known to the president, it's up to the president."
The National Congress of American Indians celebrated the "historic moment" of Haaland's nomination when Biden announced her as his pick to lead the Department of the Interior in December. The announcement was an emotional one for Payment.
"When the president nominated her, I cried — and I'm not a person who cries," Payment told Newsweek. "We are unified in Indian Country in supporting her confirmation. This is history in the making."
Payment said he is hopeful that Haaland's nomination will inspire other Native women and men, not just for the position she is likely to hold but for the experience she brings along. "With her serving at this level, symbolically I see Native women being empowered, Native men believing that they can accomplish and reach any level," he said.
If Haaland is confirmed, Payment said he hopes she will be able to help further develop federal policies as they apply to Native tribes. "We don't have any desire to exploit our natural resources in my tribe, but we need houses, we need tribal services, we need community centers. We need education opportunities for our people. And part of that process is securing our land and trust," Payment said.
"I see, five years from now, us still struggling to get to where we believe we need to be," Payment said. "But I think we're going to be leaps forward."