Several major unions in New York City are demanding that the city match vaccine incentive payments for workers who are already vaccinated.
New York City's current vaccine mandate offers public employees, including police officers and firefighters, a $500 bonus payment if they get vaccinated prior to October 29. Unvaccinated public employees, meanwhile, will be placed on unpaid leave starting November 1 and regular COVID testing will no longer be available as an alternative option.
The Municipal Labor Committee, a group that represents a handful of public employee unions in the city, said in a statement on Saturday that the bonus is unfair to workers who got a jab prior to the offer going into effect.
To remedy the situation, the group has begun negotiating with the New York City Office of Labor Relations to get the same payments for all of its previously vaccinated members, according to ABC 7.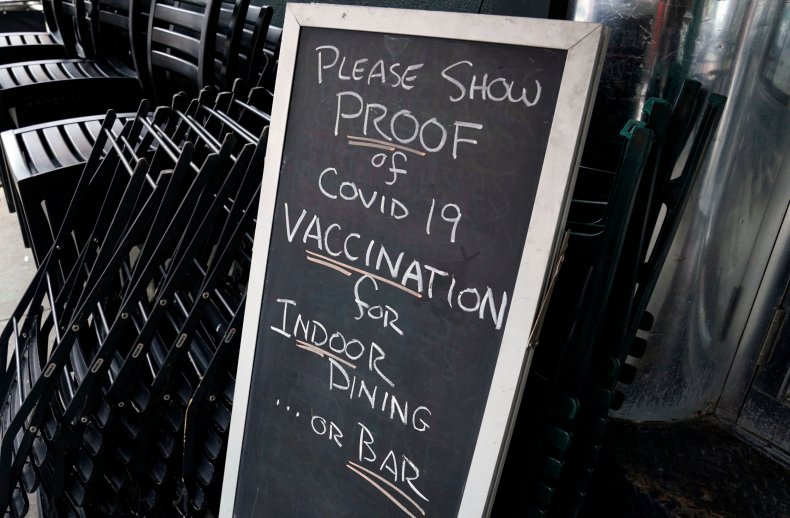 In a statement, the United Federation of Teachers (UFT), one of the unions that make up the group, supported the demand for bonus payments.
"We are furious with the $500 the mayor is offering unvaccinated employees. The Municipal Labor Committee (of which the UFT is a member) has begun the impact bargaining process with the NYC Office of Labor Relations," the statement read. "The MLC and constituent unions put forth a demand that all vaccinated city employees should be paid $500."
Mayor Bill de Blasio previously explained that he had been considering a mandate for city employees for several weeks.
"We've got to end the COVID-era," de Blasio said via MSNBC. "Our police officers, our EMTs, our firefighters, all our public employees—a lot of them come in very close contact with their fellow New Yorkers. They need to be safe. Their families need to be safe, but we also need to reassure all New Yorkers that if you're working with a public employee, they're vaccinated. Everyone's going to be safe."
In response, the Police Benevolent Association, the largest police union in New York City, said that it would sue the city to block the rule. It is also referred to vaccinations as a "personal medical decision."
"Now that the city has moved to unilaterally impose a mandate, we will proceed with legal action to protect our members' rights," the union's president, Pat Lynch, said on Wednesday.
The mandate for municipal employees applies to roughly 100,000 individuals. New York City confirmed that 71 percent of those workers had already received at least one dose of a COVID vaccine when the mandate was announced.
The Supreme Court previously rejected a religious challenge to vaccination mandates from healthcare workers in Maine on Tuesday.