Unions, NYC Deal Allows Unvaccinated Workers to Keep Jobs, Benefits If They Meet Exemption
Unvaccinated workers in New York City will be able to keep their jobs under a specific condition after a deal was reached Thursday, the Associated Press reported.
Unions and the city reached an agreement to allow unvaccinated workers to keep their jobs and benefits if they applied for a religious exemption before November 2. Those employees will have to go through weekly testing. Other unvaccinated workers have the option to go on unpaid leave until the end of June while maintaining their health benefits. If a worker decides to get vaccinated, they will be able to return to their jobs.
Four unions sued the city over its vaccine mandate. District Council 37 of the American Federation of State, County, and Municipal Employees, Teamsters Local 237, Uniformed Sanitationmen's Association Local 831, and Local 300 of the Service Employees International Union were involved in the lawsuit. Due to the agreement on the religious exemption, the lawsuit has been dropped.
"We have reached an agreement that gives our members options," District Council 37 Executive Director Henry Garrido said in a statement. "Individuals can now make choices based on what is best for them and their families and know they will have health benefits available during this critical time."
Mayor Bill de Blasio said: "Vaccinations are critical to our recovery and our city workforce is leading the way."
The agreement does not apply to the police or fire departments.
For more reporting from the Associated Press, see below.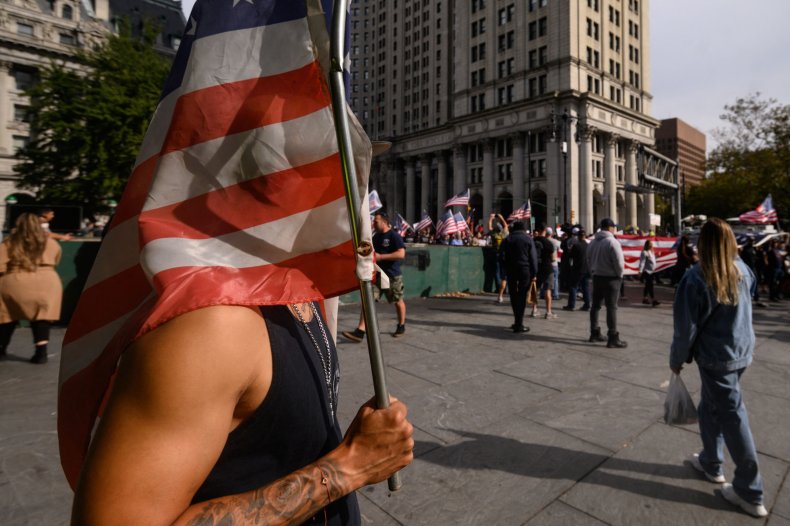 The agreement, similar to one already in effect for teachers, affirms the city's legal right to impose the mandate on unvaccinated workers in four unions.
The deal covers about 75,000 workers.
About 9,000 city workers went on unpaid leave when the mandate took effect Monday.
Thousands of police officers have declined the vaccine, but most of those have applied for a religious exemption and are continuing to work. Only a few dozen have been suspended, according to the police commissioner.
At the fire department, where 1 in 5 firefighters remain unvaccinated, more than 2,000 firefighters requested sick leave when the mandate took effect, about twice the number normally out sick.
Newsweek previously reported that truck drivers are also expected to quit their jobs over vaccine mandates. The industry could lose as much as 37 percent of its workers, according to the American Trucking Associations.