Watch: United Airlines Has Man Dragged From Overbooked Flight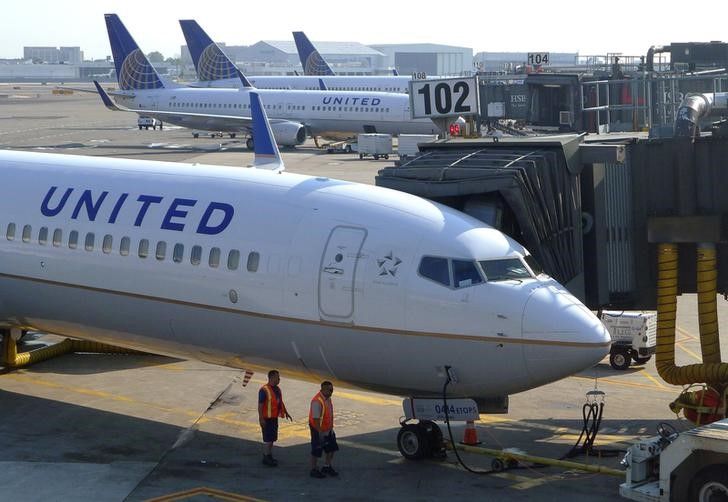 Updated |United Airlines earned some fresh social media backlash after a video of a passenger being dragged off one of its airplanes was uploaded to Facebook Sunday, just weeks after the airline prevented two teenage girls in leggings from boarding a flight.
The video, which had been shared close to 8,000 times by late Monday morning, showed three men in security jackets talking to a passenger in an aisle seat. After a few seconds, one of the men forcibly removed the passenger from his chair, dragging him through the aisle to the front of the plane as passengers looked on in shocked. The man, who according to passengers said he was a doctor, can be heard screaming as he is grabbed. Another person who posted a video said on Twitter he thought the man was knocked out before he was dragged away, and a fellow passenger's distress at what was unfolding could also be heard on the video.
"This is wrong," she said. "Oh my god, look at what you did to him."
@United overbook #flight3411 and decided to force random passengers off the plane. Here's how they did it: pic.twitter.com/QfefM8X2cW
A separate video showed the passenger running back onto the plane 10 minutes later and, in clear distress, chanting, "I have to go home." According to Jayse Anspach, who posted a video of the original incident to Twitter—garnering more than 35,000 retweets—the passenger said he needed to report to work at a hospital the following day.
The woman who uploaded the video to Facebook, Audra D. Bridges, told the Courier Journal in her home city of Louisville that the flight Sunday had been overbooked and United had offered first $400 and then $800 to get passengers to voluntarily give up seats on the flight.
With nobody offering up a seat, some passengers were then informed they were selected to remain in Chicago for the night. A spokesperson for United told Newsweek that it was standard procedure to call in law enforcement when a passenger then refuses to leave the flight.
"We did not get the volunteers that we needed so we had to approach individuals one-on-one to let them know that we needed to rebook them on a later flight," Maddie King said. "We had a couple of customers who deplaned, once requested, and then an additional customer was asked to deplane and repeatedly refused to do so. Unfortunately, that was delaying the departure of our aircraft so in rare instances like this the next step would be to involve law enforcement."
When asked whether it was standard procedure to physically remove passengers from a plane, the spokesperson referred the question to law enforcement authorities.
The Chicago Police Department released a statement Monday claiming that the passenger "fell" into an armrest, which caused "injuries to his face." He was taken to a local hospital with non-life-threatening injuries, the statement adds, and an investigation has been launched.
After a statement from United initially only apologized for overbooking the flight, the company's chief executive officer, Oscar Munoz, released a statement Monday insisting that the airline would conduct a review of the incident.
"This is an upsetting event to all of us here at United," Munoz said. "I apologize for having to re-accommodate these customers."
The damage, though, may already have been done. Condemnation of United across social media was swift, with some calling for a boycott of the airline.
Last month, United had to deal with a similar backlash after a social media post detailed how two teenage girls using free passes for employees and family members were not allowed to board a flight and were told they violated a dress code by wearing leggings. Following the incident, United's mentions on Facebook, Instagram and Twitter mushroomed from a daily average of 2,000 to 174,000. Nearly 70 percent of the mentions were negative, a spokesman for the social media analysis firm Brandwatch told CNBC.
This article has been uddated to include a statement from the Chicago Police Department.