A United Airlines flight to Los Angeles had to be diverted to Denver after a passenger seen carrying what appeared to be a large wad of cash caused a disturbance on board.
The United flight 2649 from Chicago's O'Hare International Airport to Los Angeles International Airport (LAX) was forced to land at Denver Airport on Monday night because of an unruly passenger.
According to one passenger also on board the flight, the man causing the disturbance had started arguing with another female passenger, with whom he was apparently not traveling.
Images taken from inside the plane show a man carrying what appears to be a large bundle of cash in his hand. It is unclear why the man was carrying such large number of bills, or if it had anything to do with the disturbance.
The incident, believed to be minor, meant the flight had to be diverted to Denver Airport, where the man reportedly exited the plane peacefully.
"No one knows what was up with the bundle of cash in his right hand was about," the passenger, who posted a photo of the man on Twitter and did not wish to be named, told Newsweek.
"This man and another passenger had something transpire that was inappropriate," she added. "They were not traveling together. The operator kept very low key. Most passengers didn't know anything was going on."
After landing at Denver Airport, the United Airlines flight continued its intended journey towards LAX.
Denver Police confirmed that law enforcement were called to meet the man at the gates, but they were not aware of anyone being arrested in connection to the disturbance.
In a statement to Newsweek, United Airlines said: "United flight 2649 from Chicago to Los Angeles diverted to Denver last night [Monday] due to a passenger disturbance on board.
"Law enforcement officials met the aircraft at the gate and, following the passenger's removal, the flight continued to Los Angeles."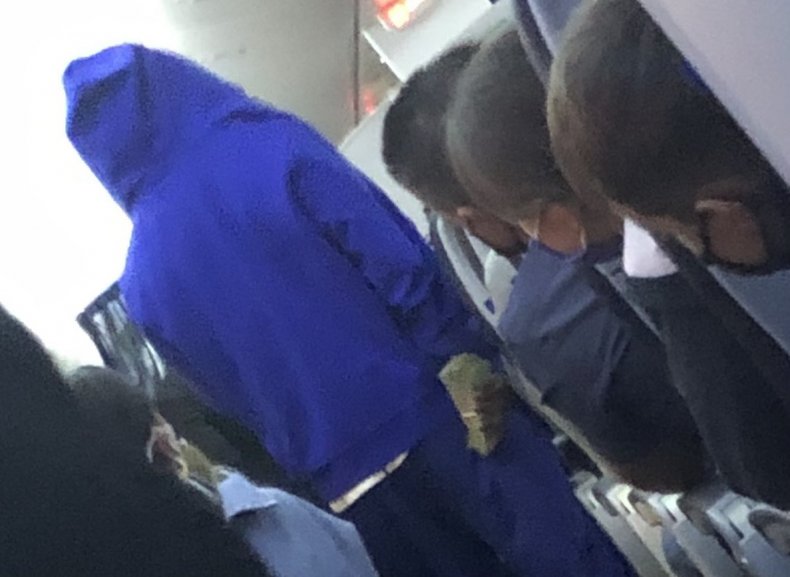 The incident occurred after a woman claims she was placed on a "no fly list" by United Airlines for creating a "biohazard" after putting her baby's diaper in the plane's lavatory trash.
Farah Naz Khan, 34, was on board a flight from Kalispell, Montana, to Houston, Texas, on July 9 with her husband and baby daughter when she had to change a diaper, according to NBC News.
"I had to change the baby's poop diaper in the back bathroom and I disposed of it in a scented diaper disposal bag inside the bathroom trash," Khan wrote on Facebook.
"When I came to the front, the flight attendant berated me for throwing away a poop diaper on the plane. He said it was a 'biohazard' and that I should retrieve it if I can."
Three hours after she landed, Khan said she received a call from the same flight attendant, who told her she had been placed on no-fly list over the "biohazard" incident. He also allegedly told her while on the call: "I can hear your obnoxious baby in the background right now."
The United Airlines flight was operated and staffed by Mesa Airlines.
In a statement, a spokesperson for Mesa Airlines told KOMO: "The details as described by our customer do not meet the high standards that Mesa sets for our flight attendants and we are reviewing the matter."