The U.S. Immigration and Customs Enforcement agency used United Airlines, American Airlines and Delta Airlines to facilitate more than 1,200 deportation flights to Central America in just over a year, with the commercial airlines being used to supplement ICE's chartered deportation flights, data obtained by Newsweek reveals.
Data from ICE shows commercial airlines were used for deportation flights to Central America in at least 1,386 cases between January 1, 2019 and January 16, 2020. Of those flights, 1,288 were facilitated by United, American and Delta, with United used for nearly half (677) of the deportation flights. American Airlines was used for 345 removal journeys, and Delta for 266.
While the three major airlines facilitated the majority of the deportation flights, Avianca and Copa Airlines also collectively enabled dozens of removals, while AeroMexico and Alaska Airlines facilitated two removal flights and one flight respectively.
The majority of the flights were used to deport Central American migrants and asylum seekers to Northern Triangle countries, with 605 journeys bound for Honduras, 429 to Guatemala and 79 to El Salvador.
Just over 150 of the flights were headed to San Jose, Costa Rica, while another 100 were bound for Belize City in Belize. Sixty-eight flights went to Panama City in Panama and 16 carried passengers to Managua in Nicaragua.
A large share of departures appeared to originate in Texas, which saw a rise in asylum seekers and migrants arriving at its ports of entry over the past year. George Bush Intercontinental Airport in Houston was a departure point in 246 flights, and the Valley International Airport for 204 flights.
Other airports, including New York's John F. Kennedy International Airport, were also major departure points, with JFK seeing nearly 280 deportation flights depart from its gates.
The graphic below, provided by Statista, illustrates the number of deportation flights to Central America on commercial airlines used by ICE.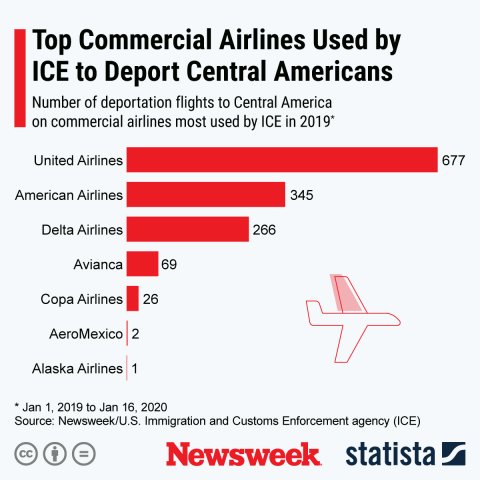 The data provided by ICE was obtained through a Freedom of Information Act (FOIA) request. It did not clarify how many individuals would have been on each deportation flight. Newsweek has contacted ICE for that information.
Trump Administration Immigration Policies and ICE Removals
The revelation comes as ICE continues to face scrutiny over its enforcement of the Trump administration's hardline stance on immigration, such as the "zero-tolerance" family separation policy which saw thousands of migrant children separated from their families at the U.S.-Mexico border in mid 2018.
Some companies took a stand and refused to cooperate with the pracitce. Major commercial airlines, including United and American, released statements expressing their unwillingness to cooperate in facilitating transfers related to the separation rule, while Delta also spoke out against the rule.
Operators in King County, Washington, made headlines last year by vowing to stop serving chartered flights carrying immigration detainees. The move came a year after the county learned that its airport was being used to deport thousands of immigration detainees out of the country.
King County Executive Dow Constantine said he was "heartened to learn that Fixed Base Operators at our airport have decided to accommodate the values of the people of King County."
Condemning commercial airlines for continuing to allow ICE to use their flights to deport immigrants, Jess Morales Rocketto, the chair of immigration advocacy group Families Belong Together, said the companies should be "ashamed."
"It is unacceptable to profit from Trump's cruelty against families who fled their homes to provide their children with a chance at safety," Morales Rocketto said.
Sara Nelson, the president of the Association of Flight Attendants-CWA, which represents 50,000 flight attendants across 20 airlines, appeared to agree, telling Newsweek: "Flight Attendants did not sign up to help carry out immigration policy, much less to tear apart families and disrupt entire communities."
"This administration has repeatedly shown it can't be trusted, from out-of-control enforcement in our neighborhoods to issuing CBP policies at our borders—negatively impacting even existing current U.S. citizens—then denying policy existed," Nelson said.
"Since we cannot trust this administration to follow the law, we believe commercial airlines should immediately deny use of commercial aircraft in any deportation or transfer action, until or unless the administration can demonstrate with full transparency that each case is treated in accordance with the law," she asserted.
In a statement sent to Newsweek, a Delta spokesperson sought to make clear that the airline is not responsible for making decisions on the immigration cases of asylum seekers and migrants.
"Ultimately, decisions on individuals' immigration status are made by immigration judges after often lengthy legal processes involving multiple opportunities for appeal," the spokesperson said.
The Delta spokesperson said the airline understands "that these are complex and emotional cases for all involved" and "Congressional representatives, as well as the Department of Justice, have resources available for those with concerns about specific cases."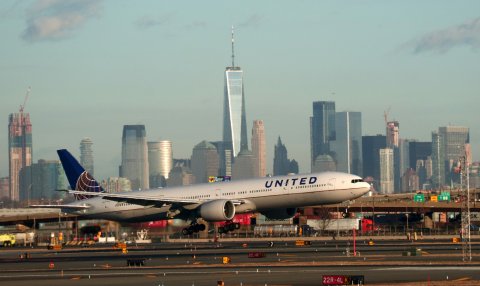 ICE Chartered Flights and the City Pair Program
While ICE is known to facilitate its deportation flights largely through chartered flights, with the two most commonly used aviation subcontractors being Swift Air and World Atlantic Airlines, many Americans may not be aware that deportations are also sometimes facilitated on commercial flights.
In an email sent to Newsweek, a spokesperson for American Airlines confirmed that ICE uses its airline and noted that the U.S. government is able to purchase fares from U.S. carriers, including its own airline, at a discounted rate under the City Pair Program.
The CPP was designed in 1980 to provide discounted air passenger transportation services to federal government travelers. At first, the service included only 11 markets, but it has since expanded to include over 12,000 in Fiscal Year 2020, according to the U.S. General Services Administration.
According to the GSA, American, United, Delta and Alaska Airlines are all participants in the CPP scheme, along with Southwest, JetBlue, Hawaiian and Silver Airways.
A flight search through the CPP scheme suggests that a flight from JFK or LGA to San Pedro Sula, Honduras, might cost as little as $177, which is significantly cheaper than the average fares listed online, which can cost upwards of $500.
In a statement sent to Newsweek, ICE spokesperson Danielle Bennett stressed "use of CPP is not unique to ICE. It is government wide," before deferring to GSA for further information.
ICE's use of the CPP program to book flights does not suggest that airlines have any specific partnership with the agency. However, with airlines having previously refused to work with ICE to conduct transfers related to the family separation policy, Morales Rocketto has argued that they could do the same when it comes to deportations as a whole.
"The American people already showed they will not tolerate big corporations ignoring our nation's family values," she said. "Now, we are sending these airlines that same message. This country believes in treating our children with love, dignity and respect. Not profiting from a Trump policy that deports families back to danger."
Alaska Airlines told Newsweek that it does not charter flights domestically or internationally for ICE operations. However, it did not address ICE buying at least one flight on its airline. United Airlines referred Newsweek to ICE when contacted for comment. Avianca, a Colombian airline, referred Newsweek to the Colombian government's migration office. Copa did not respond to requests for comment. Newsweek also contacted AeroMexico for comment.
This article has been updated with a statement from Sara Nelson, president of the Association of Flight Attendants-CWA.
Correction 2/4/20, 03:00 a.m. ET: A previous version of this article referred to Alaska Airlines as Alaskan Airlines.