United Kingdom Air Force Halts Flights After Runway Melts Amid Heatwave
The United Kingdom Royal Air Force (RAF) on Monday had to cancel flights at certain bases in light of the country's extreme heatwave.
The RAF was forced to suspend flights into and out of the Brize Norton base near Oxfordshire on Monday, with Sky News first reporting that the situation was due to the extreme U.K. heat melting the runways, according to Reuters. The report was later confirmed by officials, with the RAF explaining that flights were being rerouted through bases that are safe to operate in and that standard military business had not been impacted.
"During this period of extreme temperature flight safety remains the RAF's top priority, so aircraft are using alternative airfields in line with a long-established plan. This means there is no impact on RAF operations," the U.K. Ministry of Defense wrote in a tweet about the situation.
Flights were also canceled at the RAF Cranwell base last week for the same reason, Sky News reported.
The U.K. is currently in the midst of a massive heatwave set to last through Monday and Tuesday, with temperatures near Brize Norton predicted to top out around 35 degrees Celsius, or around 95 degrees Fahrenheit. Forecasts for the country as a whole call for historic temperatures in excess of 40 degrees Celsius, or roughly 104 degrees Fahrenheit, which would break the previous record for hottest temperature recorded in the U.K., 38.7 degrees Celsius on July 25, 2019.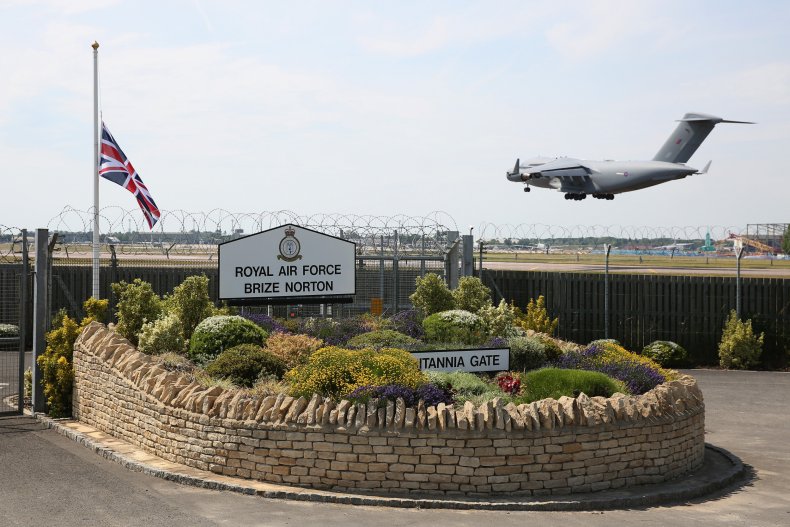 In response to this historic heatwave, the U.K. Meteorological Office has declared the country's first-ever national heat emergency.
Brize Norton is not the first U.K. institution to be dealing with melting runways. On Monday, Luton Airport in Bedfordshire announced that flights had been suspended due to melting tarmac. At least 14 flights have been affected so far, according to the Independent.
"Following today's high temperatures, a surface defect was identified on the runway," Luton Airport said in a statement posted to Twitter. "Engineers were called immediately to site and repair works are currently in progress to resume operations as soon as possible. We would like to apologize for the inconvenience caused."
Newsweek reached out to RAF Brize Norton for comment.
Air travel is not the only form of mass transit altering its operations in the U.K. as a result of soaring temperatures.
On its website, Network Rail, the biggest controller of railways in the U.K., explains how extreme heat can cause rail lines to buckle, beginning with air temperatures around 30 degrees Celsius. To combat this issue, the company imposes slower speed limits on trains in affected areas, as slower trains put less force on rails and help prevent buckling.
Some Americans, however, were called out for being insensitive to the U.K.'s heatwave. One U.K. resident took to TikTok in response to being called "p**sies."
One grieving mother said her daughter's dogs were turned "mad" by the heat, which lead to them mauling her and her husband, killing the 43-year-old mother of two.
The heatwave isn't secluded in the U.K. In fact, it's stretching across Europe, causing wildfires and footage is trending on Twitter.