Woman Mauled to Death by Pet Dog 'Turned Mad' by the Weather—Mother
Pet dogs who attacked their owners—killing one and leaving the other with potentially life-changing injuries—savaged the pair after they "turned mad in the extreme heat," distraught relatives believe.
American Bully XL Rocco seized mom-of-two Joanne Robinson by the throat in a vicious attack, then turned on her long-term partner James Stead when he tried to save her on Friday night in the British county of South Yorkshire. The couple's other dog, a female Bully XL called Lola, became agitated and then joined in, with Stead trying to wrestle her out of the room as Rocco continued savaging Robinson. Neighbors reported hearing desperate screams from the home at around 10 p.m. as the couple were mauled by their pets.
The U.K. has been suffering a heatwave recently, with temperatures predicted to reach a sweltering, and unprecedented, 40 degrees in some parts of the country on Tuesday. British homes rarely have air conditioning. It's not clear exactly what the temperature was on Friday night in Robinson's hometown, the village of West Melton, but shortly after 10.30 p.m. the U.K.'s Met Office issued its most severe "red warning" about the extreme heat still to come across her region.
The 43-year-old's grieving mother spoke to reporters outside her late daughter's home on Monday, and told them she believes the weather made the dogs temporarily insane.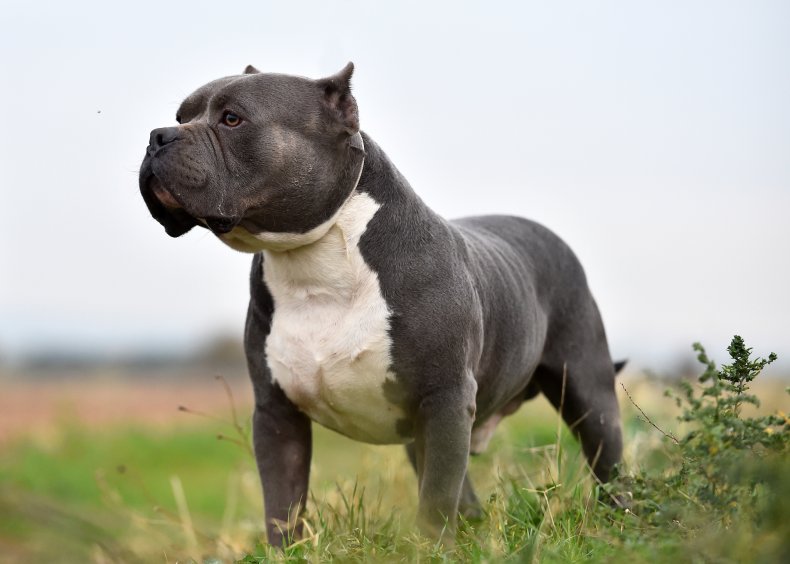 British newspapers, including The Sun and the Daily Mirror, quoted Dotty Robinson as saying: "They were good dogs, they are not a banned breed and were not dangerous… I don't know why they suddenly snapped. I can only think they turned mad in the extreme heat. It must have set them off… There's a saying about mad dogs going out in the midday sun."
Both dogs were aged two and Dotty Robinson described Rocco as "bigger than a lion." But she said he and the female had been well-behaved before the attack and had both been raised by Robinson and Stead since they were puppies.
She urged other dog owners to keep their pets cool and be wary of personality changes in their animals.
She also paid tribute to her "kind" daughter, saying that Robinson, who had worked with disabled people, was very much loved. Relatives, friends and local residents have left flowers and cards outside the family home to pay their respects. Robinson leaves behind her two children, Elle, 24, and Dillon, 19.
Stead, 42, remains in hospital where he has reportedly undergone skin grafts after suffering severe injuries to his face and body.
Dotty Robinson said: "He knows Joanna has gone and is absolutely devastated as we all are. We will miss her so much. He's had a horrible ordeal. He's lost his partner of twenty years and his dogs."
Both dogs have now reportedly been put down by police.
A South Yorkshire Police spokesperson confirmed a woman was declared dead at the scene after being "fatally bitten," while a male victim had suffered "a potentially life-altering injury to one hand, plus injuries to his other hand, abdomen and face," according to the Daily Mail.
Newsweek has reached out to the police force for further information.
The American Kennel Club does not recognize the Bully XL as a purebred dog, so it cannot be found on its website, and the dog should not to be confused with an American Bulldog. The incredibly muscular Bully XL can reach up to 22 inches in height and can weigh up to 150 pounds.
News of the British attack follows a spate of similar deaths in the U.S.
Just one week ago, a 13-month-old toddler in Louisiana was mauled to death in a vicious dog attack. The breed of dog was not revealed by authorities.
In May, the grandmother of a 7-year-old girl mauled to death by her Rottweiler was charged with the child's murder.
That same month, a 66-year-old died after he tried to break up a fight between two pit bulls at his home in Illinois.
In Australia, a woman was forced to have her arm amputated, and is at risk of losing the other one, after a dog attack in April. It was not clear what breed of animal savaged her.