Toddler Mauled To Death In Horrific Dog Attack: Police
A 13-month-old toddler in Louisiana was mauled to death in a vicious dog attack, according to police.
The New Orleans Police Department (NOPD) was alerted to reports at a home in the 5500 block of Seminary Place at about 6:46 p.m. on Monday, July 11.
Police told CBS affiliate KSLA that the victim, whose identity has not been disclosed by police, was taken to a nearby hospital in a private vehicle where they ultimately died.
The NOPD did not share information about what breed the dog was, where the victim was bitten, and whether the pet had been taken into custody.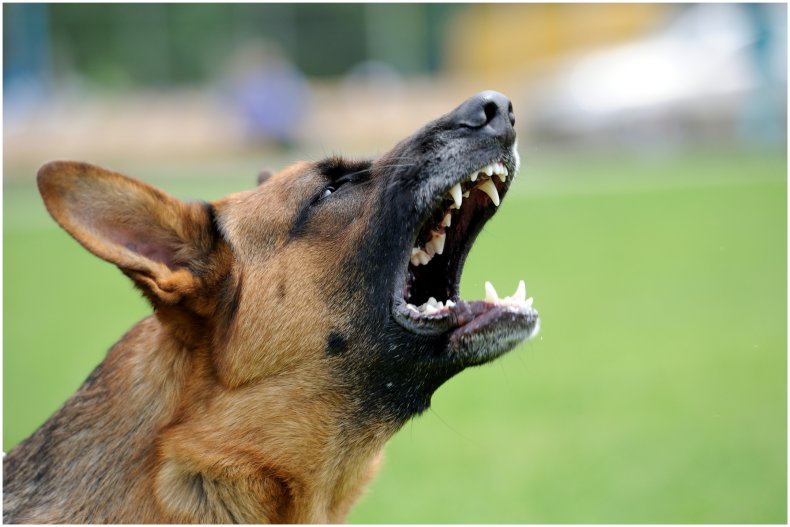 According to KSLA, it was unclear whether the dog belonged to the family of the child and police had not commented on whether anyone had been arrested in connection to the death.
The Orleans Parish Coroner's office will determine the child's cause of death via an autopsy, the network added.
Newsweek has contacted the NOPD for comment.
Children are most at risk of being victims of dog bites, according to the Centers for Disease Control and Prevention (CDC).
It added: "Most dog bites affecting young children occur during everyday activities with familiar dogs.
"Always supervise kids around dogs, even familiar pets. Teaching kids how to interact properly with dogs can help keep them safe."
Advice from the CDC states people can keep safe from potentially being bitten by doing the following if an unfamiliar dog approaches you:
Stay still and be calm.
Avoid direct eye contact with the dog.
Do not panic, make loud noises, or run.
Say "no" or "go home" in a firm, deep voice and stand with the side of your body facing the dog.
Slowly raise your hands to your neck with your elbows in and wait for the dog to pass or slowly back away.
Newsweek has unfortunately reported on numerous cases where children have been attacked and killed by dogs.
Earlier this month a four-year-old girl was mauled to death in her own home in Texas, according to police.
Dallas officers said they were alerted to the 5600 block of Bluffman Drive, close to Bonnie View Road and Simpson Stuart Road, following reports of an attack at about 8 a.m. on Saturday, July 9.
The young girl was taken to a nearby hospital where she died as a result of the serious injuries she sustained in the attack, according to ABC affiliate WFAA.
It is unclear what breed the dog is, and police said it had been taken into custody by animal services in the city.