Universal Dodges Spotlight as Disney Takes Heat for 'Don't Say Gay' Stance
The Walt Disney Company has been in the public eye in recent weeks because of the dispute over the controversial Florida legislation known as the "Don't Say Gay" law, but Comcast, the parent company of Universal Studios, has managed to stay out of the spotlight despite its silence on the measure.
The bill, which was signed into law on Monday by Florida Governor Ron DeSantis, has been a hot topic in recent months, as critics of the law said it was damaging to children that are a part of the LGBTQ+ community and have condemned companies or celebrities for supporting it.
Comcast, which owns and operates the Universal Orlando Resort, has yet to speak out on the matter of the "Don't Say Gay" law, and while the Walt Disney Company has received some intense backlash over political donations to supporters of the legislation in the last month, Universal has not faced the same response.
Brandon Wolf, the press secretary for Equality Florida, a civil rights organization that stands for the LGBTQ+ community, told Newsweek that one of the possible reasons why Universal Studios has not been called out in the same way as Disney has is because of its employees.
"Disney is uniquely positioned in Florida, and always has been," Wolf said.
"Disney is the largest private employer in the state," he explained, and because of that, Disney has a large community of LGBTQ+ employees.
"It's important to recognize that employees really led the charge from the beginning," Wolf said.
Another reason for the difference could be because of Disney's logo, Wolf added. In graphics accompanying reports of companies that have donated to politicians who supported the law, Disney's logo is far more recognizable than Comcast's, which is used instead of the Universal logo. "It's different when people see the logo that hangs above the entrance to their favorite theme park," Wolf said.
Like Disney, Comcast donated money to several of the bill's sponsors in the 2021-2022 fiscal year, the Theme Park Tribune reported.
According to Theme Park Tribune, Florida State Senator Dennis Baxley, who introduced the bill, was allegedly given a $1,000 donation from Comcast. Newsweek attempted to confirm this figure with Baxley but did not receive a response prior to publication.
But despite staying silent on the "Don't Say Gay" law, the company has publicly promoted its support of the LGBTQ+ community in the past.
"Equality is not a fixed position on a map," MSNBC and NBC News Senior Vice President Yvette Miley said in a post on Comcast's corporate website entitled "Stonewall at 50: Celebrating a Significant Milestone in LGBTQ History." "Some people may think the LGBTQ rights journey is done and the struggle is over, but it isn't. Our job is to continuously educate."
"It's extremely rare to see a corporation not only invest in an LGBTQ organization but also invest to this extent in something that will have a national impact," Jennifer Gregg, Executive Director of the ONE Archives Foundation, added.
The text of the "Don't Say Gay" law, formally known as HB 1557, says the law "reinforces a parent's fundamental right to make decisions regarding the care and upbringing of his or her child in the public school setting" by prohibiting the teaching and discussion of sexual orientation or gender identity in classrooms for children aged 5 to 9.
In early March, Disney CEO Bob Chapek spoke out against the bill after calls to boycott the company surfaced on social media due to Disney's lack of comment on the legislation.
At an annual shareholders meeting on March 9, Chapek said the company did not make an initial response because it thought it could work better "behind the scenes." Chapek said the company would be "reassessing our approach to advocacy — including political giving in Florida and beyond."
In an online video shared on March 6, Benjamin Siemon, a writer for Disney's animation division, said that Disney is "starting to include more LGBT characters that let kids know that being gay is all right. But when they have donated to the sponsors and co-sponsors of the 'Don't Say Gay' bill and they have made no position against this bill, and they are going to continue donating to these politicians, they are essentially saying that this bill is OK."
On March 28, Chapek issued an apology to LGBTQ+ employees, saying that they "still have more work to do," but critics claimed the stance that Disney took regarding the issue was expressed "too late."
Josh Bell, the executive director of One Orlando Alliance, a coalition of LGBTQ+ organizations, told Newsweek "Disney is such an outsized presence in central Florida, and not that Universal isn't big, but Disney is Disney. It's got a worldwide presence and recognition, so when Disney speaks, it is heard around the world."
Michael Slaymaker, the CEO of the Orlando Youth Alliance, told Newsweek, "When Disney does anything, the other parks fall into line. Disney is the gold standard."
And despite Comcast's silence on the bill, no calls for boycotts or employee walkouts have appeared to come against the Universal Orlando Resort.
"They're just waiting to see how some of this plays out," Slaymaker said.
"I hope Universal joins the other corporations that have spoken out against this legislation and other pieces," Wolf told Newsweek. "Every company that is based in or does business in Florida has a responsibility to show up in solidarity."
Meanwhile, Disney was once again slammed by DeSantis on Tuesday night when he made an appearance on Fox News's Tucker Carlson Tonight. The governor made comments about Disney being hypocritical for saying it would work to support efforts to repeal the law while continuing to run Disney's cruise line that makes stops in Dominica, a country that criminalizes homosexuality.
Newsweek reached out to Universal Studios and Comcast for comment but did not hear back in time for publication.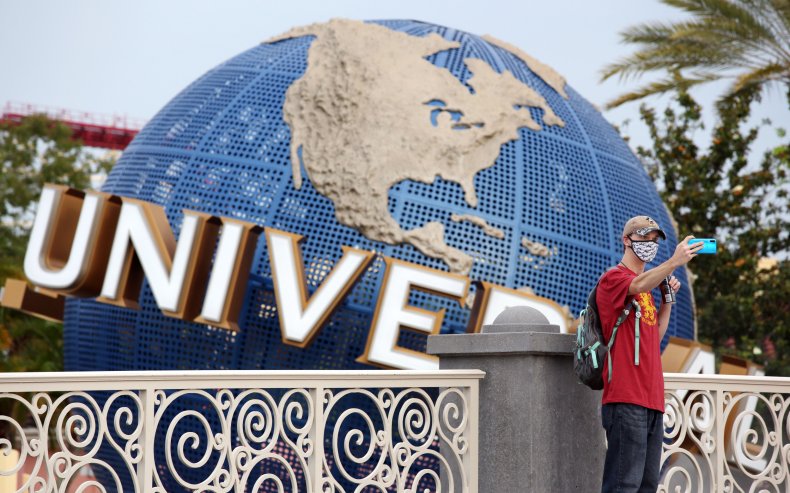 Update 3/30/22 4:25 PM ET: This story has been updated with additional information.