University of Alabama Reports 566 COVID-19 Cases a Week After Classes Start
Barely a week after the University of Alabama in Tuscaloosa began classes, the school has reported 566 newly confirmed cases of coronavirus among students, faculty and staff, according to the university's dashboard for tracking cases.
The dashboard states that 29,938 students have been tested for the virus, and that the positivity rate among students is at 1.04 percent. Those figures would suggest that roughly 311 students have tested positive, although the university hasn't released an exact number of student cases.
The total number of students tested includes sentinel testing on campus, self-reported tests from private providers and point-of-care testing in campus health centers for students with symptoms.
"Despite the robust testing, training, health and safety measures we carefully and clearly implemented, there is an unacceptable rise in positive COVID cases on our campus," wrote University President Stuart Bell in a public letter on Sunday.
In the letter, Bell emphasized the university's rules requiring students to maintain mask wearing, social distancing, low crowd sizes, testing and quarantine. Disregarding such precautions endanger the school's ability to finish the fall semester on campus, he said.
Bell also wrote that the university police and Tuscaloosa Police Department would monitor bars, restaurants and off-campus residences to help maintain enforcement of the guidelines. Students caught violating the guidelines on- or off-campus could be subject to "harsh disciplinary action, up to and including suspension from UA," Bell wrote.
"The margin for error is shrinking," Bell concluded. "Now is the time to take action, commit to protect each other, and hold each other accountable... Together, through shared sacrifice and commitment, we will achieve our goal."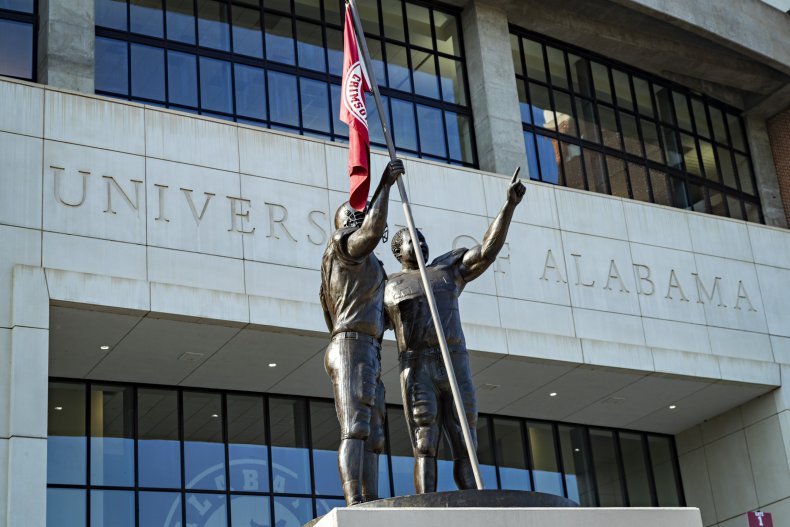 As of August 24, the state of Alabama has reported over 117,000 confirmed coronavirus cases and 2,024 related deaths. It ranks 14th among U.S. states with the highest overall number of confirmed COVID-19 cases.
Many schools and universities have opted for a combination of online and in-person classes as they try and minimize the potential for COVID-19 outbreaks. However, enforcement of prevention measures has proven difficult.
Recently, Ohio State University announced that it had issued 228 interim suspensions for individuals and student organizations who had attended or hosted large parties and gatherings in the university district, in defiance of the school's COVID-19 prevention guidelines.
Before returning to campus, Ohio State University required all students to sign the Buckeye Pledge, an agreement detailing the COVID-19 prevention protocols which include mask-wearing, social distancing, congregating in groups no larger than 10 people, cleaning of shared spaces and the seeking of medical attention for any symptoms.