Unvaccinated Mom of 4 Dies of COVID, Children Fight to Keep Family Together
An unvaccinated mother died on Saturday of COVID-19 pneumonia, leaving her four children behind who are now working to keep the family together.
Cindy Dawkins was celebrating her birthday with her family in Orlando, Florida, on August 1 before she began experiencing COVID symptoms and felt unwell afterward, family friend Janie Yoshida wrote on a GoFundMe page. Yoshida has set up the fundraiser to financially support the family as they overcome their mother's death.
"Her condition deteriorated in the next few days where she told her kids she was really struggling to breathe," Yoshida told Newsweek in an email. "She had no other medical conditions and was so full of life."
On Friday, the 50-year-old mother was transferred to the hospital and died the next day, according to Yoshida. Dawkins had a son and three daughters, two of which are teens.
Her 20-year-old son Tre Burrows told ABC-affiliate 25WPBF News his mother was in bed all day when they went to Orlando. Her children were prompted to take her to the hospital when her breathing was "super low," according to her son.
"We took her to the hospital Thursday night because her breathing was super low. She was barely getting any air," he said.
The Dawkins siblings, who have not been vaccinated as of Saturday, are urging those opposing COVID-19 vaccines to reconsider getting vaccinated.
"Just look at my family. It happened out of nowhere," Jenny Burrows, Dawkin's 24-year-old daughter, told the news outlet.
The siblings said their mother's death urged them to get vaccinated.
"We want everyone to realize that this is serious. It happened in three days. It can sneak up on anybody," Tre Burrows said.
Tre Burrows said the family is currently focused on taking care of their two younger sisters, who are 15- and 12-years-old.
"We're in survival mode right now, trying to make sure that we have everything situated with the two younger siblings, getting guardianship and everything over them so we all can stay together," Jenny Burrows said.
Yoshida hopes to raise up to $40,000 in donations to help the Dawkins siblings cover monthly bills, rent and food.
"Cindy was a loving single mother of 4 who came to this country from the Bahamas to achieve the American Dream," Yoshida wrote on the fundraiser page. "She worked 2 jobs, made sure her kids were fed, clothed, and went to school every day."
Yoshida told Newsweek the Dawkins family were homeless for a while and had to move around between hotels including staying in their car a few times. The Dawkins' situation prompted Yoshida and her husband to help the mother of four by signing an apartment lease for them.
"The thing I remember most about Cindy at the time was how excited she was to finally be able to cook dinner for her children—something she hadn't been able to do in those three years of being homeless," she said.
The number of COVID cases has been on the rise in Florida as Governor Ron DeSantis continues to resist face mask mandates.
The use of face masks by students is in line with a recommendation from the Centers for Disease Control and Prevention (CDC), which advises teachers, students and other staff members to wear face coverings in schools.
According to recent data shared by the U.S. Department of Health and Human Services, Florida has the highest number of children hospitalized from COVID of any state in the country, with 172 currently being treated in medical facilities.
The increase in children hospitalized in Florida comes as schools all across the state reopen for the beginning of the academic year this week, with DeSantis prohibiting academic facilities from introducing face mask requirements.
However, several school districts in the state have implemented face mask mandates for the start of the school year, despite DeSantis' executive order threatening their funding if they defy the order.
The most recent figures for the state showed that Florida once again broke its record for the amount of hospitalizations from COVID on Friday, with 13,747 in medical facilities and 2,750 patients in intensive care.
The state also saw 93 people die from COVID on Friday, down from 199 the day before, while 43 percent of the state's ICU beds were taken up by COVID patients, according to data from the U.S. Department of Health and Human Services.
Florida had 23,903 new COVID cases as of Friday, according to data released on Saturday by the U.S. Centers for Disease Control and Prevention, breaking Thursday's record of 22,783 new positive tests.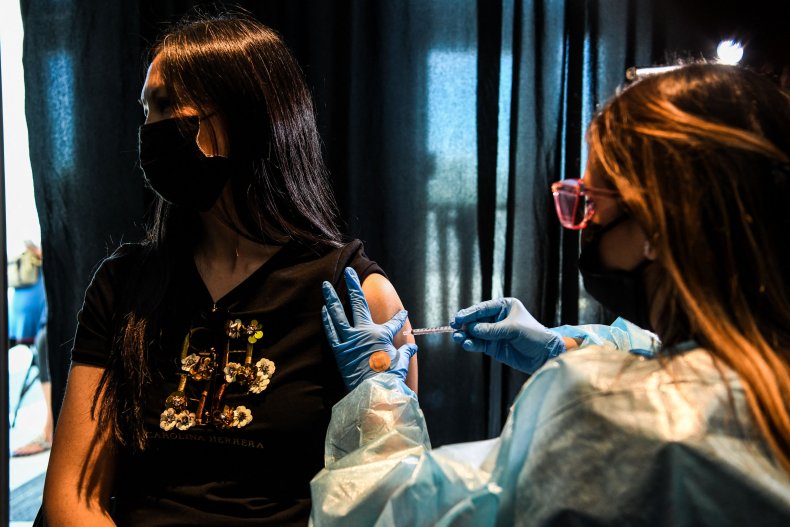 Updated 08/12/2021, 1:40 p.m. ET: This story has been updated with statements from Janie Yoshida.