With the U.S. Preoccupied and Poor Nations Bracing For Pandemic, China Sees Opportunity to Expand Global Influence
While Europe and North America battle to turn the tide of the COVID-19 coronavirus pandemic, the virus is also taking hold in the developing world where governments are far less able to fight back.
No country can face the pandemic alone. Even the U.S. is receiving tons of equipment from Russia and China—adversaries in any normal circumstances. But the overriding tone of those combating the outbreak so far has been a nationalistic one, the prioritization of each nation's need regardless of those elsewhere.
Some world leaders are inevitably politicizing the crisis, seeking to avoid blame for rising deaths and attacking their adversaries for their response. The pandemic is an opportunity as well as a crisis, and the global fallout offers powerful nations a chance to expand their influence.
Rather than with military bases, aircraft carriers and weapons contracts, this battle for influence will be fought with humanitarian aid, doctors and medical technology.
Nowhere is such assistance needed more than in the so-called "global south"—poorer nations with weaker states and less developed medical infrastructure. In normal crises, these nations would be heavily dependent on foreign aid, but the nations that would usually give the most are fighting their own battles.
The picture for the world's poorest nations is grim. The keys to defeating coronavirus appear to be social distancing, widespread testing, expanding intensive care unit capacity and increasing the supply of ventilators and protective equipment.
But all of these things are privileges of the wealthy. In the east African nation of Malawi, for example, officials have warned they have only 25 intensive care unit beds and seven ventilators in the country of more than 18 million people. In the Central African Republic, there are three ventilators for almost 5 million people, while Liberia has no intensive care units with ventilators for its 4.7 million citizens.
Traditionally, the U.S. would take a prominent role in aiding poorer nations. But the country, slow to react in stemming the outbreak, now finds itself the epicenter of the global catastrophe. President Donald Trump, declaring himself a "wartime president," has been too consumed with combating the disease on his doorstep to focus on aiding other nations.
Ivo Daalder, a former U.S. Ambassador to NATO under President Barack Obama and a National Security Council staffer under President Bill Clinton, told Newsweek that what we are seeing is "America's abdication of global leadership." The White House response has "exemplified" Trump's "America First" approach, Daalder argued.
With the exception of banking and science, Daalder suggested that the "U.S. is absent" in global leadership. French President Emmanuel Macron, not Trump, was the leader to push for the emergency G7 meeting to discuss a coordinated response to the crisis last month. The United Nations Security Council has been largely inactive, and last month's G20 meeting ended with little of note on the coronavirus.
Daalder said there is "a predisposition" within the Trump administration to back away from international cooperation. This is exacerbated by the fact that the domestic crisis is so pressing that multilateral collaboration and foreign aid "take a secondary if not tertiary seat."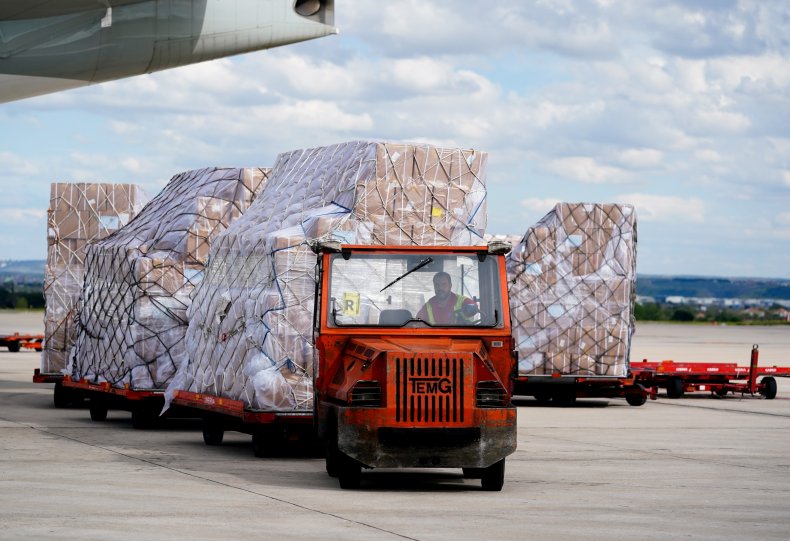 Crisis into opportunity
While the Trump administration is preoccupied with the outbreak in the U.S., it presents an opportunity for China to further exert its influence on the world stage. President Xi Jinping has made no secret of his desire to propel the Asian nation into a global force capable of challenging the U.S.
China, which once sought to export Maoist revolution as an antidote to colonialism and capitalism, has spent the past two decades expanding its influence across the world as a partner in trade and development. The growing trade, accompanied by huge Chinese investments and projects managed and staffed by Chinese nationals triggered a backlash, particularly in Africa where Beijing was accused of human rights abuses, corruption and colonialism.
In 2013, Xi assumed leadership of the country and sort to change the narrative around China's global ambitions by announcing the Belt and Road Initiative, positioning China as a benign rising power with expertise in lifting societies out of poverty and the financial muscle to back up its promises through investment and infrastructure projects. This initiative has also been met with resistance by nations ranging from Malaysia to Myanmar concerned about corruption, debt and sovereignty.
Now, the coronavirus pandemic could strangely enough be a golden opportunity for the country where the contagion originated to show global leadership. With China appearing to be over the worst of its outbreak, Beijing is now trying to dodge blame for the tragedy and move swiftly to assist other nations in need.
The country is sending medical personnel and supplies around the world, with Xi saying this weekend that China would work alongside developing nations to help them prepare for and react to the pandemic.
According to Max Baucus—the former U.S. ambassador to China who served as a senator from Montana for more than 35 years—Beijing will look to help other nations for both altruistic and geopolitical reasons. Xi, he said, "wants many countries in the world to know that they're stepping up to a leadership role."
But China is not yet a true challenger to the U.S. on the world stage, despite its meteoric rise to prominence. Some European countries have rejected shipments of vital medical supplies from China as faulty, for example.
Baucus said that Beijing is now starting to crack down on such oversights, but Jacques deLisle—a professor at the University of Pennsylvania Law School and an expert in Chinese law and politics—said such failings showed how China is "still very new to many of these undertakings."
Regardless of these setbacks, China's financial clout and manufacturing base puts it in prime position to send aid elsewhere, as long as the material is reliably high quality. "The stuff that is necessary around the world is coming out of China because that's where its components are made," deLisle explained.
China's authoritarian system means Beijing can play the long game in a way that the U.S. cannot. Baucus cited the country effectively taking control of the South China Sea without a shot being fired. "It can make decisions for the long term, which are not really understood until it's almost too late," Baucus told Newsweek. Coronavirus offers an opportunity to advance the long-term strategy.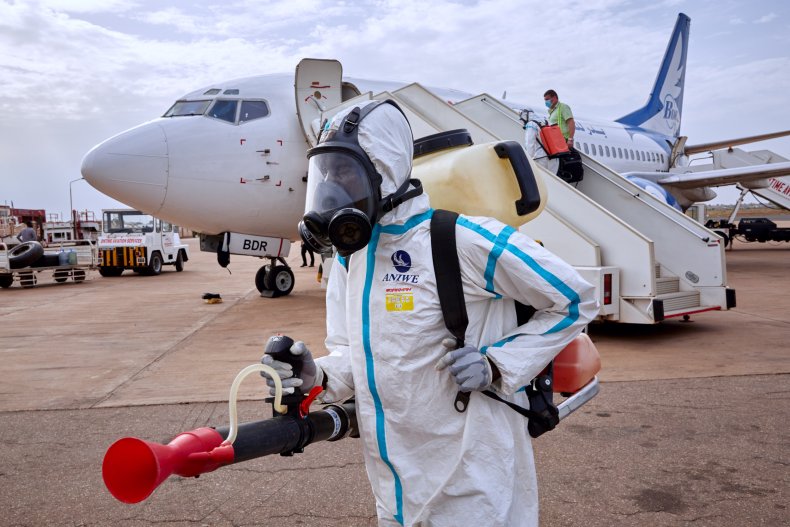 "The leadership is gone"
Poor countries will also likely look to Russia and the European Union for aid, though neither is able to operate at the same level as the U.S. or China. Still, the Kremlin is not one to pass up good propaganda opportunities, as shown by its delivery of medical gear to the U.S. last week. Opportunistic President Vladimir Putin is always looking for areas in which to expand Russian influence—for example in Africa and South America—despite the economic and political difficulties he faces at home.
The EU—long described as a potential superpower in waiting, though one still lacking coherent foreign policy—is busy grappling with its own internal disputes. The 2008 financial crisis and 2015 migrant crisis both exposed deep divisions between the union's northern and southern nations, fissures that have never truly been repaired.
European nations are sharing patients, but the union states have also been competing over medical supplies and closing their borders. Another debt crisis is brewing over so-called eurobonds, which would share the financial burden of the coronavirus crisis across nations. But Germany and the Netherlands have led the opposition to such a plan, setting the stage for another internal showdown.
Alongside the internal disputes, the EU has also moved to limit medical exports to countries outside of the bloc, demonstrating the union's priorities. The bloc also took a tough line on a new wave of refugees arriving from Syria via Turkey at the start of this year—a far cry from German Chancellor Angela Merkel welcoming refugees in 2015.
"What I'm worried about is that there will be quite a coherent, effective European approach eventually, but it will come at the expense of Europe helping poorer nations," said Hans Kundnani, a senior research fellow at Chatham House. With European nations "overwhelmed," Kundnani said, Europe could yet "pursue a Trumpian kind of policy of building a wall."
For now, the U.S. remains the best candidate to lead a global response to such a crisis. Once the country flattens its curve and turns the corner, it could be that the White House begins looking outward and—presumably armed with a huge supply of medical necessities—throws its weight behind less fortunate nations, though this is far from guaranteed.
Daalder said the pandemic is "the perfect storm to fundamentally overthrow a post-World War Two order that was based on American global leadership to address big global problems." He added: "The leadership is gone, America is no longer willing to do it. And it's not clear that anybody else is able or willing to step in, including the Chinese."