U.S. Allies in Syria Claim 'There Is No Withdrawal' and It's 'Merely a Media Decision' As Donald Trump Talks to Turkey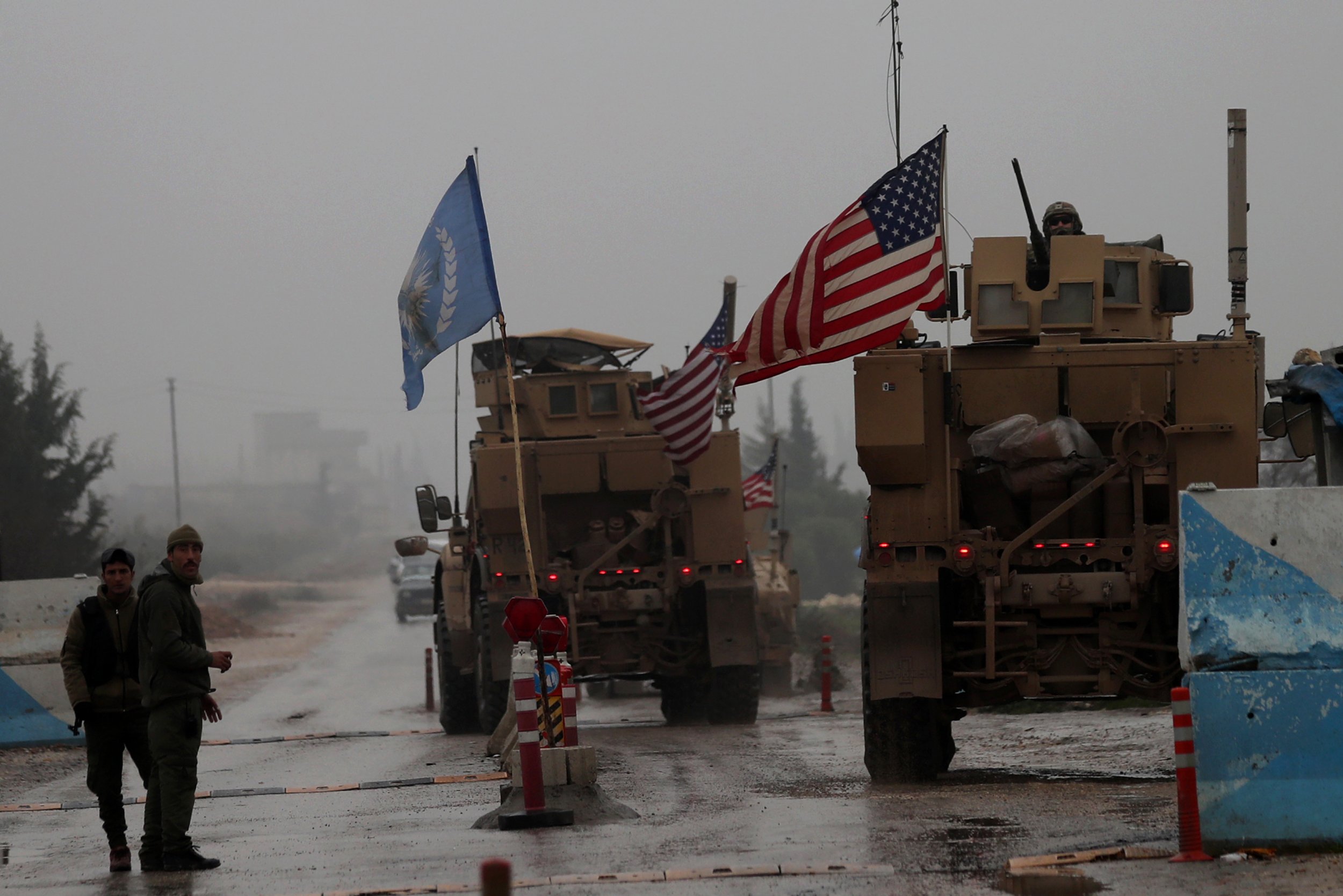 A representative for the Pentagon's top partner in Syria has denied reports that the United States has begun pulling troops out of the war-torn country as part of President Donald Trump's withdrawal decision.
The U.S.-led campaign in Syria, condemned by the country's government, was officially limited to defeating the Islamic State militant group (ISIS), which Trump said was virtually defeated when announcing a troop withdrawal last month. However, in an interview with the official newspaper of the Democratic Union Party (PYD)—the leading Kurdish party in northern Syria—Syrian Democratic Forces spokesperson Mustafa Bali said Monday that the U.S.-backed group was "still fighting the remnants of ISIS."
"The decision to withdraw is merely a media decision," Bali told the paper. "This decision has been presented to many stations. On the ground, there is no withdrawal. Our forces, in coordination with the international coalition, are carrying out their normal tasks so far.
"Even the statements of American politicians and decision-makers that followed the withdrawal decision confirm: It will not be before the completion of the missions against ISIS or before there is talk about a political solution in Syria," he added. "Therefore, the decision is still in its theoretical form, was not applied in practice and operations against ISIS are still ongoing."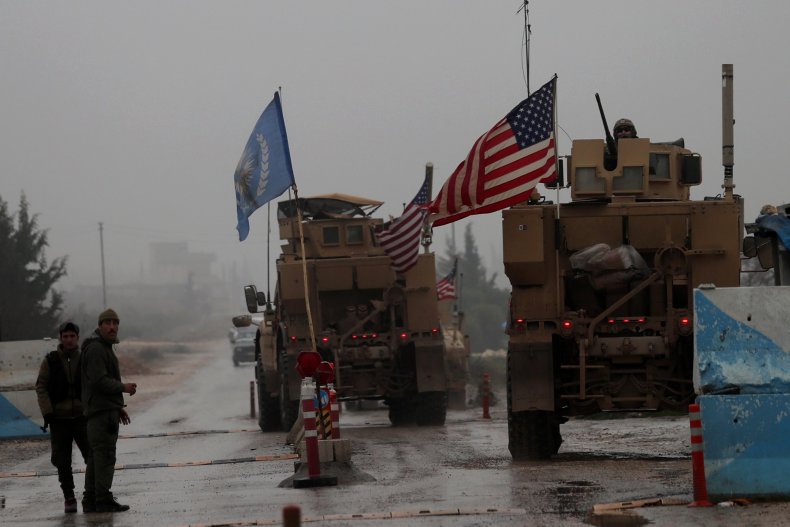 Trump campaigned on a platform calling for a cessation of "endless wars" waged by the U.S. around the world, but his seemingly abrupt decision to withdraw the roughly 2,000 troops deployed to fight ISIS in Syria created shock waves at home and in the region. At least four high-ranking U.S. officials, including former Defense Secretary James Mattis and top anti-ISIS envoy Brett McGurk, resigned soon afterward, while Secretary of State Mike Pompeo and White House national security adviser John Bolton moved to reassure allies on separate Middle East tours.
The two top Trump administration appointees have stoked further controversy, however, as they claimed that the president's decision came with a promise from fellow NATO member Turkey that the U.S.-backed Kurdish fighters would not be attacked. Turkey considers some of these groups linked to banned separatist groups at home, and Turkish President Recep Tayyip Erdogan has denied offering any assurances over their safety.
As frictions worsened, Trump warned on Twitter Sunday that he would "devastate Turkey economically if they hit Kurds" and, defending his decision to exit, claimed that "Russia, Iran and Syria have been the biggest beneficiaries of the long term U.S. policy of destroying ISIS in Syria - natural enemies."
Turkish Foreign Minister Mevlut Cavusoglu hit back the following day, saying that his country was "not scared of and will not be intimidated by any threats." Reuters later reported on a phone call between Trump and Erdogan during which the two leaders discussed the possibility of setting up safe zones to avoid conflict between their opposing partners.
The Syrian Democratic Forces control northern border territories potentially threatened by Turkish forces and allied Syrian insurgents, some of which were once sponsored by the U.S. as part of a plot to overthrow Syrian President Bashar al-Assad in the wake of a 2011 rebel and jihadi uprising. The Syrian government has since retaken most of the country with the support of Russia and Iran in a campaign parallel to that of the U.S.-led coalition, whose presence Assad considers illegitimate.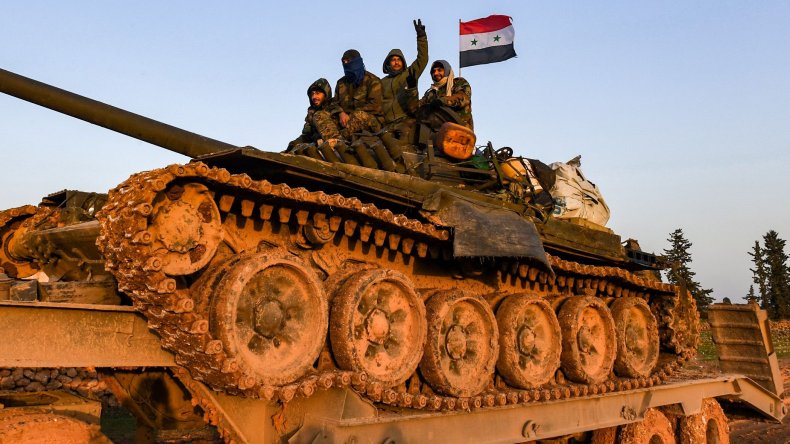 The U.S.-led coalition has said the withdrawal of U.S. troops from Syria has already begun. A senior Defense Department source told Newsweek that the one area of activity included a strategic airstrip in the country's northeast, near the border with Iraq. The move was welcomed by Russia, whose military police joined Syrian troops in taking positions handed over by U.S.-backed Kurds fearing an imminent Turkish attack. Regional powers have since become focused on another U.S.-occupied region, however—the Al-Tanf garrison in southeastern Syria, where the Pentagon has trained Syrian insurgents.
In a report published Monday, Russian newspaper Izvestia quoted Syria's ruling Arab Socialist Baath Party's press service as saying that its officials "are determined to close the base in Al-Tanf and to liberate all of our territory from militants and illegal foreign formations located here." The outlet also cited Vladimir Shamanov, head of the defense committee in Russia's lower house of parliament, who said Turkey was also interested in taking control of the base.
The Al-Tanf base was the subject of talks on Tuesday between Pompeo and Jordanian Foreign Minister Ayman al-Safadi, who said that the U.S. garrison and the Al-Rukban refugee camp located in the area should be "de-established." The situation at Al-Rukban has grown increasingly dire. Malnutrition has claimed several lives, and one Syrian mother received serious burns over the weekend due to gas stove incident initially reported as an act of self-immolation, according to Jordan's Al-Roya news outlet.