U.S. To Train NATO Nations on Operating HIMARS Across Europe
The U.S. Army is preparing to offer training on the High Mobility Artillery Rocket Systems (HIMARS) that have featured prominently in the Ukraine war.
The V Corps of the U.S. Army will lead a summit and training sessions to "increase knowledge on the operations and sustainment of HIMARS and associated systems," the corps said in a statement. The training will likely take place in eastern and central Europe, the Army said.
The European High Mobility Artillery Rocket System Initiative, as it is known, will include instructions on "how to effectively man, train, sustain and fight with the weapon system." It will also involve foreign soldiers embedding with U.S. units for training, according to the V Corps statement.
M142 HIMARS, made by U.S. defense manufacturer Lockheed Martin, are advanced wheel-mounted multiple rocket launchers, capable of firing several precision rockets on targets up to around 40 miles away.
The U.S. began sending HIMARS to Ukraine's armed forces last summer, and as of March 3, 2023, the U.S. has sent 38 HIMARS plus the related ammunition, according to Defense Department records.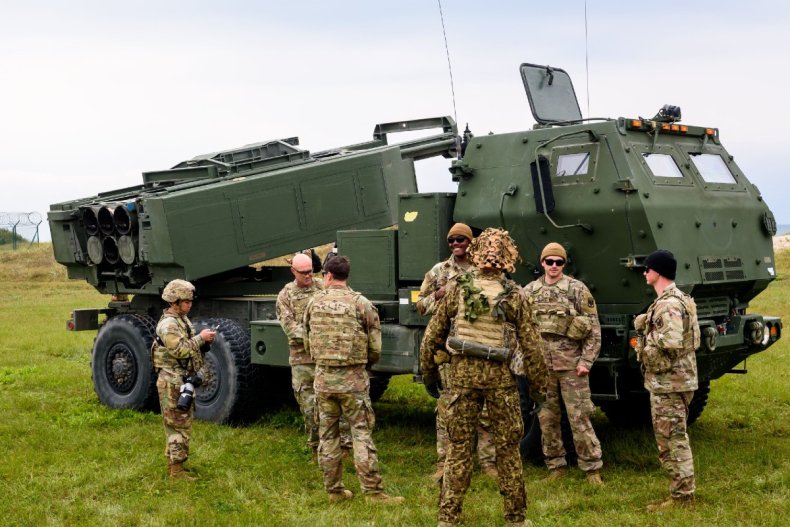 Colin Kahl, the undersecretary of defense for policy, said on June 1, 2022, that the HIMARS would give Ukraine's armed forces around double the range of the howitzer artillery weapons they had already been using.
The HIMARS were hailed as "powerful tools" by Ukrainian defense minister Oleksii Reznikov back in late June, when they began to arrive in the war-torn country. Ukraine's president, Volodymyr Zelensky, said on July 27 that "HIMARS and other precision weapons are turning the course of war in our favor."
By mid-July, Ukraine had used the HIMARS to strike Russian ammunition depots and "degraded Russian forces' ability to sustain high volumes of artillery fire along front lines," according to an assessment published by the Institute for the Study of War think tank on July 16.
The Ukrainian armed forces have "proven to be smart operators of this weapon," Reznikov wrote on Twitter on August 1.
The HIMARS quickly became used against command centers and fixed targets in Ukraine, Phillips O'Brien, professor of strategic studies at the University of St Andrews, Scotland, told the BBC in late August.
V Corps commander Lt. Gen. John S. Kolasheski described the HIMARS as offering an "operational advantage over an adversary and is critical during large scale ground combat."
They can "rapidly mass fire from a distance," Kolasheski said, adding that they can allow NATO countries and allies to target "locations that would otherwise be difficult to achieve."
By mid-July, the U.S. had promised 12 HIMARS to Ukraine and the weapons systems were having a "significant impact" on Kyiv's war effort, a senior military official with the Defense Department said at the time.
On Friday, the State Department announced that it would provide more ammunition for HIMARS and howitzers, which "Ukraine is using so effectively to defend itself," according to Secretary of State Antony Blinken.