U.S. Backs China-Led Iran-Saudi Deal But Worries About Chinese Influence
The White House has signaled support for the newly announced China-brokered deal to reestablish ties between rivals Iran and Saudi Arabia but also expressed concern over growing Chinese influence in the Middle East and other parts of the world in the wake of Beijing's milestone.
Addressing questions by reporters during a virtual call Friday, National Security Council Strategic Communications Coordinator John Kirby said the U.S. had been kept informed by Saudi Arabia throughout the negotiations process leading up to the deal, and that Washington would "support any effort to deescalate tensions there in the region."
He said the historic agreement came in line with U.S. interests and took credit for the United States' own policies in the outcome.
"We think it's in our interests, and it's something that we worked on through our own effective combination of deterrence and diplomacy," Kirby said. "It appears to us that this roadmap announced today was the result of multiple rounds of talks, including talks that were held in Baghdad and Oman. And we've always supported that process as we've seen, to work hard towards an end of the war in Yemen, and to an end to Iran's aggression, quite frankly.
"We believe that what likely helped bring Iran to the negotiating table in Saudi Arabia is in fact the pressure that it's under internally as well as an effective deterrence against attacks from Iran or its proxies on Saudi Arabia. And we, as you know, help support Saudi Arabia and their effective deterrence capabilities."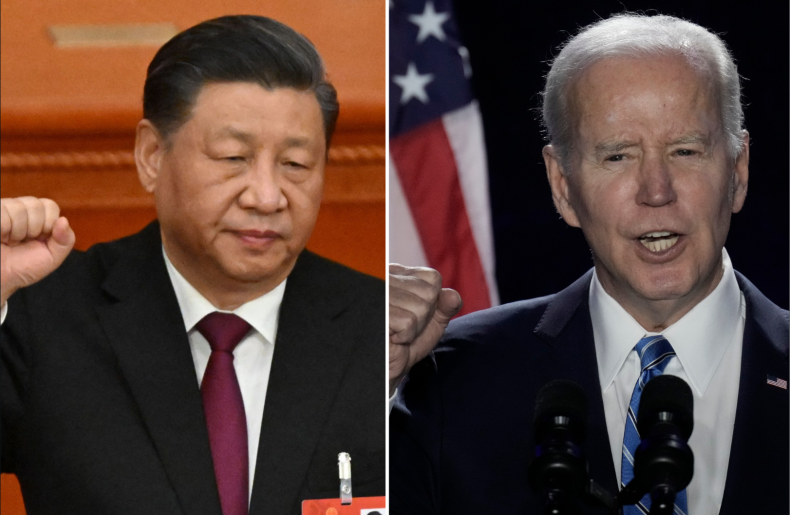 Speaking to the level of mistrust between Tehran and Washington, however, he expressed uncertainty as to whether the Islamic Republic would live up to its agreement but hoped that they would.
"It really does remain to be seen whether the Iranians are going to honor their side of the deal," Kirby said. "This is not a regime that that typically does honor its word. So, we hope that they do, we'd like to see this war in Yemen end, and that this arrangement that they have might help lead us to that outcome."
Such a deal between Iran and Saudi Arabia has been in the works for some time, and the fact that China has succeeded in brokering it is a major diplomatic victory for the United States' top global rival.
And while Kirby did not explicitly signal concern for Beijing's role in the matter, he expressed caution over China's overall effort to expand its soft power footprint around the world, including in the Middle East.
"As for Chinese influence there, or in Africa or Latin America, it's not like we have blinders on," Kirby said. "We certainly continue to watch China as they try to gain influence and footholds elsewhere around the world in their own selfish interest. And you're starting to see countries around the world wake up to the fact that China's influence is in their own selfish interest."
And yet a trilateral joint statement emerging from the agreement credited Beijing and its leadership for the deal.
The statement began by taking note of "the noble initiative of His Excellency President Xi Jinping, President of the People's Republic of China, of China's support for developing good neighborly relations between the Kingdom of Saudi Arabia and the Islamic Republic of Iran."
Tehran and Riyadh have for decades competed for influence across the region and their feud came to a breaking point in early 2016. With their relationship already severely frayed over their support for opposing factions in countries like Bahrain, Lebanon, Iraq, Syria and Yemen, the execution of a leading Shiite cleric in Saudi Arabia led Iranian protesters to storm and set fire to Riyadh's embassy in Tehran, resulting in a total collapse in the relations between the Kingdom and the Islamic Republic.
This feud only intensified in the immediate aftermath, with Iran's relationship with Yemen's Ansar Allah, or Houthi movement, coming under scrutiny over the group's launching of ballistic missile and drone attacks against Saudi Arabia.
But with only a fragile truce keeping a resumption of all-out hostilities in Yemen, where Saudi Arabia backs an embattled government, at bay, renewed interest emerged in diplomacy with Iran. This culminated in a series of secretive meetings held in Iraq and Oman and, ultimately, the most recent talks held in China in the leadup to the new agreement.
The agreement came on the heels for two high-profile engagements involving Xi in the Middle East, with Iran and Saudi Arabia at the center. First, the Chinese leader traveled to Saudi Arabia in November to attend the first-ever China-Arab State Summit, and then he hosted Iranian President Ebrahim Raisi in Beijing just last month, with both events resulting in a series of agreements strengthening Chinese cooperation in the region.
And though Chinese officials have repeatedly denied they were in competition with the U.S. for influence in the Middle East, both Tehran and Riyadh's growing ties to Beijing have raised concerns in Washington as to whether U.S. power was diminishing.
Kirby rejected this perception in his remarks Friday, pointing to Biden's own travel to Saudi Arabia last summer, though the trip was largely overshadowed by Riyadh's decision later last year to join the expanded group of the Organization of Petroleum Exporting Countries (OPEC) to cut production at a time when the U.S. sought to bring down gas prices.
"I would stridently push back on this idea that we're stepping back in the Middle East," Kirby said, "far from it."
This is a developing news story. More information will be added as it becomes available.