U.S. Calls Video Showing China Bombing U.S. Air Force Base 'Attempt to Coerce, Intimidate'
The U.S. military has expressed to Newsweek its criticism of a Hollywood-style Chinese armed forces video portraying an aerial attack on a critical U.S. airbase, calling the clip part of a strategy to instill fear and broaden Chinese influence across the Asia-Pacific region.
The People's Liberation Army Air Force released a dramatic promotion over the weekend showing off its H-6K strategic bomber, which was seen on social media site Sina Weibo conducting a simulated attack on an unnamed military base that appears identical to the Google Maps satellite image of the U.S. Air Force's Andersen Air Force Base in Guam. The installation is critical for U.S. power projection in the region and the portrayal of its destruction was met with scorn by China's top rival.
Pacific Air Forces, the major U.S. command tasked with operating in the skies over more than half of the planet, told Newsweek it was "aware of the video released by the PLA" in a statement censuring the clip.
"It is yet another example of their use of propaganda in an attempt to coerce and intimidate the region," the statement said. "Maintaining the safety of our personnel and resources, as well as our allies and regional partners, is of the utmost importance and we remain committed to ensuring a free and open Indo-Pacific for all nations."
But for some social media users, the destruction of Andersen Air Base was not the most controversial segment of the recent Chinese PLAAF clip, entitled "The God of War H-6K Goes on the Attack!"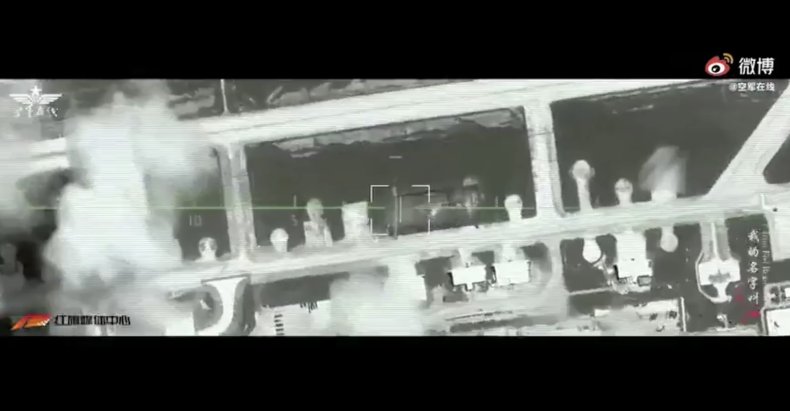 Eagle-eyed Sina Weibo users spotted explosion scenes lifted from popular U.S. action movies such as The Rock, Transformers: Revenge of the Fallen and The Hurt Locker in the Chinese PLAAF's depiction of the base bombing. These scenes were filmed in San Francisco, New Mexico and the country of Jordan, respectively.
The clear reference to Andersen Air Force Base, however, came amid soaring geopolitical tensions between the U.S. and China.
Strategically located in the U.S. Pacific territory of Guam, Andersen Air Force Base is capable of permanently servicing powerful Air Force assets such as B-1B, B-2 and B-52 bombers. The 16-year continuous deployment of these aircraft to the island ended in April to foster the Pentagon's push for "operational unpredictability."
Four B-1B warplanes returned earlier this month to conduct joint training with counterparts from Japan, which, along with Australia and India, forms the U.S.-led regional "free and open Indo-Pacific" posture against China.
Andersen Air Force Base has previously been featured in official media from U.S. foes. North Korean supreme leader Kim Jong was seen studying maps of the installation as he threatened to send missiles there amid a 2017 spike in tensions between Washington and Pyongyang.
Today, the base is participating in the Valiant Shield exercise that the Pentagon said will "assist U.S. forces in developing regional and global power projection capabilities by integrating warfighting concepts that provide a full range of options to succeed in defense of U.S. interests and those of its allies and partners around the world."
The U.S. has been increasingly active in the Asia-Pacific in recent years. Operations have especially focused on the South China Sea, a vast, resource-rich region largely claimed by China, which has established multiple island bases capable of servicing the H-6K bomber and other aircraft.
Nearby Taiwan has also drawn significant attention as relations between Washington and Beijing further deteriorate. China claims the self-ruling island as part of its sovereign territory, but the U.S. continues to supply its autonomous armed forces with equipment and foster informal ties with its government.
The recent visit of U.S. Under Secretary of State for Economic Growth, Energy and the Environment Keith Krach to Taiwan sparked a major backlash from Chinese diplomats and military officials late last week. Over the weekend China unleashed a wave of military exercises in the strait separating the island from the mainland.
Pentagon spokesperson John Supple told Newsweek at the time that the Chinese military's moves were "aggressive and destabilizing reactions," accusing China of "using its military as a tool of coercion with Taiwan and other neighbors."
Liu Jieyi, director of the Chinese government's Taiwan Affairs Office, warned against U.S. meddling during a press conference Wednesday at a trade fair in Tianjin.
"'Taiwan independence' separatist forces are perversely linking up with external forces, creating cross-strait confrontation, and obstructing exchanges and cooperation between compatriots on both sides of the strait," Liu said, accusing political forces in Taiwan and their foreign backers of creating instability.
'"Taiwan independence' is a dead-end," he added. "It is hoped that the majority of Taiwan compatriots can see through their nature of harming Taiwan and stop their 'Taiwan independence' plots."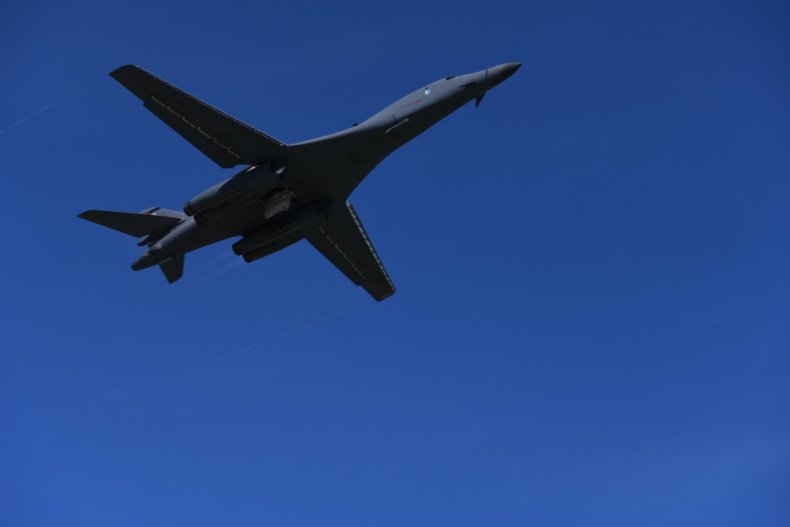 But as the U.S. military continues to operate in the disputed area, the Beijing-based South China Sea Probing Initiative is watching its every move.
Recently, the monitor has accused the Air Force of spoofing aircraft transponder signals to mask their military nature as they flew off the coast of China. In one instance earlier this month, an RC-135W spy plane was said to have mimicked a Malaysian airliner while flying over the South China Sea. In another incident Tuesday, an RC-135S appeared to operate over the Yellow Sea with a Philippines-assigned code.
Pacific Air Forces neither confirmed nor denied the practice as a matter of protocol, but maintained it followed the rules.
"The U.S. Air Force is committed to the use of international airspace in accordance with international law," the military command told Newsweek. "As a matter of policy, we normally don't discuss our tactics, techniques or procedures used by U.S. Air Force aircraft due to operational security requirements."
The U.S. military remains committed to ensuring freedom of movement in the region, the Pacific Air Forces said.
"The U.S. Air Force is dedicated to a free and open Indo-Pacific region," the command said, "and will continue to fly in international airspace with due regard for the safety of all vessels and aircraft under international law."
The South China Sea Probing Initiative accepted the legality of the technique but rejected its morality.
"Yes, that may be legally fine because military aircraft have immunity under most of international law," the think tank said in comments sent to Newsweek, "but it is immoral to foreign countries that are impersonated, and harmful to the safety of navigation because it may lead to miscalculation."
Update (9/23/2020, 10:20 p.m.): This article has been updated to include comments by the South China Sea Probing Initiative.