2022 has been a down year for the world's two largest economies.
The U.S. has experienced its share of troubles, including skyrocketing inflation, supply chain disruptions and an affordable housing crisis. But at the same time, the People's Republic of China has been crippled by declining social mobility for graduates, a rising debt crisis, and the consequences of their now-infamous "zero-COVID" strategy.
To some extent, these issues have overlapped both trading partners. But despite the common threats they face, the responses from each government body have been notably different, while the tenor of their diplomatic relations grows more hostile.
That hostility ratcheted up noticeably with House Speaker Nancy Pelosi's visit to Taiwan on Tuesday.
This complicated landscape has made it harder for businesses to navigate successfully within both countries, according to the US-China Business Council.
"For the fourth consecutive year, U.S.-China relations rank as the top challenge for U.S. companies doing business in China," the 2021 Member Survey read. "Conflicting pressures from the United States and China threaten to put companies in an irreconcilable position, increasing uncertainty, and geopolitical risk."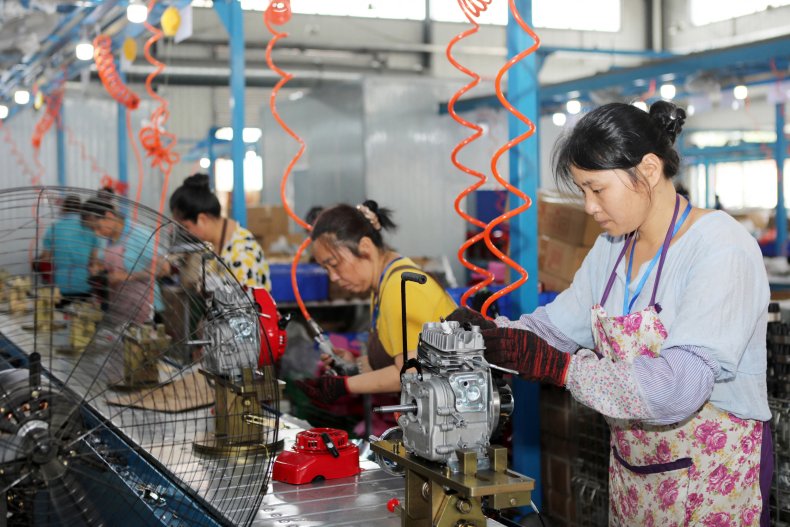 In 2021, the total value of the U.S. trade in goods with China amounted to around $656 billion U.S. dollars, with more than $151 billion in U.S. exports and nearly $505 billion in U.S. imports, according to the U.S. Census Bureau.
American companies have set up more than 70,000 businesses in China. At the same time, nearly 3,000 Chinese companies have come to the United States, according to Xu Xueyuan, deputy chief of mission and minister of the Chinese embassy in Washington.
But according to recent polling and survey data, insiders of the international business community see trouble ahead.
The U.S. economy continues to struggle. Despite high employment, the cost of living has risen, and inflation has soared to levels not seen in decades. GDP declined by 1.6% in the first quarter of 2022 and 0.9% in the second quarter, fitting at least part of the textbook definition of a recession.
And while China has been a booming place for international trade during the last four decades, its economic growth has also started to lag behind expectations, largely due to the government's restrictive Covid-19 policies.
Its 4.8% growth in the first quarter was reduced to just 0.4% in the three months leading up to June. This marks the second-worst quarterly figure in 30 years, and was well below local economists' forecasts of 1.2% growth.
These domestic financial troubles have bled into the balance sheets of international companies from both countries, raising costs and forcing business leaders to adjust their long-term strategies.
A survey from the American Chamber of Commerce in the People's Republic of China conducted in May revealed that American business leaders identified China's two-week mandatory quarantine (recently shortened to seven days), its restrictions on international travel, and the trouble companies are having complying with new regulations as the most significant problems affecting their businesses.
Many have complained that these policies prevented them from reaching revenue expectations, with nearly all respondents reporting that they have been impacted by China's zero-COVID policies, and 58% of respondents noting that the policies were a factor in their decision to lower 2022 revenue projections.
But while American companies complain about Chinese regulations, Chinese companies in America are doing the same. While some 54% of Chinese companies operating in the U.S. reported an increase in revenue last year, some worry that the picture in 2022 may look much different.
"In a complex, changing, and increasingly contested environment, the business operations and investments of Chinese companies in the U.S. outlined a mixed picture of slightly recovered performances and mounting uncertainties bred by the tumultuous circumstances throughout 2021," the China General Chamber of Commerce (CGCC) wrote in a statement on June 30.
In contrast to the nearly unanimous response by American businesses operating in China that said they were impacted by COVID-19 restrictions, most Chinese companies operating in the U.S. listed "US-China bilateral relations at a stalemate" as their top concern, according to the CGCC.
Only 10% of Chinese respondents said that they see bilateral relations improving in the coming year.
"Our member companies with operations in China are so far committed to the market, but are deeply concerned about the current and future situation," Douglas K. Barry, vice president of communications and publications at the US-China Business Council, told Newsweek.
He added that the strength of the economic relationship between the two countries is uncertain at best, as "some companies are delaying additional investment, a decision not contemplated a couple of years ago."
But as pundits throw around increasingly divisive rhetoric and both countries adopt more isolationist attitudes, other officials in the U.S. and China are urging for calm and a rekindled spirit of collaboration.
"We can't go down this road of increasing rivalry, increasing distrust forever," Dennis C. Blair, former United States director of national intelligence, told the CGCC. "We're not going to come to a war between our two countries. That's just a disaster for both."
Calling the current diplomatic relations between the two nations "toxic," Stephen Orlins, President of the National Committee of US-China Relations, said that despite real divisions between the two sides, opportunities remain for mutual benefit.
"In the context of a highly toxic political environment in both Washington and Beijing," he told Newsweek, "both countries could still adopt ways to increase economic interaction and thereby increase GDP."
"The economies slowing at the same time presents an interesting opportunity to help rebuild the economic relationship," said.
He urged the U.S. to reconsider its tariffs on Chinese goods.
"Tariffs are the most obvious place to start," Orlins said. "It is not a magic bullet, but the reduction of the American tariffs not only helps lower-income Americans by reducing prices here, but it also helps Chinese exports."
Whether this optimism is warranted remains to be seen. But some were encouraged by the July 28 telephone call between President Joe Biden and President Xi Jinping — the first call between the leaders in more than four months.
Despite the antagonistic rhetoric and uncertainty leading up to the conversation, both President Biden and President Xi expressed in the call the importance of the economic relationship between the two superpowers.
During the conversation, Xi warned against splitting the world's two biggest economies, according to a Chinese government summary of the call. According to a senior administration official who spoke to reporters after the meeting, Biden concurred.
"Coordination between the United States and China on macroeconomic issues is of great importance," the administration official told reporters. "It's something we've done for quite some time."