China Military to Surround Taiwan for Exercises in Response to Pelosi Trip
As House Speaker Nancy Pelosi arrived in Taiwan, the Chinese military released a map of exercises to begin in a matter of days that will surround the disputed island that Beijing has repeatedly warned the woman who is third-in-line to the U.S. presidency not to enter.
The map was released via the state-run Xinhua News Agency, showing six zones boxed out in red miles off the coast of Taiwan, which China considers part of its territory. The exercises would reportedly begin on August 4 at midnight local time.
The news came a day after China's Maritime Safety Administration announced a stretch of the South China Sea, which lies to Taiwan's southwest, would be blocked for military drills between August 2 and 6.
Upon Pelosi's arrival in Taiwan on Tuesday, People's Liberation Army Eastern Theater Command spokesperson Senior Colonel Shi Yi said that the command "will conduct a series of joint military operations around Taiwan Island, and conduct joint air and sea exercises in the sea and airspaces of the northern, southwestern, and southeastern Taiwan Islands."
The maneuvers would consist of "training, conducting long-range live ammunition firing in the Taiwan Strait, and organizing regular-guided fire testing in the eastern waters of Taiwan Island."
"This action is targeted at the U.S.' shocking recent major escalation on the Taiwan issue," he added, "and serves as a serious warning to 'Taiwan independence' forces or those seeking 'independence.'"
Chinese Defense Ministry spokesperson Wu Qian also released a stern warning of potential military moves as a result of Pelosi's travel.
"The Chinese People's Liberation Army is on high alert and will launch a series of targeted military operations to counter this, resolutely defend national sovereignty and territorial integrity, and resolutely thwart external interference and 'Taiwan independence' separatist attempts," Wu said.
The Taiwanese Defense Ministry meanwhile dispelled reports that Chinese Su-35 jets had crossed the Taiwan Strait on Tuesday and said the armed forces had the "determination, ability and confidence" to respond appropriately to any provocations.
The ministry did say, however, that some 21 People's Liberation Army Air Force aircraft crossed through the southwest of Taiwan's self-proclaimed Air Defense Identification Zone, including J-11 and J-16 fighter jets, a KJ-500 early warning and control system, a Y-9 electronic warfare aircraft and Y-8 electronic intelligence plane.
And the list of protests from Beijing went on, with the Chinese Foreign Ministry, however, issuing a lengthy condemnation of the visit, calling it "a serious violation" of the foundation of the relationship between Beijing and Washington. The ministry argued that the move "gravely undermines peace and stability across the Taiwan Strait, and sends a seriously wrong signal to the separatist forces for 'Taiwan independence.'"
The ministry reiterated that China opposed all U.S. congressional visits to Taiwan, and stated that the White House had a "responsibility" to stop such a trip.
"Since Speaker Pelosi is the incumbent leader of the U.S. Congress, her visit to and activities in Taiwan, in whatever form and for whatever reason, is a major political provocation to upgrade U.S. official exchanges with Taiwan," the ministry said. "China absolutely does not accept this, and the Chinese people absolutely reject this."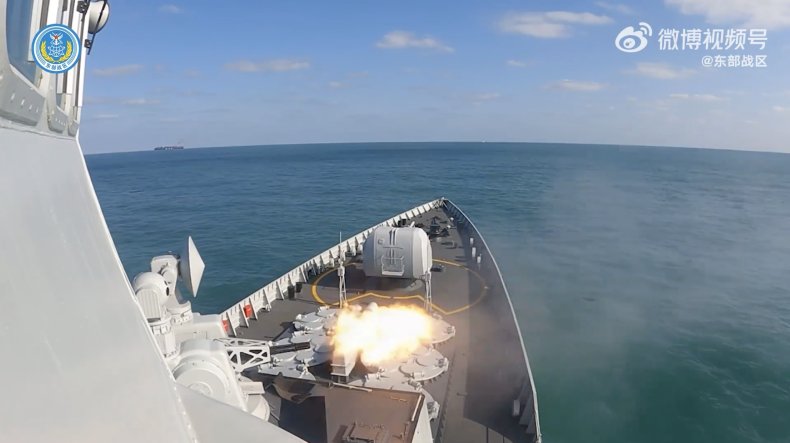 Pelosi's visit marks the first of its kind for a House of Representatives leader in a quarter of a century, and the latest sign of a more aggressive U.S. foreign policy toward China, even if the White House has not publicly endorsed the event. The National Security Council has said that the U.S. military would be responsible for Pelosi's security throughout her travel, which she conducted using a U.S. military aircraft.
Washington officially cut ties with Taipei in favor of Beijing in 1979, three decades after the People's Republic of China was established through the Chinese Communist Party's 1949 victory against nationalists who established a rival government in Taiwan. But the U.S. has maintained informal relations nonetheless through political contacts and military support that has increased in recent years.
Newsweek has reached out to the Chinese embassy in Washington, D.C., the Taipei Economic and Cultural Office in New York and the U.S. Department of Defense for comment.
This is a developing news story. More information will be added as it becomes available.