On Taiwan, Biden's China Actions Speak Louder Than His Gaffes
In what would mark a major shift in U.S. foreign policy, President Joe Biden has once again proclaimed that he had a commitment to defend Taiwan through military intervention should China seek to reunify the rival self-ruling island by force.
Once again, however, his administration quickly walked back Biden's comments, continuing a pattern of apparent division between the president and his officials, who for the third time in nine months insisted there had been no change in U.S. policy.
But in the background of what have appeared to be high-profile gaffes, Biden has pursued a steadily more assertive policy when it comes to the U.S. approach to Taiwan, with which Washington broke off official ties in 1979 as it established relations with Beijing. China's ruling Communist Party, whose civil war victory sent nationalists into exile on the island three decades earlier, continues to claim dominion over Taiwan today.
But Biden's policies appear to be moving toward mounting an official armed challenge to China's claim, which, if and when it occurs, could be seen as following in the footsteps of his predecessor and political rival, former President Donald Trump, who lifted restrictions on informal U.S.-Taiwan contacts days before leaving office.
"I think this trend started in the Trump administration. It has continued in the Biden administration," Bonnie Glaser, director of the Asia Program at the German Marshall Fund, told Newsweek. "It is in large part, a result of growing concern about the potential for a Chinese attack on Taiwan."
Glaser, who previously served as a consultant for the Pentagon and State Department, pointed to a number of recent actions by Beijing, including the semi-regular flights of People's Liberation Army aircraft through Taiwan's claimed Air Defense Identification Zone. She noted that these intrusive flights have been accompanied by increasingly assertive statements by Chinese President Xi Jinping calling for an end to Taiwan's autonomy.
The U.S. too has become more brazen. Visits to Taiwan by former and current U.S. officials have become increasingly normalized, as has a growing amount of U.S. military assistance, all despite vocal protests by China.
And while Biden's repeated remarks appear in line with this shift, Glaser argues that the justification for it is flawed. She noted that the Taiwan Relations Act and Six Assurance do not constitute a U.S. mandate to defend Taiwan beyond selling defensive weapons, and the three U.S.-China joint communiqués do not include Chinese recognition of the neutral "One-China policy" of the U.S., as Beijing maintains its own "One-China principle" that explicitly views the People's Republic as the only true China in the world.
"My concern is that every time the president speaks, it sounds confusing, it's unclear to me what our policy is," Glaser said. "And that doesn't provide reassurance to our allies or our partners. And it doesn't necessarily strengthen deterrence. It doesn't deter China from using force against Taiwan."
In fact, she argues, it might have the opposite effect.
"We could actually provoke a Chinese strike against Taiwan," Glaser told Newsweek, "rather than deterring the attack, which is, of course, what President Biden hopes to do."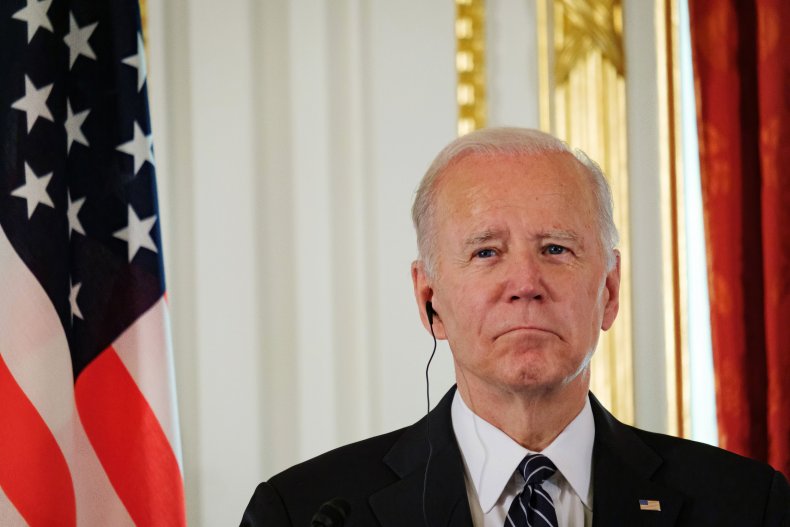 Assessing how the Biden's policy toward China and Taiwan has evolved in nearly a year and a half since the administration took office, others see less of a schism and more of a deliberate shift on the issue.
Robert B. Murrett, a retired career U.S. Navy officer who served in numerous senior positions, including as Director of Naval Intelligence, and now as deputy director of security policy and law at Syracuse University's Maxwell School, told Newsweek he "would not say that there is a divide between Biden and his administration — and would say that this is deliberate messaging."
"One of the things that people have found attractive about Joe Biden for many years now is his tendency to tell folks what he really thinks," Murrett said.
He highlighted an instance last month in which Biden appeared to call for regime change in Russia by proclaiming that President Vladimir Putin "cannot remain in power" due to his attack on Ukraine. Then, as now, the White House moved quickly to deny that the president's remarks constituted a U.S. policy change, but Biden proceeded to double down on them in the following days and weeks.
Murrett argued that this was one example of comments that "have attempted to be 'walked back' — only to have looked better after a brief interval — and ahead of public opinion."
Support for Taiwan has grown in popularity among a number of U.S. allies and partners. But, unlike Kyiv, Taipei enjoys few diplomatic allies, as all but 13 nations and the Vatican have opted to establish relations with a far more influential Beijing.
Even Washington has traditionally walked a careful line when it comes to engaging Taipei. This approach came to an abrupt halt just weeks after Trump's electoral victory, when he opted to accept a congratulatory phone call from Taiwanese President Tsai Ing-wen, and later went on to cast China as the U.S.' greatest foe.
Biden seized on this legacy early on in his own tenure, inviting Taiwan's top diplomat in the U.S. to his inauguration, and then incorporating the island into his administration's broader "Indo-Pacific" strategy, which largely focused on countering China's influence in Asia.
Under Biden, the number of U.S. military personnel stationed in Taiwan appears to have increased as well. Officially, the latest available data from December 2021 puts the number of U.S. active duty, reserve and civilian personnel at 48, higher than the 35 listed a year earlier, but the true figure remains elusive.
"The DMDC quarterly manpower report does not accurately represent the location or actual number of DoD personnel in various locations," Pentagon spokesperson John Supple told Newsweek, "as it pulls automatically from various Service and defense agency personnel systems that do not consistently or accurately reflect actual personnel numbers and can, in some cases, include personnel temporarily under Title 22 authority with the U.S State Department."
As to the nature of U.S. military presence in Taiwan, something rarely discussed by U.S. officials, Supple said that "consistent with the Taiwan Relations Act, the United States makes available to Taiwan defense articles and services necessary to enable it to maintain a sufficient self-defense capability. Our commitment to Taiwan is rock-solid and contributes to the maintenance of peace and stability across the Taiwan Strait and within the region."
"U.S. support for Taiwan remains strong, principled, and bipartisan," he added, "in line with our one China policy and longstanding American commitments as enumerated in the Taiwan Relations Act, the three Joint Communiqués, and the Six Assurances."
In another subtle yet potentially even more impactful change, the scenario of "foreign forces stationed on Taiwan" was removed from a list of events that the U.S. military assessed could trigger a Chinese attack in the Pentagon's latest China Military Power Report published last November. Asked why the language, featured throughout the two previous administrations, had been left out of this installation, Pentagon spokesperson Army Lieutenant Colonel Martin Meiners told Newsweek at the time that "the report speaks for itself."
Murrett, for his part, said that "firm deterrence is an important element" when it comes to "maintaining peace between China and Taiwan," but "diplomacy and other factors" are also key. Now, given Russia's ongoing war in Ukraine, he argued that "there is a window of opportunity to engage with Beijing — particularly as Russia will certainly emerge from the war as a weakened partner for China, which could drive the latter to be more open to diplomatic and economic initiatives from the West."
China has presented itself as neutral in the Ukraine conflict, expressing its rhetorical support for both sides. At the same time, Beijing and Moscow have continued to discuss deepening their "comprehensive strategic partnership of coordination for a new era," and both powers criticize in unison the expansion of the U.S.-led NATO military alliance into Eastern Europe.
When it comes to Taiwan in particular, there is no room for "strategic ambiguity" in China. Xi has made clear his goal of taking the island back into the mainland's fold, a mission likely to be reinforced as the Chinese Communist Party prepares for its 20th National Congress to be held in November, marking nine years since Xi ascended to the top position in one of the world's most powerful nations.
According to readouts released by the Chinese Foreign Ministry, Xi and his top officials dedicated much of their talks in March with Biden and his administration to discussing Taiwan. Often viewed by both sides as the most sensitive issue for the world's two most powerful nations, Taiwan only received passing mention in the U.S. readouts.
Reacting to Biden's remarks on Monday, Chinese Foreign Ministry spokesperson Wang Wenbin delivered a scathing condemnation, emphasizing along the lines of the "One-China principle" that "there is but one China in the world, Taiwan is an inalienable part of China's territory and the government of the People's Republic of China is the sole legal government representing the whole of China."
"This is a consensus of the international community and a political commitment made by the U.S. to China," Wang told reporters in comments shared with Newsweek by China's embassy in Washington. "The Taiwan question is purely China's internal affair that brooks no foreign interference. On issues concerning China's sovereignty and territorial integrity and other core interests, China has no room for compromise."
He warned that "no one should underestimate the strong resolve, determination and capability of the Chinese people in safeguarding national sovereignty and territorial integrity," nor should anyone "stand in opposition to the 1.4 billion Chinese people."
In a direct message to the Biden administration, Wang urged the U.S. "to abide by the one-China principle and the stipulations in the three China-U.S. joint communiqués, honor its important commitment to not supporting 'Taiwan independence,' speak and act with prudence on the Taiwan question, and avoid sending any wrong signal to the 'Taiwan independence' separatist forces, lest it should seriously undermine peace across the Taiwan Strait and China-U.S. relations."
"China will take firm actions to safeguard its sovereignty and security interests," he added. "We mean what we say."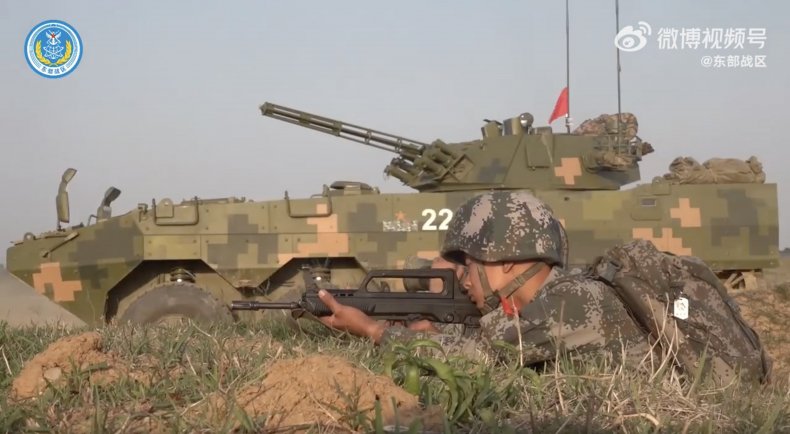 In its own reaction to Biden's comments Monday, the Taiwan Foreign Ministry followed the official U.S. line stating that there had been no policy change.
"President Biden emphasized the importance of peace and stability across the Taiwan Strait, and pointed out that if China invades Taiwan, the United States will defend Taiwan with force," the ministry said in a statement shared with Newsweek by the Taipei Economic and Cultural Office in New York.
"The White House later reiterated that the U.S. policy towards Taiwan remains unchanged, emphasizing that the U.S. will continue to provide Taiwan with military supplies needed for self-defense based on the Taiwan Relations Act," it added. "This commitment remains unchanged."
The ministry also expressed "its sincere welcome and gratitude to President Biden and the U.S. government for reaffirming their rock-solid commitment to Taiwan."
"The challenge posed by China to the security of the Taiwan Strait has raised great concern in the international community," the ministry said. "The Taiwanese government's determination to firmly defend Taiwan's freedom, democracy and security has never changed."
In this regard, the ministry said Taiwan "will continue to improve its self-defense capabilities, and deepen cooperation with like-minded countries such as the United States and Japan, to jointly defend the security of the Taiwan Strait and the rules-based international order, promoting peace, stability and prosperity in the Indo-Pacific region."
And while experts in China too took note that the Biden administration emphasized no change in policy, they felt that the U.S. appeared to be escalating in both word and deed.
"From Washington's view, these kinds of statements may be an offensive deterrence," South China Sea Probing Initiative director Hu Bo told Newsweek. "However, from Beijing's view, repeated overheated rhetoric like this and strengthened military and political ties between the U.S. and Taiwan mean more and more provocations, though the Biden administration always says that the policy on Taiwan has never been changed."
And while Hu said he could not predict China's reaction, he argued that "one thing is certain, that Beijing would not be intimidated."
"On the contrary, its preparation for the potential U.S. military intervention would thereby become more and more serious," he added. "Thus, the recent maneuvers on Taiwan Strait by Washington do nothing but further stoke tensions."
Andy Mok, a senior fellow at the Center for China and Globalization, described Biden's comments as an "infelicitous reiteration of the U.S.' One China policy."
"Otherwise, it would represent a dangerous provocation leading to further instability in the Far East," Mok added.
Echoing Glaser, he warned that such a move, if sincere, could actually lead to the outbreak of the conflict that Biden has said he set out to prevent.
"Providing Taiwan a security guarantee could lead to an emboldened Taiwan dragging the U.S. into a catastrophic conflict with China," Mok said. "If Biden does make such a promise, he may also be writing a check that the American body politic can't cash."