U.S. Concerned Russia May Use Armenia, Azerbaijan Conflict as 'Distraction'
Amid a turbulent time for Russia's invasion of Ukraine, U.S. leaders have expressed concern that the country might push other conflicts in order to distract from its recent failings.
Over the past week, Russia has suffered one of the biggest setbacks yet in its prolonged invasion, when Ukraine's forces mounted a successful counteroffensive and liberated several key areas in northeastern Kharkiv. This defeat has cast yet more doubt on Russia's ability to secure victories in the war and has prompted some leaders to call for President Vladimir Putin's resignation.
On Tuesday, U.S. Secretary of State Antony Blinken expressed concern during a press event at Indiana's Purdue University that Russia might exert influence over a recent conflict between Armenia and Azerbaijan in order to "stir the pot" and distract from its failures in Ukraine.
"Whether Russia tries in some fashion to stir the pot, to create a distraction from Ukraine, is something we're always concerned about," Blinken said. "But, if Russia can actually use its own influence for good, which is to again calm the waters, end the violence, and urge people to engage in good faith on building peace, that would be a positive thing."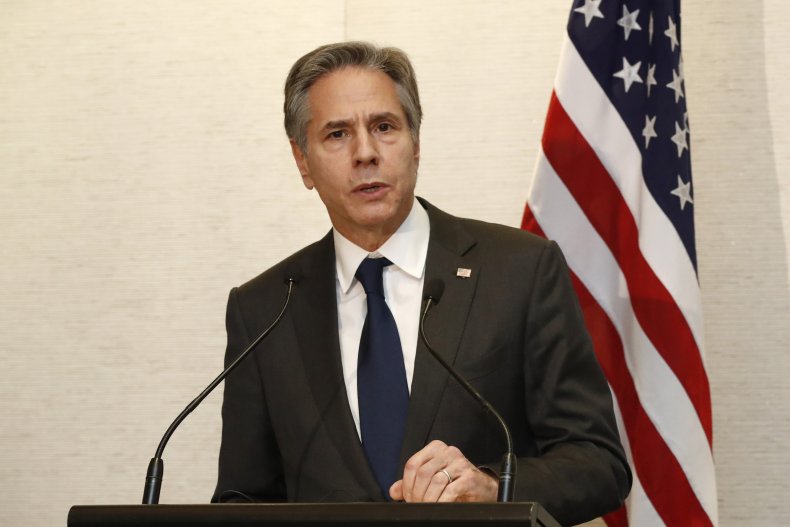 Blinken also confirmed during the press conference that he had the previous night reached out to the leaders of Armenia and Azerbaijan and "urged them to do everything possible to pull back from any conflict and to get back to talking about building a lasting peace between their countries."
Armenian Prime Minister Nikol Pashinyan earlier on Tuesday said that 49 of the country's servicemen were killed in the last week as fighting broke out along its border with Azerbaijan. The two countries, located just to the south of western Russia, have been engaged in border conflicts since May of last year, which followed a brief war in late 2020 over a contested region, Nagorno-Karabakh.
In a statement, the Russian foreign ministry claimed to have brokered a ceasefire in Tuesday's conflict and called for each nation to avoid further escalation.
"We call on the parties to refrain from further escalation of the situation, exercise restraint, and strictly observe the ceasefire in accordance with the trilateral statements of the leaders of Russia, Azerbaijan, and Armenia of November 9, 2020, January 11, and November 26, 2021," the statement said, according to CNN. "We are in close contact with [the capital cities] Baku and Yerevan. An appeal was received from the Armenian leadership to assist in resolving the situation....We expect that the agreement reached as a result of Russian mediation on a ceasefire from 9.00 am Moscow time on September 13 will be carried out in full."
Newsweek reached out to Russian officials for comment.