U.S. Consulate Hacked by 'Putin Supporters'
A group of hackers identifying themselves as Russian-speaking Ukrainians has hijacked a U.S. Consulate Twitter account and shared a string of anti-Kyiv messages, including one comparing the country to Nazi Germany.
Hackers took over the U.S. Consulate Milan's Twitter account early on Monday morning local time and went on to attack Ukraine amid the country's ongoing war with Russia.
One tweet contained a doctored image of the Ukrainian flag that folded to reveal the banner of Nazi Germany. The image was captioned: "We all know the truth (Italy flag emoji)."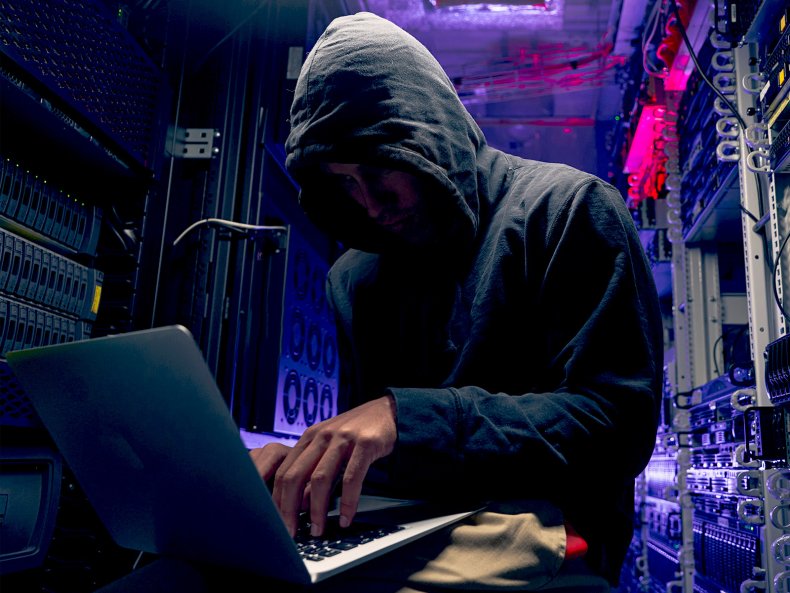 The post, which was deleted later that morning, was seen at least 149,000 times before it was taken down.
A State Department spokesperson told Newsweek the tweets were quickly removed and that the U.S. would continue to support Ukraine.
The spokesperson continued: "We are aware that the U.S. Consulate General in Milan's Twitter account was hacked in the early morning hours of February 27 local time (CET), resulting in a string of pro-Russia tweets containing disinformation.
"The U.S. Mission to Italy quickly took action to secure its account and remove the tweets. The unauthorized access reflects another attempt by Putin's supporters to wage a disinformation campaign about Russia's brutal war against Ukraine.
"The United States remains unwavering in its support for the government and people of Ukraine. We echo others in the U.S. government in emphasizing the importance of using multiple layers of security for online accounts and remaining vigilant about cyber risk."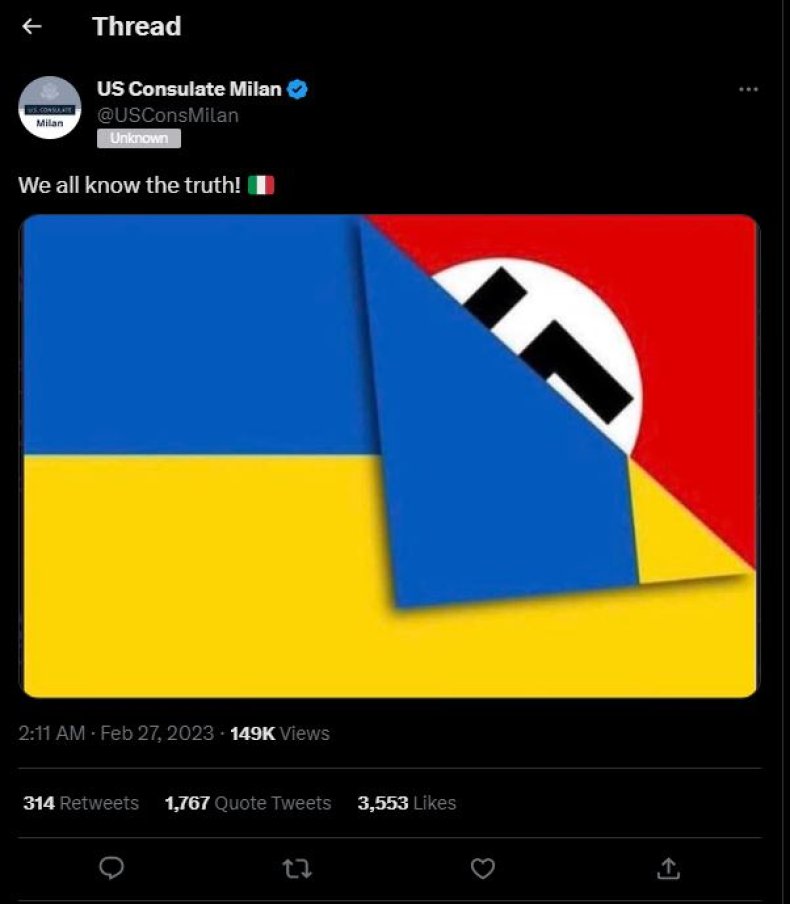 While the identity of the hackers is unknown, they claimed to be Russian-speaking Ukrainian.
Russian hackers have carried out significant ransomware attacks against the U.S. over the past few years, as reported by the U.S. Financial Crimes Enforcement Network.
Reuters reported that 1,489 ransomware-related filings worth nearly $1.2 billion were made in 2021, a 188 percent increase on the year before.
In the series of tweets, the hacker continued to compare Ukraine to Nazi Germany and said: "In my native country, soldiers tie people to poles, taking off their underpants for speaking Russian. Is this normal? Isn't this fascism, not Nazism?
"What if you were banned from speaking your native language? It seems that we are going back to the distant past. Do you remember the name of the one who destroyed the Jews and forbade them to speak their native language?
"I speak Russian. I am Ukranian. My country is sinking into the mud today, denying its past, changing one human life by three bucks. I love Ukraine. But the Ukraine seems to be drowning in a pile of ****."
The hacker's claims that Russian speakers had been tied to poles for speaking their language appear to reference viral videos shared online.
Examples of vigilante justice have been shared online, although those filmed appear to have been accused of looting rather than speaking Russian.
While the hackers claim that Russian speakers are banned from speaking their language in the country, the Ukrainian government did vote to place restrictions on Russian books and music.
A survey by the Kyiv International Institute of Sociology, published in 2019, found that as of 2004 30 percent of the country spoke mostly or only Russian.
Russian officials have regularly compared their Ukrainian counterparts as being supportive of fascists.
The Russian President Vladimir Putin has attempted to justify his invasion of Ukraine as an attempt to de-Nazify the country, a claim firmly dismissed by the White House.