U.S. Coronavirus Daily Deaths Lowest Since March—But Don't Get Too Excited
New deaths from novel coronavirus in the U.S. reached a low of around 250 on July 5, the lowest single-day death toll reported since around late March. But the figure is likely to have been impacted by the July 4 weekend, with reduced reporting of virus data over the break.
The U.S. saw 251 deaths on Sunday, according to the latest report Monday by Worldometer, which compiles data from sources including local health departments and Johns Hopkins University. This was the lowest daily death toll reported since March 24, when 269 deaths were recorded, according to Worldometer.
Weekends often see lower staffing levels at local health departments, testing labs and hospitals, while some of these facilities may be closed. Therefore, the reporting of virus data is often reduced or delayed during weekends and the figures reported for weekends can be slightly lower than usual.
But on a Monday or Tuesday, when staff levels return to normal, the figures tend to be slightly higher, with various sources reporting a backlog of previously recorded cases in their latest tallies.
For example, the death tolls reported over the Memorial Day weekend on May 25 (636 fatalities) was lower than that reported on Monday May 26 (783 fatalities) and on May 27, when 1,563 deaths were recorded, according to Worldometer.
A drop in deaths reported weekends and a surge reported Mondays and Tuesdays has been seen throughout the outbreak, including in June, as outlined below.
U.S. COVID deaths reported weekends vs. Mondays and Tuesdays
(according to the latest figures for June reported by Worldometer)
May 31 (Sunday): 651
June 1 (Monday): 695
June 2 (Tuesday): 1,147
June 7 (Sunday): 384
June 8 (Monday): 598
June 9 (Tuesday): 1,105
June 14 (Sunday): 336
June 15 (Monday): 432
June 16 (Tuesday): 859
June 21 (Sunday): 271
June 22 (Monday): 369
June 23 (Tuesday): 871
June 28 (Sunday): 285
June 29 (Monday): 366
June 30 (Tuesday): 727
American statistician Nate Silver also noted: "Sundays are slow, and a Sunday on a holiday weekend is perhaps likely to be especially slow. Some states didn't report data at all. So don't get too excited (or too freaked out by backlogs once the weekend is over)," in a post on his official Twitter account, referring to virus data reported by the COVID-19 Project, which reported 209 confirmed deaths for July 5.
The daily death count in the U.S. has been on a mostly declining trend since its peak around late April when around 2,750 deaths were reported, according to Worldometers.
Last month, the U.S. virus death toll was forecast to reach 201,129 by October 1, according to a new projection reported from the Institute for Health Metrics and Evaluation (IHME) at the University of Washington.
The latest projection marked a nearly 20 percent jump from the institute's previous projection of 169,890 deaths made about a week earlier.
Last week, cases of the novel coronavirus in the U.S. climbed past 50,000 for the second consecutive day on Thursday. The latest daily figures surpassed the total confirmed cases seen in Wuhan, the Chinese capital of the Hubei province where the virus was first reported earlier this year.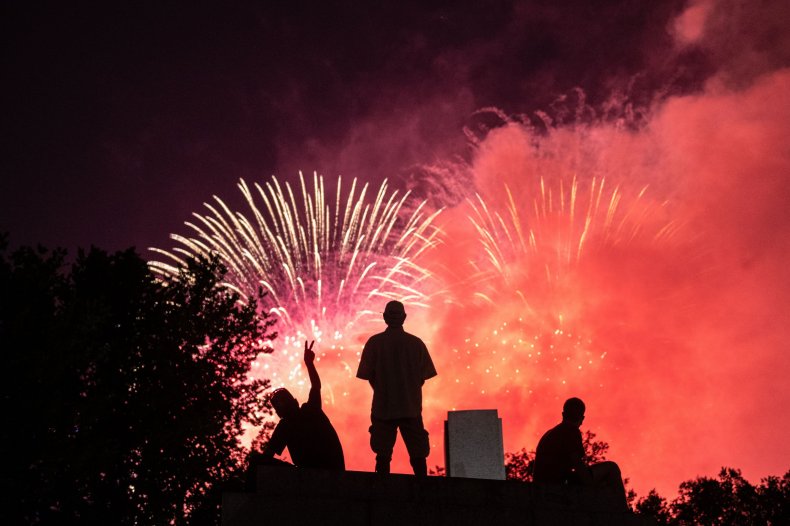 The novel coronavirus has infected over 11.4 million people across the globe, including more than 2.8 million in the U.S. Over 534,400 people have died, while more than 6.1 have reportedly recovered from infection, as of Monday, according to the latest figures from Johns Hopkins University.
The graphics below, provided by Statista, illustrate the spread of COVID-19 in the U.S.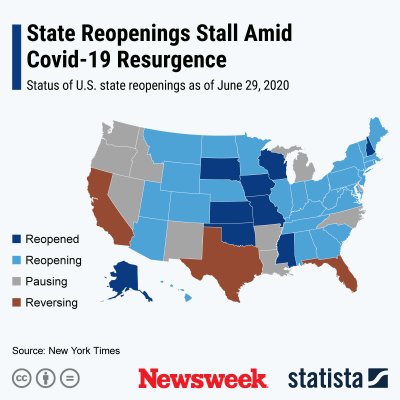 The graphic below, provided by Statista, illustrates the portion of people who wore a mask in April and May amid the ongoing pandemic.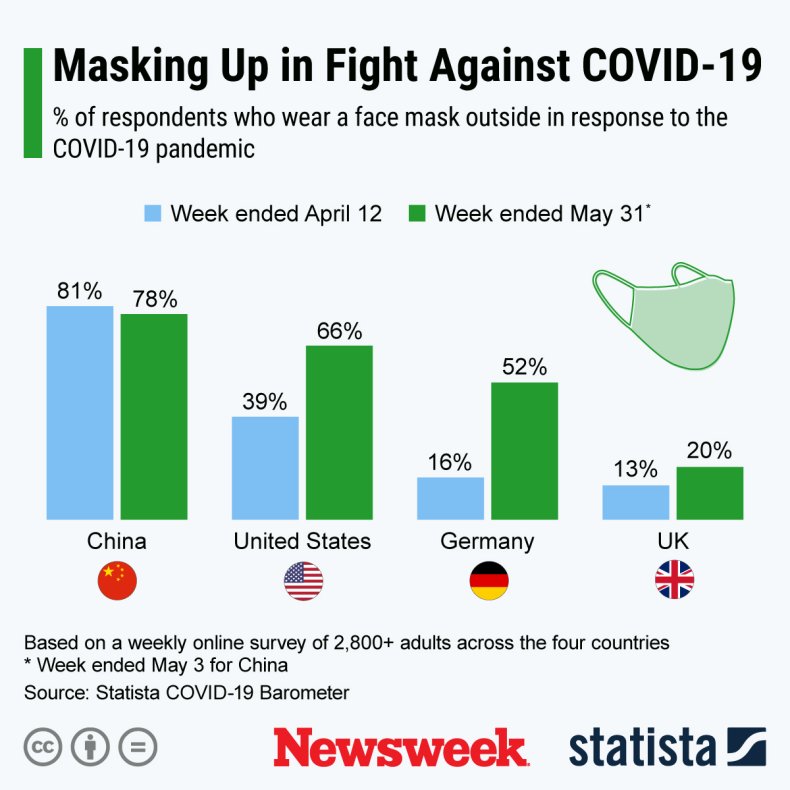 The graphic below, provided by Statista, illustrates the seven-day rolling average of new COVID-19 cases in the U.S. and European Union.