U.S. Coronavirus Death Toll Nears 100,000
The U.S. COVID-19 death toll has nearly surpassed 100,000, according to data from the Johns Hopkins University Coronavirus Resource Center. The total number of confirmed cases in the country stands at just over 1.6 million with more than 361,200 of those being patients that have recovered.
The worst-hit state is New York with more than 29,000 fatalities, followed by New Jersey and Massachusetts with over 11,000 and 6,300 COVID-19 deaths respectively.
The number of recovered cases in New York is over 63,200, and in New Jersey, more than 24,700.
10 U.S. States with most COVID-19 fatalities
1. New York - at least 29,000
2. New Jersey - at least 11,000
3. Massachussetts - 6,300
4. Michigan - at least 5,200
5. Pennsylvania - at least 5,100
6. Illinois - at least 4,700
7. California - at least 3,700
8. Connecticut - at least 3,600
9. Louisiana - at least 2,600
10. Maryland - at least 2,200
The United States has the highest number of confirmed COVID-19 cases in the world and by far the largest death toll from the disease.
The countries with the next-highest death tolls are the United Kingdom (at least 36,700 fatalities), Italy (at least 32,700), Spain (at least 28,600), France (at least 28,200) and Brazil (at least 22,000).
Meanwhile, the countries with the next-highest number of confirmed cases after the U.S are Brazil (at least 347,000) and Russia (at least 335,800).
States across America are beginning to reopen, although there are significant variations in how this process is being conducted, and nearly all businesses are operating with restrictions.
Medical workers take in patients outside a special coronavirus area at Maimonides Medical Center on May 6, 2020 in the Borough Park neighborhood of the Brooklyn borough of New York City.Spencer Platt/Getty Images
For example, in Texas, the second most populous state, the "stay-at-home" order expired on April 30, and all retail stores, restaurants, movie theaters and malls were allowed to reopen on May 1.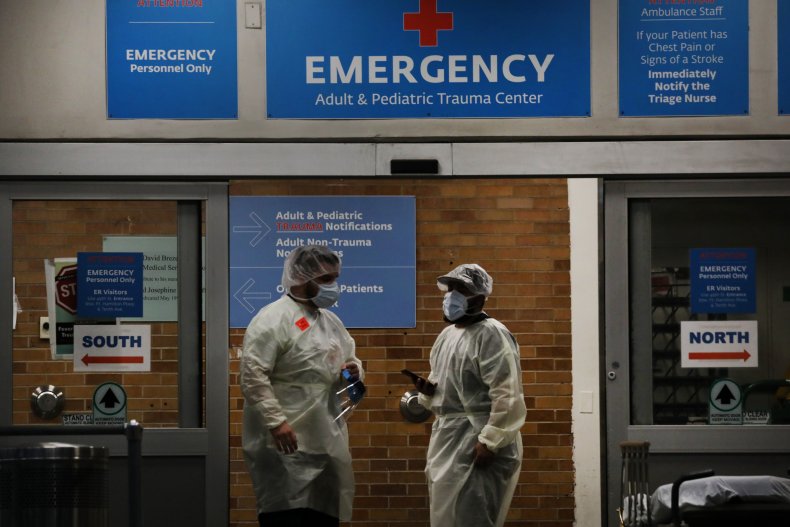 Meanwhile in New Jersey, one of the worst-hit states, the stay-at-home order does not expire until June 5, although state authorities have allowed a limited reopening for certain businesses and industries.
However, experts have warned that there could be a second wave of the virus as the country reopens, and are urging caution in the weeks and months ahead.
Dr. Anthony Fauci, the government's top infectious diseases expert, told an Economic Club of Washington webinar that a second wave of the virus was inevitable later in the year in the fall and winter.
"I'm almost certain it will come back, because the virus is so transmissible and it's globally spread," Fauci said.