GOP Senator Seeks Amendment Allowing the U.S. to Buy Russian Defense System
The U.S. could be permitted to purchase the Russian S-400 missile defense system from Turkey under a Senate amendment proposed last week.
Under the amendment to the National Defense Authorization Act of 2021 proposed by Senate Majority Whip John Thune, the U.S. Army would be able to purchase the S-400 missile defense system from Turkey, provided the country certified that money from the purchase would not be used to buy equipment deemed "incompatible" with the NATO alliance.
The proposal, first covered by Defense News, offers a potential remedy to tensions between Washington and Ankara over the country's purchase of the air defense system last year.
Shortly after Turkish officials accepted the Russian military technology, the U.S. removed Ankara from the F-35 Joint Strike Fighter Program and originally threatened to withdraw Turkey's production work on the aircraft by March this year.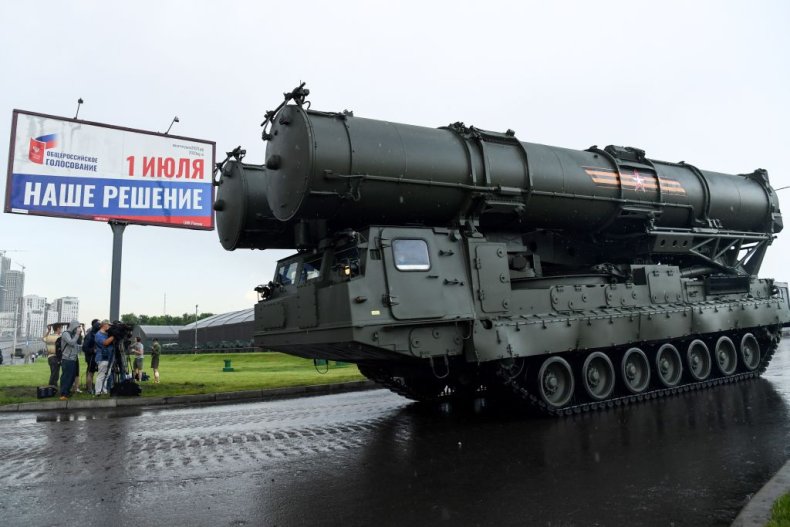 But as Defense One reported in January, Turkey is now still expected to produce parts for the jet until the end of this year.
Another amendment to the NDAA filed by Sen. James Risch (R-ID) on Thursday pushed for sanctions to be imposed against Turkey over its purchase of the S-400 system.
The Senate Foreign Relations Committee chairman's amendment would require President Donald Trump to impose "5 or more" major sanctions against Turkey under rules set out in the Countering America's Adversaries Through Sanctions Act.
Should the senator's amendment make it into the final draft of the NDAA, the president will have to level sanctions against Turkey within 30 days of the bill's passage.
Newsweek has contacted the offices of Sens. Thune and Risch for comment. This article will be updated with any responses.
Speaking to the press at the end of last year, Trump said his administration was "looking at" issuing sanctions against Turkey over its purchase of the S-400 missile system a month after White House National Security Adviser Robert O'Brien issued a similar warning.
"If Turkey doesn't get rid of the S-400, there will likely be sanctions," O'Brien told CBS News. "The CAATSA sanctions will pass Congress with an overwhelming bipartisan majority and Turkey will feel the impact of those sanctions."
The national security adviser added that there was "no place in NATO" for major Russian military hardware.
Sens. Thune and Risch proposed their amendments on the S-400 system before it was reported that Russian intelligence had offered the Taliban bounties for killing U.S. troops in Afghanistan.
U.S. intelligence service reportedly obtained information on the bounties allegedly offered by the Russian GRU agency from Taliban captives. Trump has repeatedly denied having any knowledge of the alleged Russian bounty offers.