U.S. Could See 13 Million More COVID Cases Before Biden Is Sworn in as President, Analysis Says
The U.S. could see an additional 13 million COVID-19 cases before President-elect Joe Biden is sworn in on January 20, 2021, an analysis by Reuters found.
The calculations are based upon the daily coronavirus case count in early November and percentage growth trends. The virus has flourished to unprecedented heights in the country this month, with the U.S. reporting 184,514 new cases and 1,431 deaths on Friday, according to data from Johns Hopkins University.
It is the highest number of new cases reported in a single day in the U.S. since the crisis began earlier this year, and Friday marked the fourth day in a row in which the country broke its own record for new cases.
Nationwide, there are 10,737,335 cumulative reported cases and 244,332 people have died as a result of the virus, according to Johns Hopkins.
While there are only two months left before the January 20 inauguration, COVID-19 trends are looking so grim across much of the country that the U.S. could add between 8 and 13 million new cases between now and then, the Reuters analysis found.
At the current daily rate of deaths, between 70,000 and 150,000 Americans could die ahead of the inauguration, according to Reuters. The Institute for Health Metrics and Evaluation calculated a similar estimate of 117,000 new deaths between November 12 and January 20.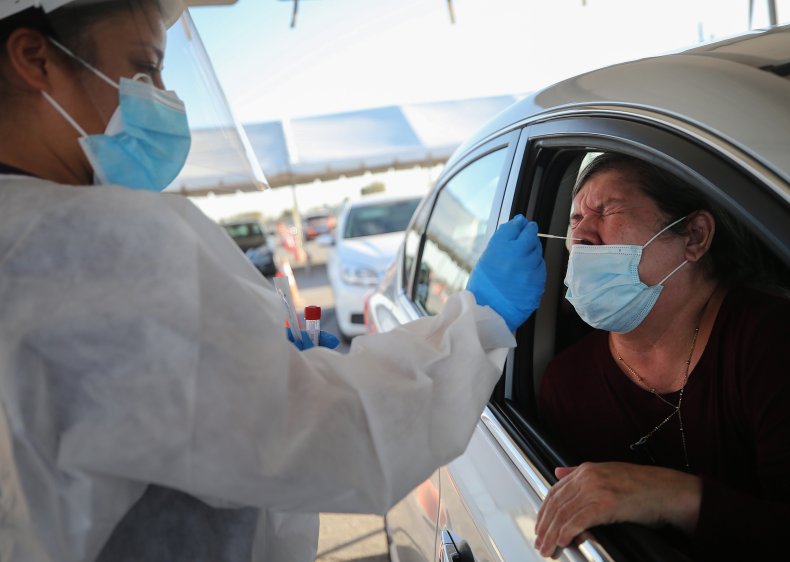 But the predicted numbers hinge on one crucial element. The only way to change the outcome, experts told Reuters, is if President Donald Trump's outgoing administration alters its strategy for handling the pandemic or if state governments introduce stricter and more coordinated measures.
Trump eliminated any possibility of a widespread lockdown while speaking at a press conference in the White House Rose Garden on Friday.
"I can tell you this administration will not go to a lockdown," he said, adding, "it will not be a necessity. Lockdowns cost lives and they cost a lot of problems."
Governors of at least two states, however, took matters into their own hands. Oregon Governor Kate Brown and New Mexico Governor Michelle Lujan Grisham announced that same day their states would enter partial lockdowns to help curb rising case numbers.
"We are in a life-or-death situation, and if we don't act right now, we cannot preserve the lives, we can't keep saving lives, and we will absolutely crush our current health care system and infrastructure," said Grisham, a Democrat, imposing a two-week stay-at-home order
Brown, also a Democrat, ordered a two-week "freeze" under which all businesses will be required to close their offices to the public and mandate work-from-home "to the greatest extent possible," the Associated Press reported.
Most stores in Oregon will stay open, but restaurants and bars can offer takeout only; social gatherings will be restricted to six people; and gyms, museums, pools, movie theaters and zoos will be forced to close, according to the AP.
Biden, whom the AP and other outlets projected as the winner of the presidential race on November 7, told Americans to "step up and do their part" to get the virus under control. In a statement released Friday amid news of the record-breaking COVID-19 numbers, Biden acknowledged that his powers were limited ahead of his official inauguration.
"I renew my call for every American, regardless of where they live or who they voted for, to step up and do their part on social distancing, hand washing, and mask wearing to protect themselves and to protect others.
"But right now is a moment for shared responsibility and shared action...And I promise you, from the moment I am sworn in on January 20, I will do everything in my power to lead this unified national effort," he said.