Brakes on Vaccination Rates in U.S., Decline Two-thirds Since April Peak
The average daily U.S. COVID-19 vaccination rate has dropped by more than two-thirds (over 66 percent) from its peak in April.
The latest report Sunday by the U.S. Centers for Disease Control and Prevention (CDC) showed the seven-day average of total COVID-19 vaccine doses administered per day has been declining since April 11, when it peaked at just over 3.3 million (3,327,493) doses.
By June 1, the daily average dipped to less than a million (871,207 doses), dropping by 2,456,286 doses (nearly 74 percent) from the peak recorded in April, according to the latest CDC data.
A seven-day analysis by The Washington Post reported the vaccination rate in every state declined by at least two-thirds from its peak.
According to the latest data from the CDC, several states in the South and Midwest of the country have reported the lowest number of total doses administered per 100,000 people.
The Post's analysis showed vaccinations dipped to below 15 daily shots per 10,000 residents in 12 states, including Utah, Oklahoma, Montana, North and South Dakotas as well as West Virginia. The analysis reported Alabama saw only four residents per 10,000 people got vaccinated last week.
The vaccinated portion of the population in Tennessee and five other states were reported to be at 50 percent or lower, according to The Post's analysis.
The latest CDC report showed that, as of Sunday, Mississippi has the lowest number of doses administered per 100,000. The state was followed by Alabama, Louisiana, Wyoming, and Arkansas in the top five states with the fewest doses administered per 100,000 residents.
The sharp decline in vaccinations in April coincided with the temporary suspension of the Johnson & Johnson vaccine following concerns of a rare blood clot side effect.
In a joint statement issued at the time, the CDC and the U.S. Food and Drug Administration said both federal bodies were "reviewing data involving six reported U.S. cases of a rare and severe type of blood clot in individuals after receiving the J&J vaccine."
The April 13 statement said: "Right now, these adverse events appear to be extremely rare," noting the CDC was in the process of investigating the aforementioned cases.
"Until that process is complete, we are recommending a pause in the use of this vaccine out of an abundance of caution," the statement said at the time.
The recent lag may prevent the country from reaching President Joe Biden's goal of having at least 70 percent of adults vaccinated with at least one dose by July 4.
Vaccination efforts could be further hampered by Americans who aren't planning to receive the vaccine in the immediate future.
A May 28 report from the KFF (Kaiser Family Foundation) COVID-19 Vaccine Monitor, an ongoing project "tracking the public's attitudes and experiences with COVID-19 vaccinations," indicated that around a third of Americans (32 percent) have no immediate plans to get vaccinated.
According to the latest KFF survey, 13 percent of Americans say they will "definitely not" get vaccinated. Seven percent said they would do so "only if required" for work or other activities, while 13 percent say they want to "wait and see" before getting a COVID-19 vaccine, the KFF's May report showed.
According to the CDC, as of Sunday, 63.5 percent of those aged 18 and over have received at least one dose of the vaccine, while 52.8 percent have been fully vaccinated.
Last week, Biden announced a "National Month of Action to mobilize an all-of-America sprint to get 70 percent" in a White House statement.
The president unveiled a series of vaccine initiatives, from free child care for vaccinated individuals to United's "Your Shot to Fly" sweepstake offering a year of free flights.
Several states have been hosting vaccine lotteries that award cash and other prizes to those who receive the vaccine in a bid to encourage more vaccinations.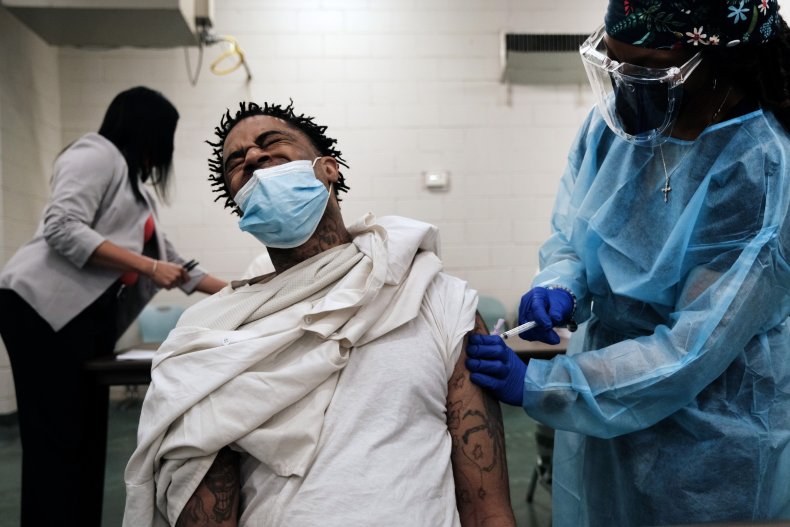 The wider picture
Coronavirus has infected more than 173.3 million people since it was first reported in Wuhan, China, including over 33.3 million in the U.S. More than 3.7 million people have died and over 2.1 billion COVID-19 vaccine doses have been administered worldwide, as of Monday, according to Johns Hopkins.
The graphic below, produced by research provider Statista, shows the total number of COVID-19 vaccine doses administered per 100 people across different countries.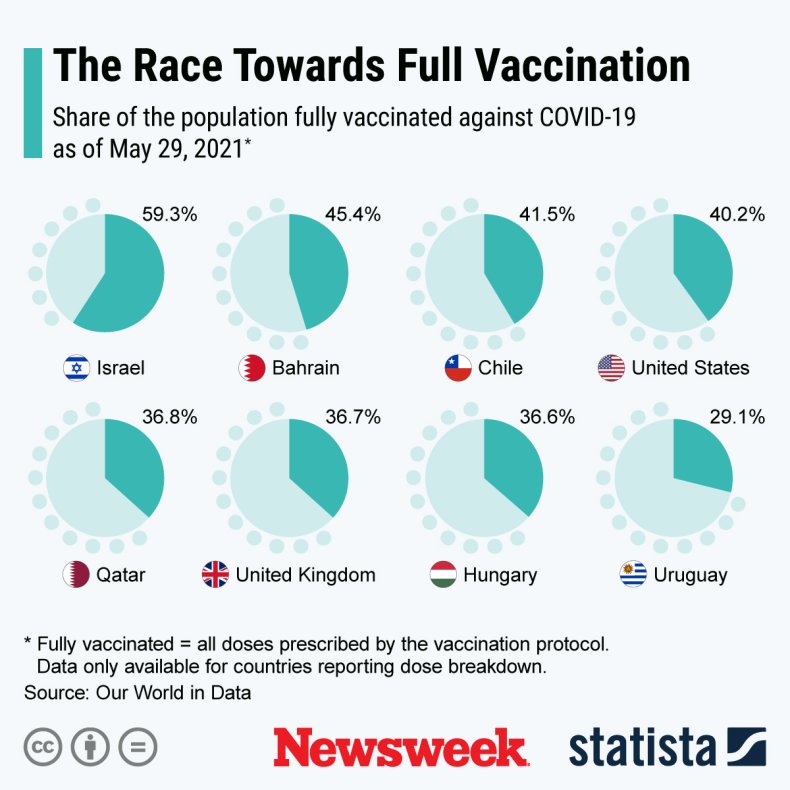 Newsweek, in partnership with NewsGuard, is dedicated to providing accurate and verifiable vaccine and health information. With NewsGuard's HealthGuard browser extension, users can verify if a website is a trustworthy source of health information. Visit the Newsweek VaxFacts website to learn more and to download the HealthGuard browser extension.