Four of the Worst States for COVID Vaccinations Are in the Deep South—Here's Why
As the U.S. COVID-19 vaccine rollout continues, a handful of southern states are reported to be lagging behind the rest of the country in initial vaccinations (first doses) administered per capita, with four of them being in the Deep South.
Georgia, Alabama, South Carolina and Mississippi are among the six states currently with the least number of people initiating vaccinations (those who received their first dose) per 100,000 people, according to the latest report Tuesday by the U.S. Centers for Disease Control and Prevention (CDC).
Here we take a look at some of the reasons for the vaccine rollout delays in these states.
South Carolina
Some hospitals in South Carolina were reported to be confused over who is eligible for vaccination.
As in most other states, health workers are being prioritized for vaccination in South Carolina but some hospitals were reported to have been unsure whether they were allowed to inoculate workers who were not part of their staff, causing further delays in vaccinations.
The interim director of public health for South Carolina's Department of Health and Environmental Control (DHEC), Dr. Brannon Traxler, issued updated guidance in early January to clarify this point.
"We hope hospitals understand" they are not only allowed to vaccinate people eligible in the first phase of vaccinations (Phase 1A) who are outside their hospital system, but "we actually encourage it," Traxler said.
South Carolina Gov. Henry McMaster expressed frustration over the delay in early January. He issued a deadline for those who are eligible to be vaccinated in the first phase to sign up for it by January 15 in a bid "to eliminate the bottlenecks that are slowing this [vaccine rollout] down."
Those who fail to sign up by the deadline will need to wait for the next phase of vaccination, even though they qualify for it before then.
"It's like boarding an airplane," he noted. "When they call your rows, if you don't get on the plane, you go to the back of the line."
But this week, McMaster and the DHEC expanded the pool of those eligible to be vaccinated in the first phase to include anyone over the age of 70, who could now be inoculated from Wednesday.
The move left hospitals confused again about who to prioritize for vaccination, ultimately causing further delays.
The chief medical officer at Trident Health, Dr. Lee Biggs, told South Carolina's WCSC-TV: "It was an unanticipated vaccine direction that no one had built anything to fill that need."
He noted many hospitals will not be able to vaccinate those in the newly eligible group as "we are focusing on aggressively meeting the governor's mandate last week to get everybody in phase 1A completed by Jan. 15, which is this Friday."
Alabama
Alabama was reported to be facing logistical difficulties in getting its health workers vaccinated, with some also reluctant to take the vaccine.
Dr. William Schaffner, professor of infectious disease at Vanderbilt University Medical Center who is a part of the CDC group that devised the plan for who would be prioritized for vaccination, noted vaccinating health workers has come to be "substantially more difficult than most people anticipated on the front end.
"What we have learned, and what is being learned across the country, there is much more hesitancy and skepticism, even in the medical community, than was anticipated on the front end," Schaffner told Alabama's AL.com.
Last month, several hospitals across the state reported around 50 percent of health workers said they would get a COVID-19 vaccine.
Alabama State Health Officer Dr. Scott Harris noted: "If somebody doesn't come to get a vaccine, does that mean they are vaccine hesitant or does that mean we just didn't communicate with them well or do they just not have access to care because there's transportation involved that we don't have access too? There's many different factors."
Assistant State Health Officer for the Alabama Department of Public Health, Dr. Karen Landers, added: "The ability to vaccinate healthcare workers in Alabama is related not only to the supply but also to the demand and certainly we have had high demand."
Mississippi
Mississippi was reported to be facing delays due to the administering of vaccinations being left in the hands of large pharmacy chains like CVS and Walgreens, both of which have also reported staff shortages, the Mississippi Free Press reported Tuesday.
A reporter for the Mississippi Free Press, Ashton Pittman, tweeted Tuesday: "WTF @CVS & @Walgreens ? They received 78,000 vaccines through the federal partnership for long term care facilities in Mississippi and have only administered FOUR PERCENT. They are the ones in charge of vaccinations at nursing homes! LTR residents will die bc [because] of these delays!"
The state has also claimed there aren't enough staff workers at CVS and Walgreens who are capable of administering the vaccine.
Mississippi Senator Hob Bryan questioned the claim, noting: "We're sending vaccine to Walgreens and CVS, who say they cannot get people to do the vaccinations.
"The state's crawling with people who will do the vaccinations and can't get the vaccine. Why don't we just deliver it to nursing homes? There will be somebody there to administer the vaccine. They've got pharmacists in their town. They've got nurses there," he added.
Georgia
Georgia was also reported to be plagued by staff shortages and shipment delays, with various parts of the state receiving the vaccines at different times, WRCB reported.
Lawton Davis, the health director of Georgia's Coastal Health District, which includes Savannah, noted the district had to stop scheduling appointments after an "overwhelming response from residents ages 65 and older interested in COVID-19 vaccination," in a statement.
"We know people are frustrated because the process is moving more slowly than they would like, and if we could vaccinate everyone today, we'd do that.
"But your health departments are stretched thin and doing what they can to move forward," Davis added.
A reporter for Georgia's CBS46, Zac Summers, also noted Tuesday: "Seniors in Georgia are dealing with crashing websites, online delays and overbooked appointments," in a post on Twitter.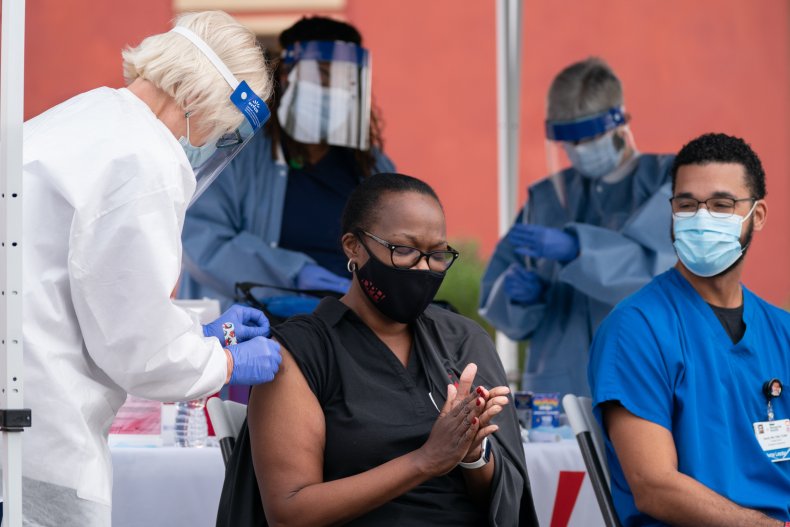 The wider picture
The novel coronavirus has infected more than 91.7 million people, including just over 22.8 million in the U.S., since it was first reported in Wuhan, China.
More than 1.9 million people have died worldwide and more than 50.7 million have recovered as of Wednesday, according to Johns Hopkins University.
The graphic below, produced by Statista, illustrates U.S. adults' opinion of the country's rollout of the COVID-19 vaccine.