U.S. Cuban Embassy Will Permanently Operate With Minimum Staff After Mystery 'Sonic Attacks'
The State Department announced Friday that the U.S. Embassy in Havana would withdraw 60 percent of its personnel permanently, after mysterious sonic attacks affected several diplomats.
"The embassy will continue to operate with the minimum personnel necessary to perform core diplomatic and consular functions, similar to the level of emergency staffing maintained during ordered departure," the State Department said in a statement, according to Reuters. "The embassy will operate as an unaccompanied post, defined as a post at which no family members are permitted to reside."
The decision comes six months after Secretary of State Rex Tillerson announced that the department would pull out most of its personnel from Havana, as a result of the 24 diplomats who were injured from the inexplicable attacks that occurred between November 2016 and August 2017. In separate incidents, 19 U.S. citizens who traveled to Cuba reportedly experienced symptoms similar to those suffered by government personnel; a travel warning was issued for the island on September 29.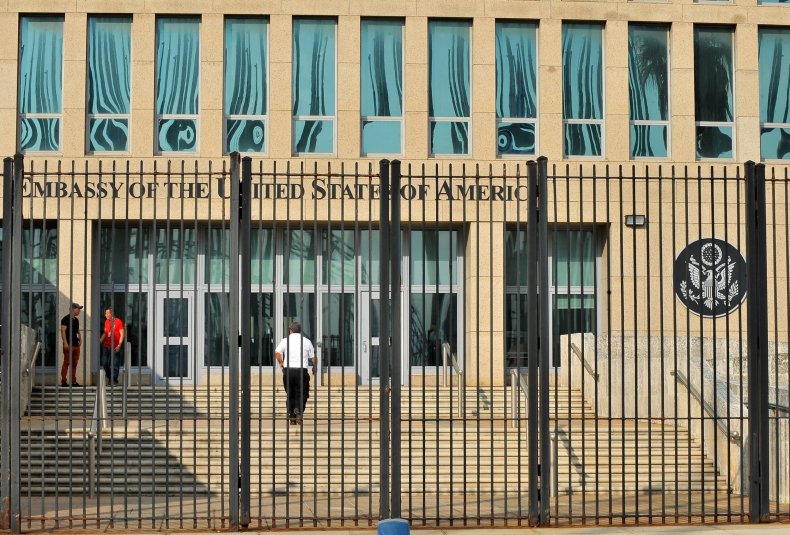 The staff reductions would have a big impact on U.S.-Cuba diplomatic relations, according to officials cited by ProPublica—especially for Cubans who want to travel to the United States. A decision memorandum was submitted to Tillerson last week, which included a proposal to keep an emergency staff of 18 diplomats in Havana. Department regulations stipulate that a temporary evacuation of personnel can only last six months before becoming permanent; March 4 would have been the deadline to send some diplomats back to their jobs or reduce staff.
Since September, most of the visa processing has been suspended in Cuba, while issuing of immigration visas has been transferred to Colombia, The Miami Herald reported. Cubans must fly to a third-party nation to request tourist and other non-immigrant visas.
Likewise, the number of American tourists traveling to Cuba has dropped after the State Department warned U.S. citizens to "reconsider" visiting the island, the publication added.
The State Department still hasn't reached a conclusion as to how its staff was affected. The FBI reportedly ruled out any evidence that supports the use of sonic waves against American staffers in Havana, according to an Associated Press report on January 9. Nevertheless, the State Department blames the Cuban government for not having protected its personnel.
Meanwhile, Havana has adamantly rejected any involvement in the sonic attacks and expressed doubts about how these incidents took place, the Herald reported. The events also led to the dismissal of 15 Cuban Embassy officials in Washington, D.C., last October.