Montenegro's foreign minister has warned the only way for the U.S. and European Union to compete with China's growing influence in the Balkans is through significant and sustained investment.
Western-facing nations and leaders in the "heart of Europe," Dorde Radulovic told Newsweek, want more U.S. and European financing to support much-needed infrastructure projects, economic growth, and to safeguard against Moscow and Beijing.
"We would like to see more and more investments coming from the West," Radulovic said.
"The Western Balkans is the heart of Europe—not the EU, but Europe. Montenegro is the heart of the Western Balkans. Americans and Europeans have to be more assertive in the region.
"We are in the political West. We are a member of NATO, we are the most advanced country in the EU accession talks, and we have a lot of things in common with the EU."
Every non-EU Balkan state has membership ambitions. But the process is long and political turmoil—for example the current internal disputes wracking Bosnia and Herzegovina—threaten further delays.
Montenegro is the most advanced of all those bidding to become full EU members. The country joined NATO in 2017, and Radulovic says Podgorica has no doubt where its future lies.
But the EU is accused of neglecting the region; the tortuous process of membership tests, negotiations, and vetoes from member states over migration concerns embittering some.
European Commission President Ursula von der Leyen visited the Western Balkans in September in a bid to ease concerns about the membership process.
"Bosnia and Herzegovina, and all the Western Balkans, belong in the European Union," she said at a stop at the opening of the Svilaj bridge connecting northern Bosnia to Croatia. "It is in our common interest, but I also believe, it is our destiny."
But EU vacillation opens the door to others.
"Our main foreign policy partners, the EU, NATO and the U.S. for some time have neglected the Western Balkans," Radulovic said. "It left an empty geopolitical space here in the Western Balkans. China jumped in."
The Western Balkans has become a key center of China's worldwide bid for influence and profits. Beijing and state-linked firms invested more than $14.6 billion in Bosnia and Herzegovina, Montenegro, North Macedonia, and Serbia between 2005 and 2019.
The EU remains the largest trade foreign investment partner for the region—responsible for around 70 percent, far above China's 1 percent—but Beijing has been focusing on big ticket items vital to Balkan progress.
One tendril of China's mammoth, multi-trillion dollar Belt and Road Initiative runs through the region, with overland rail and road links connecting Central and Eastern Europe to the Piraeus port in Greece—which is majority-owned by Chinese state-owned shipping giant Cosco.
Beijing-linked firms have funded highways in Montenegro, railways in Serbia, a coal plant in Bosnia and Herzegovina, and roads in North Macedonia.
The tab is adding up. Chinese loans account for some 3 percent of GDP in Bosnia and Herzegovina, 7 percent in Serbia, 8 percent in North Macedonia, and 21 percent in Montenegro.
Small nations around the world have fallen victim to Chinese "debt-trap diplomacy"—taking large Chinese loans and when unable to keep up with repayments, being forced to cede control of infrastructure or back Chinese geostrategic interests.
Montenegro is working with European officials and financial institutions to refinance a $1 billion debt to China, taken out by the previous government to pay for part of a new road to Serbia.
"We definitely needed to improve our infrastructure in Montenegro," Raduloivc said. "China was a bidder, and the government back then accepted the bid. We are capable of paying back this Chinese loan," Radulovic said.
The first installment was paid recently. Refinancing the debt would transfer its ownership to European or perhaps American institutions, easing concerns that Podgorica would find itself at the mercy of a Chinese debt trap.
"We are in the political West, but our economy depends on the political East," Radulovic said. "We have this Chinese loan, we have tourism that depends on tourists coming from former USSR countries...We would like to bridge this schizophrenic situation and bring more and more investors from the West."
Radulovic said his government is resolute in its Western ideals. "We have to ask ourselves what is more important—values and ideas or investments? We do need investment, but that is not going to jeopardize any of our foreign policy priorities.
"It's inevitable to have to cooperate with China. We have to cooperate with pretty much everyone without exception. Cooperation, and economic cooperation, is one thing, but speaking of political orientation and values it's something else entirely. In our mindset and values, we are in the political West; not 100 percent but 1,000,000 percent."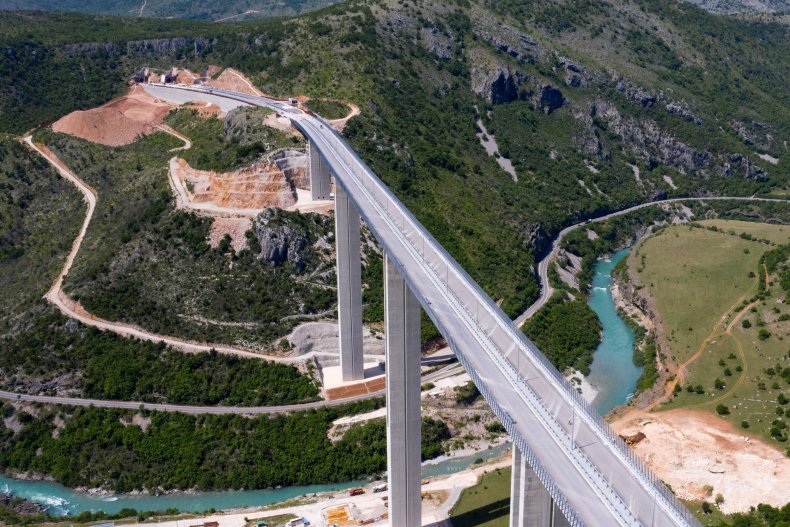 Both the U.S. and Europe must do more, Radulovic said. "Mr. Biden said, 'America is back.' If it's back, that means it has to make more investments...It would be a strong sign that the EU and America are back on track when it comes to the region."
Biden "knows the Western Balkans inside out," Radulovic said, and more U.S. focus and funding would also make China think twice. "These third actors are going to be repelled a little bit," Radulovic said.
"When it comes to the Western Balkans, I think there is deep bipartisan agreement," he added, noting that initiatives launched under former President Donald Trump have continued. The "mini-Schengen" Balkan freedom of movement agreement, for example, was spearheaded by the former administration.
Radulovic said he is not concerned that the Western Balkans will be dragged into a new "Cold War" between the U.S. and China: "Cold War means you have a bipolar world. Nowadays, I don't believe we have a bipolar world. We have different opinions on different matters. I think this term is a little exaggerated."
Russia, too, is part of the Balkan game of influence. Moscow has long sought to keep the region out of Western hands and has been accused of using hybrid warfare to destabilize Western-facing regional governments.
In 2016, for example, Montenegro authorities uncovered a planned coup by opposition politicians and Russian intelligence agents, which would have coincided with national parliamentary elections.
The failed coup buoyed the pro-NATO faction in the country and the following year the parliament voted 46-0 to join the alliance, though some opposition lawmakers boycotted the vote.
"If you look at relations with Russia, you can't help mentioning that these relations have been impaired since 2014, since the outbreak of the Ukrainian crisis," Radulovic said.
The foreign minister said Montenegro must balance deterrence with dialogue. The threat now is less existential than in the past, he explained, but no less present.
"Since the 1940s, 1950s, things have changed. I'm not trying to belittle our hard power challenges—god forbid. But we are not at the peak of hard power challenges anymore. The threats have been transferred to tech wars, hybrid threats, etc," he said.
"The Western Balkans has always been fertile soil for superpowers and third actors. We here in the Western Balkans, especially Montenegro, we've been experiencing these kinds of hybrid threats."
NATO leaders will meet in Latvia for the next alliance ministerial later this month. Montenegro has requested that Secretary-General Jens Stoltenberg put special focus on the Western Balkans.
"The chain is only as strong as its weakest link," he said.
Montenegro and its fellow Western Balkan states must also balance the ethnic divisions that once underpinned genocide and devastation in the region.
To the northeast sits Serbia. Belgrade remains close with Moscow and is the defender of the region's Serb communities, which lends the country additional influence in regional affairs.
To the northwest, neighboring Bosnia and Herzegovina is currently grappling with a potential secession crisis driven by its Serb minority leaders. To the east, Kosovo—which remains unrecognized by Serbia—is also struggling with internal unrest related to its Serb population and border tensions with Belgrade.
The region is scarred by the genocidal wars of the 1990s, with generational trauma and suspicion hampering reconciliation and progress. In Bosnia, for example, Radulovic said: "We are witnessing things that haven't been sorted out over the last 25 years."
Still, Bosnia and its neighbors have come a long way. "I don't believe that war might occur there again," Radulovic said. "I'm not that pessimistic."
Montenegro, too, must handle internal unrest related to its Serb communities—the most recent flare-up related to a dispute over the inauguration of the new leader of the Serbian Orthodox Church—while trying to improve cross-border relations with Belgrade.
"We could have done better and we should have done better in the past," Radulovic said of ties with Serbia. "We do have some misunderstandings, let's say we look at the same issues with different positions.
"But basically, I wouldn't say that it's something dire that cannot be bridged.
"In a perfect world, I conceive of our relations like Germany and Austria. We speak the same language, we share a long history and tradition. One part is of NATO and the other country is neutral, but both countries are in the EU.
"I like to avoid trigger words like war, peace, hatred...I hope that we left them in the 1990s."