U.S. Experiencing COVID Test Results Delays, Long Lines at Sites Ahead of Holiday
Americans hoping to get tested for COVID-19 before the holiday weekend are finding deep lines at testing sites, while those who have been tested are experiencing long delays in receiving their results.
Sixty-eight percent of Americans said they plan to gather with friends and family members they don't live with for the holidays in a CBS News/YouGov poll conducted December 7-9. The rapid surge of COVID brought on by the Omicron variant has seen many of those people scrambling for last-minute tests.
Even as President Joe Biden has increased efforts to supply more at-home testing kits and open more testing locations across the country, the U.S. has struggled to meet the demand. Local news outlets in many cities have reported people waiting for hours at testing sites, while social media is full of complaints of people who have waited up to 10 days for PCR test results in some cases.
Patrick Cotnoir, a producer who has worked for Marvel and the Upright Citizens Brigade Theatre, told Newsweek a delay in test results caused him to scrap his holiday plans. He said he took a PCR test on Friday morning in the Queens borough of New York City.
"I'm still waiting for them," Cotnoir said of the still-delayed results on Thursday. "I was exposed a few days beforehand and found out the night before. I haven't had any symptoms and rapid [tests] came back negative, but still canceled my trip home out of caution. It's been a weird week, I think I'm fine, but it would be nice to get those results back eventually."
Like many frustrated people waiting on results, Cotnoir has documented his experience on Twitter.
New York City has opened more testing locations, including some set up outside of subway stations, though complaints have emerged about some of the more prominent sites already in place.
On Tuesday, New York State Attorney General Letitia James released a stern statement warning COVID testing companies to be more transparent about delays in getting results of PCR tests.
"With the Omicron wave hitting in the middle of the holiday season, New Yorkers need timely COVID-19 test results more than ever to make decisions about whether they can safely travel or gather with loved ones," James wrote.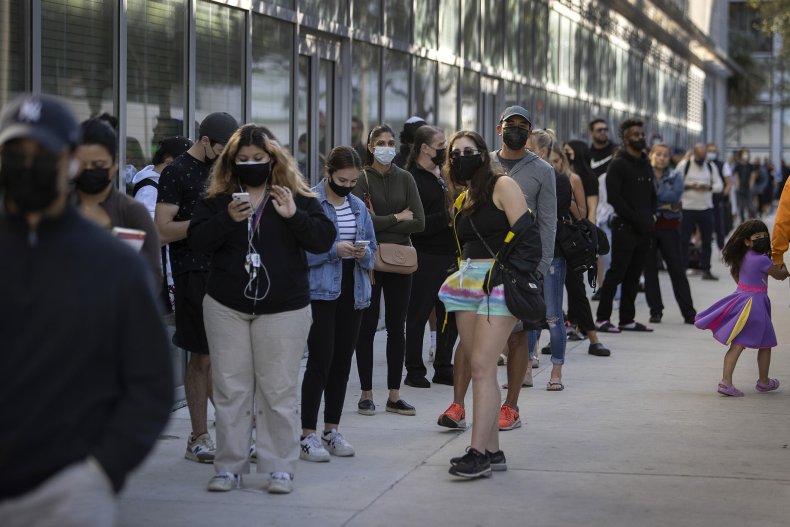 James specifically cited LabQ Diagnostics for not being forthcoming enough about the wait times for results. Her statement said she heard reports of some consumers waiting over 96 hours for test results, despite the company claiming consumers should find out if they are positive or negative within 48 hours.
A LabQ spokesperson told Gothamist they were caught off-guard by the attorney general's warning, noting the company's laboratories became overwhelmed after receiving 72,000 test samples a day. The company, which operates dozens of sites throughout New York City, has since updated its messaging to say results could take between 48 and 96 hours.
Another prominent New York City testing company, the urgent care operator CityMD, has notified customers they may wait up to five days for PCR test results.
With such extended wait times, many people are seeking out locations that offer test results. The Associated Press reported high prices listed for such sites, with one location charging $150 for next-day results, while another listed a $389 price tag for two-hour results.
Meanwhile, travelers relying on airports for tests may experience issues. XpresCheck, which provides tests at 11 airports in the U.S., has been hit by extended wait times, a spokesperson told Reuters.
Americans, especially those in larger cities, also may not want to rely on at-home tests: Pharmacies have reported issues with keeping the kits in stock due to consumer demand. Drugstores throughout New York City have posted signs to alert customers that they were out of tests, said the AP.
Newsweek contacted LabQ and CityMD for comment.