Tensions flared in Portland's largest suburb for a second night following a vigil for a Black man shot dead by police, as conflicting accounts by law enforcement obscure the circumstances of the man's death.
On Friday, mourners had gathered in Hazel Dell in Clark County where Kevin Peterson Jr., 21, had been shot the previous night after officers approached him because they believed he was selling drugs in the parking lot of a hotel.
Authorities have not officially named Peterson but Kevin E. Peterson Sr. told The Oregonian that the man shot was his son. The incident in south-west Washington state is around 12 miles north of Portland, in neighboring Oregon, where racial justice protests have raged for months following the shooting death of George Floyd in May.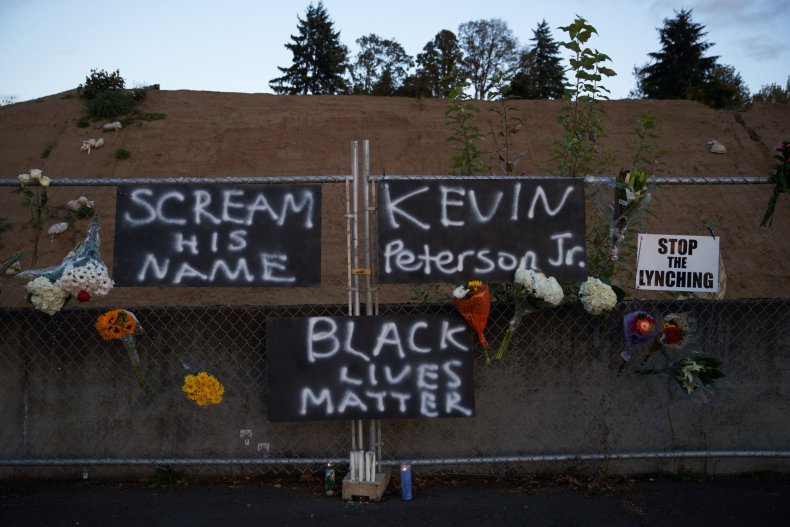 Footage from Friday shared on social media showed skirmishes and shouting matches between right and left-wing protesters near to where hundreds had gathered for the memorial. There were also confrontations between right-wing demonstrators and those supporting the Black Lives Matter (BLM) movement. Many waved President Donald Trump or pro-police flags.
A crowd from the vigil reconvened in downtown Vancouver where they marched past City Hall before heading north, although police vehicles blocked their passage to the Vancouver Police Department, Oregon Live reported.
The march arrived at the Clark County Superior Court building which was guarded by around 40 federal officers as people chanted "Say his name! Kevin Peterson!" according to the news outlet.
A reporter from Oregon Public Broadcasting (OPB) sharing images of the skirmishes on social media tweeted that the remnants of burnt U.S. flags were found in front of the court building.
OPB also reported that shots had been fired near protesters in downtown Vancouver but no one was hurt and it was not an active shooter event. Vancouver police made a number of arrests over the course of the night.
Mac Smiff, an organizer of Black Lives Matter protests in Portland, told the Associated Press: "There was a ton of grief, a ton of grief. He's 21 and has a baby, an infant," adding, "they're not sure what happened, why the encounter took place. Everyone was extremely disheveled and confused."
There have been differing accounts over what led up to Peterson's shooting. Without naming him, Clark County Sheriff Chuck Atkins said in a statement on Friday that "upon entering the parking lot of a bank, the man reportedly fired his weapon at the deputies. The deputies returned fire and the subject was tragically killed."
However, the Southwest Washington Independent Investigative Response Team (SWIIRT) said in a statement that victim had simply "produced" a gun before deputies fired.
Newsweek has contacted for comment the Battle Ground Police, which is providing public information for the SWIIRT investigation.