U.S.-France Submarine Deal Dispute Should Not Cause NATO Rift, Chief Says
The high-profile falling-out between the U.S. and France over the AUKUS agreement shouldn't "cause a rift" in the transatlantic alliance, the head of NATO said on Thursday.
At a press conference following a meeting of NATO national security advisers, Secretary-General Jens Stoltenberg said he was "absolutely confident that the allies involved will find a way forward."
"We also discussed the recent AUKUS deal, which led to disagreements among some allies," said Stoltenberg. "This agreement is not directed against Europe or NATO; there is broad agreement that we should not allow this issue to cause a rift in the transatlantic alliance."
NATO allies "do not always see eye to eye," he continued, "but we never lose sight of the big picture." He added: "The security challenges we face are too great for any country, or continent, to face alone."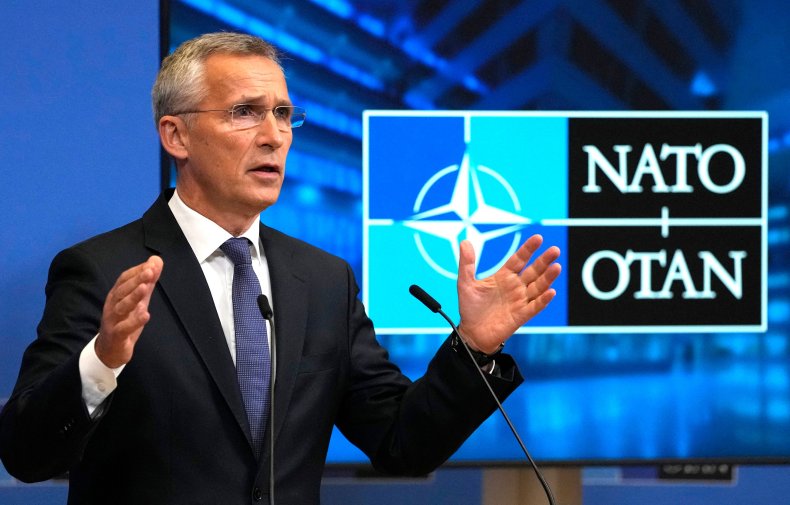 Paris expressed indignation last month when President Joe Biden, British Prime Minister Boris Johnson and Australian Prime Minister Scott Morrison held a joint press event to announce the AUKUS security pact, which will share sensitive propulsion technology to help deliver the Royal Australian Navy's first fleet of nuclear-powered submarines.
The agreement came at the cost of Australia's multi-billion dollar troubled contract with French shipbuilder Naval Group, which learned, along with the French government, that the deal for its diesel-electric submarines would be scrapped. France withdrew its ambassadors from Washington and Canberra, and accused the Biden administration of betrayal.
Stoltenberg said he understood the disappointment in Paris but welcomed recent efforts to mend times, referring to a joint statement by Biden and France's Emmanuel Macron a week later, in which the American president admitted to certain shortcomings in the decision-making process leading up to AUKUS. Biden and Macron agreed to meet on the sidelines of this month's G20 summit in Rome.
The NATO chief in his press conference twice noted that AUKUS was not directed at Europe or the transatlantic alliance, hinting at the pact's goal of meeting challenges posed by China's growing military presence in the Indo-Pacific region.
On Thursday, Stoltenberg told guests at an event in Berlin that Europe was "facing a pivotal moment," according to a transcript carried by NATO on its website.
"Global competition is rising," he said. "Russia is more aggressive abroad and more oppressive at home. China is using its economic and military might to coerce other countries and control its own people."
During an appearance on Politico's Global Insider podcast on Wednesday, Stoltenberg said of NATO's position: "We don't regard China as an adversary or an enemy."
They echoed remarks he said to China last week, after Chinese Foreign Minister Wang Yi said Beijing "has not been, and will not be, a rival to NATO." In the same talks, Wang advised NATO to stay out of affairs in Asia.