U.S. Government Doesn't Want to 'Cover Up' UFO Activity: Official
A top U.S. intelligence official on Tuesday said the government tries to remain as transparent as possible in its investigations of UFOs.
The comments came during a House subcommittee hearing on government investigations of Unidentified Flying Objects (UFOs), or Unidentified Aerial Phenomena (UAP), the term more frequently used by government officials.
During the hearing, Ronald Moultrie, the Pentagon's under secretary for intelligence, and Deputy Director of Naval Intelligence Scott Bray made statements about UAPs and fielded questions from House members.
Democratic Representative Peter Welch of Vermont asked Moultrie how the Department of Defense could balance potential threats to national security with reports of extraterrestrial incidents. Moultrie responded that in terms of possible extraterrestrial activity, the Defense Department works in conjunction with NASA and others "engaged in looking for life" beyond Earth.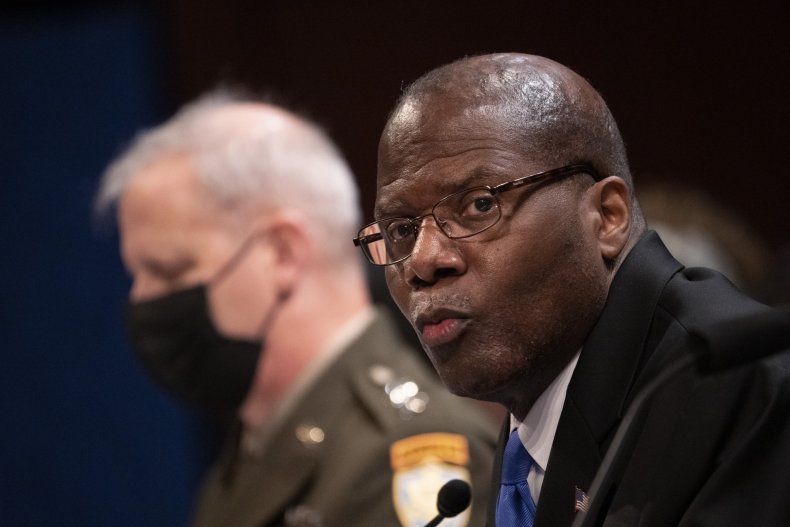 Moultrie's description of the agency's investigations of extraterrestrial reports contrasted with depictions made in popular culture of bureaus clandestinely keeping such information hidden in secret locations.
"So our goal is not to potentially cover up something, if we were to find something," Moultrie said of UAPs. "It's to understand what may be out there."
Moultrie defined UAPs as "airborne objects that, when encountered, cannot be immediately identified."
He said that a "cultural stigma" about UFOs has harmed efforts by the government to investigate UAPs.
"We also understand that there has been a 'cultural stigma' surrounding UAP reporting," Moultrie said. "Our goal is to eliminate this stigma by fully incorporating our operators and mission personnel into a standardized data gathering process."
The subcommittee's chair, Democratic Representative Andre Carson of Indiana, noted the "last time Congress had a hearing on UAPs was a half-century ago."
"I hope that it does not take 50 years for Congress to hold another," he said. "Because transparency is desperately needed."
Carson also said that UAPs "are a potential national security threat, and they need to be treated that way."
Moultrie said that the Defense Department "is fully committed to the principles of openness and accountability to the American people. However, we are also mindful of our obligation to protect sensitive sources and methods."
"Our goal is to strike that delicate balance—one that will enable us to maintain the public's trust while preserving those capabilities that are vital to the support of our service personnel," Moultrie said.
Democratic Representative Adam Schiff of California spoke about the importance of the government being open about its handling of UAP reports.
Schiff said it's "the responsibility of our government and this panel to share as much as we can with the American people, since excessive secrecy only breeds distrust and speculation."
Last year, the Office of the Director of National Intelligence (ODNI) identified 144 reports of UAPs. On Tuesday, Bray told the subcommittee that the number of UAPs reported by pilots and service members had grown to about 400.