Ukraine's reputation for being "the breadbasket of the world" has caused speculation that the recent flooding as a result of Tuesday's dam collapse could affect the global wheat supply.
Ukrainian President Volodymyr Zelensky blamed Russia for this week's explosion at a hydroelectric power plant's dam in the southern Kherson city of Nova Kakhovka, while Moscow said Ukraine sabotaged the facility. The dam's destruction resulted in massive flooding in a minimum of eight settlements and the evacuation of thousands of citizens.
A large number of agricultural fields were also in the path of the floods, and global wheat prices spiked on Tuesday following news of the dam's collapse.
However, while Ukraine's harvest this year may be affected by the flooding, any fears of escalated wheat prices—or a shortage of bread—in the United States appear to be unfounded.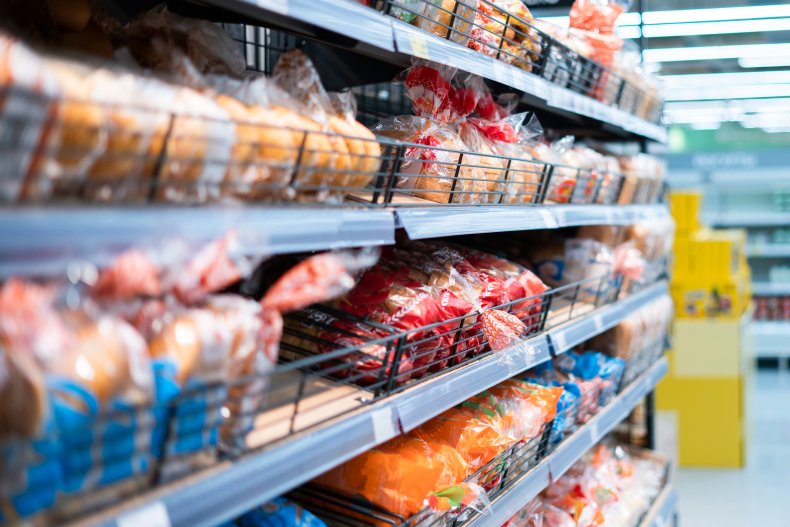 Dr. Sal Mercogliano, a maritime historian and associate professor of history at Campbell University in North Carolina, told Newsweek that anxiety over Ukraine's wheat is "part of the larger issue of the Black Sea Grain deal."
When Russian President Vladimir Putin launched his invasion of Ukraine in February 2022, Ukraine's grain shipments through the Black Sea came to a complete stop. World food prices soared as a result, and Russia was accused of using food supplies as a weapon. Turkey—with the support of the United Nations—eventually brokered a deal between the two warring countries to allow grain shipments to resume, and the temporary agreement has been extended.
Mercogliano noted that while Ukrainian grain shortfalls due to the war have been covered by other countries, "that does not mean that further disruptions, such as the dam destruction, will not cause an issue in the future. Especially if there are issues with grain production in other areas."
Dr. William Moseley, a professor of geography at Minnesota's Macalester College and a member of the United Nations' High Level Panel of Experts for Food Security and Nutrition, told Newsweek that the dam's destruction will have "some impact" on Ukraine's grain production, "but not enough to impact global wheat supplies in a significant way as some are suggesting."
"It is important to put this incident in context. By some estimates, roughly 500,000 hectares of Ukrainian farmland may be left without irrigation following the destruction of the dam, which is around 1.5-2 percent of Ukraine's 33 million hectares of farmland. This 500,000 hectare area was producing around 4 million tonnes of grain and oilseed before the Russian invasion," Moseley said in an email.
He added, "For further context, Ukrainian wheat exports declined 37 percent last year and were expected to decline further this year, likely down 50 percent from pre-invasion levels.
"Ironically, a big beneficiary of this decline has been Russia. Russia had a record 43 million tons of wheat exports in 2022-23. Other areas of the world, namely North and South America, have also been increasing exports as those from Ukraine declined."
According to Moseley, countries in the Middle East and Africa are more directly impacted directly by issues with Ukraine's wheat production than the U.S., since those nations rely more heavily on Ukraine's grains.
"The last piece of context I will add is that global food prices hit an all time high in February-March 2022 at the start of Russia's war on Ukraine," Moseley said. "Although prices have subsequently receded, they remain higher than in 2021. High global food prices are a contributing factor, along with conflict and adverse weather conditions, to high levels of global food insecurity."
Moseley stated that while the dam incident "is a further hit to Ukraine's grain production capacity, it is not as disruptive to the global food system as it would have been at the start of the war (as the global system has been adapting)."
Mercogliano offered a similar assessment, saying Ukraine's wheat exports may be impacted by the dam's destruction, but "the issue has not reached a concern due to the production of grain in other areas."
"But should disruptions occur, this will be a problem," he said.