During the unprecedented show of force that China has put on around Taiwan in retaliation for United States House Speaker Nancy Pelosi's visit to the self-governing island, Beijing has tested a new weapon in their arsenal: a long-range Multiple Launch Rocket System (MLRS) which has been compared to the U.S. High Mobility Artillery Rocket System (HIMARS).
The new MLRS was first revealed to the public during China's National Day parade in October 2019. Beijing reportedly tested the new weapon for the first time in mid-July, according to China's state-owned broadcaster CCTV, which said the MLRS fired rockets in a high-altitude zone.
The weapon was reportedly used again during the military drills around Taiwan these past few days.
Pictures from China's CCTV were posted last week on Twitter by Lyle Goldstein, director of the Asia Engagement at the Defense Priorities think tank, who said the images showed the MLRS firing rockets into the Taiwan Strait on August 4. Goldstein called the weapons "a game changer."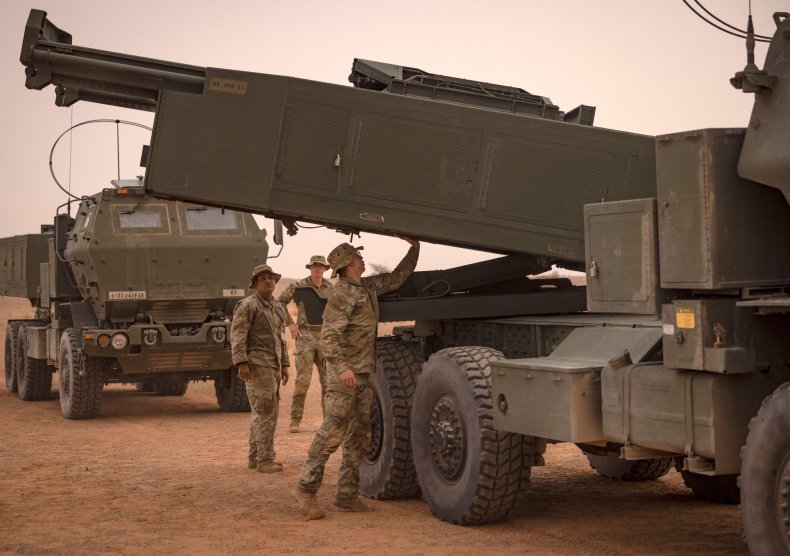 A correspondent for the South China Morning Post, a Hong Kong-based English language newspaper, replied to Goldstein's tweet calling the MLRS the "Chinese version" of HIMARS.
But how does China's MLRS compare to the U.S. HIMARS?
MLRS v. HIMARS
Military experts at Military Watch Magazine argue that China's new MLRS is "among the heaviest in the world with a range rivaled only by its North Korean counterpart the KN-25."
Capable of firing both rockets and ballistic missiles, the new hardware—named the Type PCL-191, part of China's Weishi series—has a platform that can carry up to eight 370 mm rockets capable of reaching 217 miles, a significant extension of Beijing's previous firing range and, according to experts, an improvement of its precision strike capabilities.
It can also be used as a launcher for two 750 mm "Fire Dragon 480" tactical ballistic missiles with 310-mile ranges. The U.S. HIMARS, on the other hand, can carry six GPS-guided missiles, which can be fired at targets over 185 miles away.
"The Chinese Weishi could be roughly compared to M142 HIMARS," Dr. Marina Miron, researcher at King's College London Defence Studies, told Newsweek.
"However, the Chinese Weishi family appears to be quite versatile," she added. "For example, the WS-2C and the 2D have a range of 220 miles and 250 miles respectively; the latter can launch UAVs, too."
"The UAVs have an anti-radar function, which is useful for countering adversary's air defenses. The rockets can have a variety of different warheads ranging from anti-personnel to armor-piercing dual purpose—as it seems China does not face the same legal constraints as the U.S.," Marion said.
Despite the apparent similarities, the defense expert thinks we need to be careful about comparing the two systems.
"The Chinese system that has been mentioned in the news is allegedly the WS-2D MLRS, which is argued to be the most advanced," she said.
"Certainly, in terms of its range it would exceed that of M142. Of course, one has to look at factors such as supply and maintenance as well... how much WS-2D requires vs. HIMARS; how fast it can reload without being detected (that is where HIMARS is probably superior) and, most importantly, where and to what end it is to be deployed. For China's purpose, WS-2D with its 400km range is much more useful than a HIMARS system would be."
Compared to MLRS launchers, HIMARS have a key, well-known difference, as Mirion mentioned: missiles can be reloaded in about a minute with a small team consisting of only a driver, gunner and launcher section chief, allowing troops to quickly relocate after firing.
But another important difference between the U.S. HIMARS and China's MLRS is that, while we know for sure what the capabilities and power of the American-produced weapons are, we do not yet know how reliable and accurate the Chinese system actually is.
We also do not know how many of these MLRS Beijing can already count in its arsenal, while we know that the U.S. has several hundred HIMARS.
U.S.-supplied HIMARS are currently being employed during the war in Ukraine to help Kyiv's troops repel Moscow's military in the Donbas region.
Both systems (especially HIMARS and some Weishi variants) are similar to Russia's BM-30 Smerch, with a firing range of up to 56 miles, said Mirion.
Update, 9/09/2022 11:00 a.m. ET: This article has been updated to add an expert's comment to the story.