U.S. Sending Ukraine More HIMARS Missiles in Massive Defense Package
The U.S. is set to send Ukraine more HIMARS missiles as part of a massive defense package, officials announced on Monday.
After Russian President Vladimir Putin launched the invasion of Ukraine on February 24, many Western countries, including the U.S., quickly backed Ukraine, sending humanitarian and military aid to bolster its defense.
On Monday, the U.S. Department of Defense announced the latest round of military aid for Ukraine, including more ammunition for High Mobility Artillery Rocket Systems (HIMARS), which have been called a "game changer" for Ukraine. In total, the package will total $1 billion, with the amount of military aid sent by President Joe Biden's administration totaling $9.8 billion since January of 2021.
The U.S. began sending Ukraine HIMARS, a powerful missile system built by Lockheed Martin, in June. The systems are mobile, fire with precision and have range capability of about 50 miles—nearly double the range of M777 howitzers, the Western-made weapon Ukraine used before the arrival of HIMARS.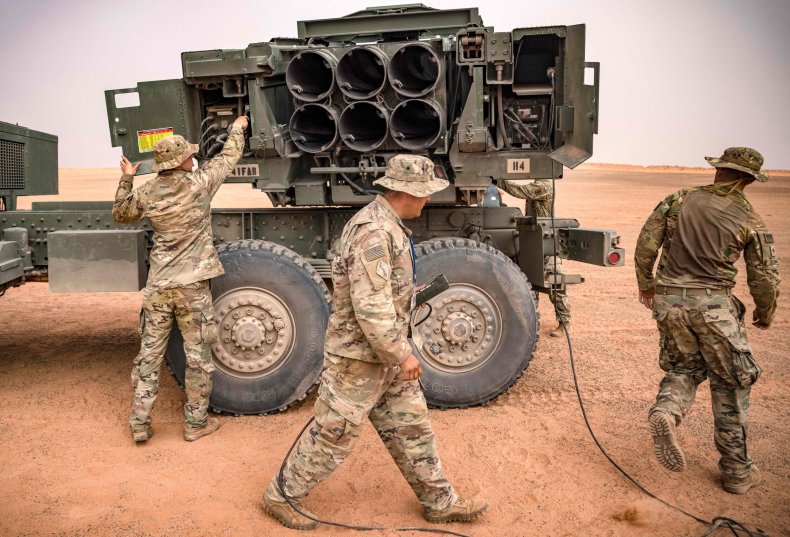 The package also includes 75,000 rounds of 155mm artillery ammunition, 20 120mm mortar systems, 20,000 rounds of 120mm mortar ammunition, munitions for national advanced surface-to-air missile systems, 1,000 Javelin and hundreds of AT4 anti-armor systems, 50 armored medical treatment vehicles, Claymore anti-personnel munitions, C-4 explosives and medical supplies, according to the Department of Defense.
HIMARS have been touted as boosting Ukraine's defense efforts in recent months, with some experts speculating they could be changing the tide of war in Ukraine's favor. Retired U.S. Army General Mark Hertling described the HIMARS as a "game changer" in July, saying they use fewer rounds of ammunition, have greater range and better precision accuracy.
Ukraine has hailed HIMARS as helping to take out key Russian targets, including command systems and ammunition depots. Last week, the General Staff of the Armed Forces of Ukraine said its troops used HIMARS to hit more than 10 Russian control points.
Ukrainian soldiers also carried out 38 strikes against Russian weapons, military equipment and troops, Brigadier General Oleksiy Gromov, deputy chief of the forces' main operational department, said last Thursday.
On the night of August 2 into the morning of August 3, HIMARS hit several Russian bases and arms warehouses around the occupied city of Kherson, the Ukrainian military said.
The announcement comes just days after Russia said its forces destroyed HIMARS and other multiple launch rocket systems provided by Western countries.
"During a counter-battery fight, a Ukrainian platoon of Alder multiple launch rocket systems and American HIMARS were destroyed near the village of Pyatigorskoye, in the Kharkiv region," Russian Defense Ministry spokesman Lieutenant-General Igor Konashenkov said last Friday.
Newsweek reached out to the Ukrainian Ministry of Foreign Affairs for comment.