Maps of Ukraine created by NASA's FIRMS fire tracking system suggest American-supplied M142 High Mobility Artillery Rocket Systems—known as HIMARS—could be turning the tide of Vladimir Putin's war.
Side-by-side maps of Ukraine's eastern Donbas region—the frontline of the war—dated July 8 and July 12, show the number of major fires in Ukraine - an indication of Russian shelling - before and after Ukraine ramped up attacks using the HIMARS precision rocket weapon system provided by Washington.
NASA's Fire Information for Resource Management System or FIRMS was created to monitor large-scale fires.
The maps illustrate a sharp decrease in the number of fires detected by NASA satellites—an indicator that long-range strikes on Russian ammunition warehouses appear to be playing in Ukraine's favor.
"A big question mark of whether or not this indicates a decrease in Russian shelling, and whether or not the Ukrainian strikes on Russian ammunition facilities have had an impact on Russian fires capabilities," defense specialist @Osinttechnical posted on Twitter.
On July 9, Ukrainian presidential adviser and peace talks negotiator Mykhailo Podolyak named HIMARS as one of three weapons Ukraine needs to turn the tide of Putin's war in Ukraine, as clashes intensified in the battle for the country's eastern Donbas region
"Do we want a turning point in the war? 3 components... HIMARS for high-precision targeting rear bases, logistics," he tweeted. "Heavy artillery on the frontline allows matching number parity. APC [armored personnel carriers] for "breakthrough fists"... More tools faster we'll clean our land of the Russians."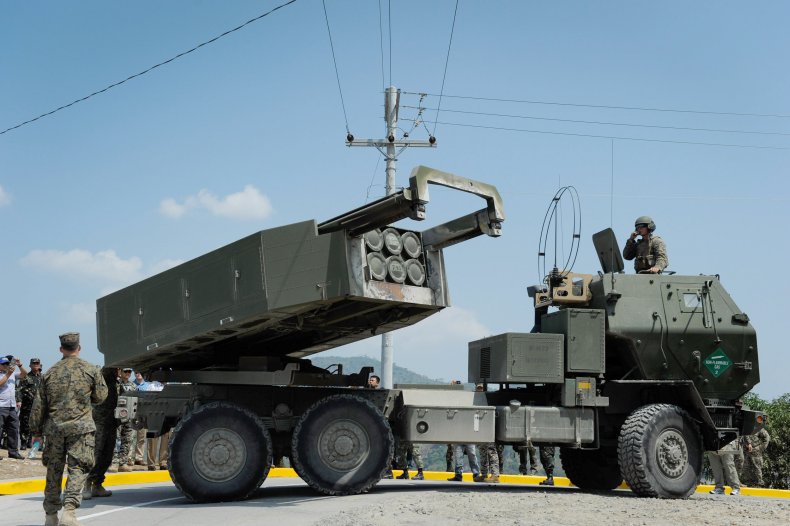 A day earlier, President Joe Biden signed a $400 million weapons package for Ukraine, including four additional high mobility artillery rocket systems. The U.S. began to supply Ukraine with the system in June, after Ukraine said it would not use HIMARS to attack Russian territory.
HIMARS was developed in the late 1990s for the U.S. Army, and missiles fired from the system have a range of some 50 miles.
Ukrainian forces said Thursday that they used HIMARS to destroy a second Russian ammunition warehouse in the city of Nova Kakhovka, in the occupied Kherson region, in southern Ukraine.
And on Friday, Luhansk Governor Serhiy Haidai said on his Telegram channel that a Russian ammunition depot was on fire in the occupied city of Kadiivka, in the Luhansk region.
"Another ammunition warehouse of the occupiers is on fire in Kadiivka," Haidai said.
It isn't clear if Ukraine's armed forces targeted the ammunition depot with HIMARS.
Multiple Russian commanders have been killed in HIMARS strikes in the past week, according to Ukraine.
Haidai told Newsweek this week that Russians are "in panic mode" over strikes by American-made HIMARS.
"As the whole world has seen over the past week or so, we have been able to inflict massive damage to their missile defense systems and ammunition storage facilities deep behind the enemy lines," Haidai explained.
This, he said, "was largely down to the variety of weapons we have recently received from the West. And when we have sufficient amounts of such weaponry, we will be able to carry out further counterattacks."
Newsweek has contacted Russia's Foreign Ministry and Ukrainian authorities for comment.
Update 07/15/22, 10:21 a.m. ET: This article was updated with additional information