Russian General Killed With U.S.-Supplied Missiles, Ukraine Says
Ukraine has said it has killed another Russian general, following an attack in which Kyiv's forces used American-supplied weapons.
Serhiy Bratchuk, spokesman for the Odessa regional military, wrote on Telegram about the "liquidation" of Major General Artem Nasbulin, the chief of staff of the 22nd Army Corps "after HIMARS (High Mobility Artillery Rocket System) missiles hit the headquarters in the Kherson region" of southern Ukraine.
It came as Ukraine released footage it said showed a HIMARS attack on a mobile command post in Tavriis'k, in the Kherson region.
If confirmed, Nasbulin could be the ninth Russian general to have died since the start of the invasion on February 24, according to one estimate. Ukraine's claims that it has killed Russian commanders give its forces a considerable PR boost although most of them have not been confirmed by Moscow and Russia's Defense Ministry, which Newsweek has contacted, rarely comments on such losses.
The Telegram post was from Monday night but it was not clear when the attack took place.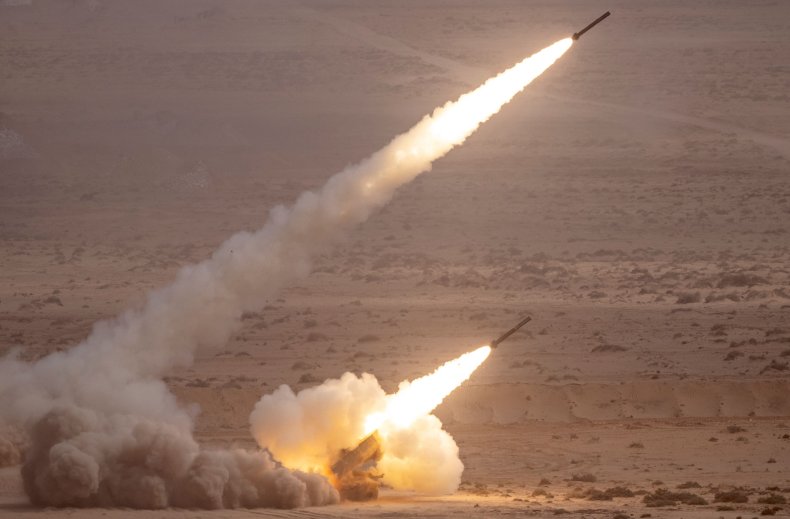 Ukraine has said that it has carried out significant strikes against Russian forces using the HIMARS system which is part of a package of military support announced by the U.S. The weapons can hit targets at a range of 50 miles, which is much further than the M777 howitzers, which the U.S. has also given Ukraine.
Before the arrival of the HIMARS, the southern city of Kherson, which Russia seized early on in the war, had been out of reach but Kyiv hoped that the supply of the weapons would help turn the tide of the war against Moscow's troops.
Ukrainian media outlets reported that in an earlier attack, HIMARS allowed their forces to attack a command post in a strike in which they said 12 Russian officers and a colonel were killed.
Meanwhile, footage released by Ukraine shows the missiles striking near the Nova Kakhovka power plant, with Kyiv claiming that it destroyed Russian munitions and killed 200 Russian soldiers, according to a translation of comments by Serhii Khlan, adviser to the head of the Kherson regional military administration.
It comes as Igor Girkin, a former commander of pro-Russian separatist forces in eastern Ukraine, who goes by the nom de guerre of Strelkov, expressed his concern about the firepower that the U.S.-supplied weapons is offering Ukraine's forces.
He wrote on Telegram that in less than a week, Russia has suffered "large losses in both men and equipment" in strikes against at least 10 large warehouses of artillery and other ammunition, several oil depots and a number of command posts. He said that Russian air defense systems have been "ineffective against massive strikes by HIMARS missiles."