U.S. House Democrats on Monday set out to try to pass legislation that would solidify abortion rights in the country, as Texas and other states take measures to chip away at the legal right established in the landmark Roe v. Wade Supreme Court decision.
"The radical and extreme Texas bill bans abortion before most women realize they are even pregnant," Representative Norma Torres, a California Democrat, told her colleagues at the start of a House Rules Committee hearing on Monday. "It makes no exceptions for rape or incest and enables vigilante justice."
The Texas law, which went into effect this month after the Supreme Court denied an effort to stop it while legal challenges play out, bans abortions when a fetal heartbeat can be detected. For many women, that can come as early as six weeks into pregnancy and before they are aware that they are pregnant.
It has set off a firestorm among abortion rights advocates who argue that the law, which creates a $10,000 civil claim against anyone who aids an illegal abortion, is too restrictive and anti-abortion rights advocates who are looking to mirror the measure in other conservative states.
The U.S. Department of Justice has launched an emergency legal challenge to the Texas law, seeking to immediately block its enforcement, with the backing of the Biden administration, arguing that the law side-steps long-standing law by deputizing private citizens to enforce the new restrictions, rather than the government.
"I think you're all familiar with what the position of this administration is on a woman's right to choose, as evidenced by the Department of Justice's announcement about their intention to their to file a lawsuit and challenge the Texas law given our commitment to protecting," White House press secretary Jen Psaki told reporters on Monday.
During the House panel's hearing Monday, Democrats and Republicans argued over whether it was Congress' role to re-emphasize the right to abortion through new legislation.
"This is part of the larger assault on women's health and women's rights, as individuals, 43 states have started chipping away at reproductive health care," Torres said. "Enough is enough."
But Republicans have seen the Texas effort and states that are following its lead as a way to ban abortion without violating established Supreme Court rulings.
U.S. Representative Cathy McMorris Rogers, a Washington Republican, argued that the Democrats' efforts to codify abortion rights protections went too far.
"The 'Abortion on Demand Until Birth Act' overrides pro-life laws and prohibits states from enacting legislation that protects unborn children," she said.
Rogers' son, Cole, is 14 and has Down syndrome.
"In this debate over abortion, Down syndrome has been at the forefront," she argued.
Democrats hold razor-thin margins in the U.S. House and Senate, so it's unlikely that the abortion rights law will make it to President Joe Biden's desk. With the Senate filibuster in play, it would need bipartisan support, which it's unlikely to get.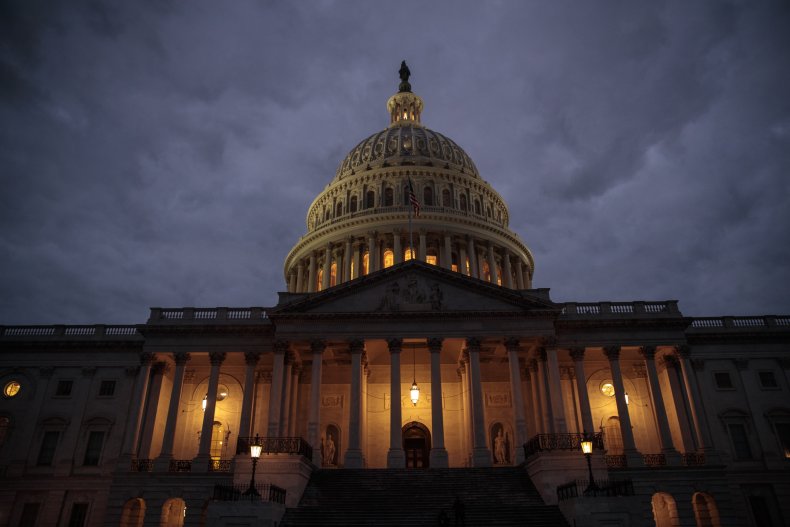 About the writer
Elizabeth Crisp is a Washington Correspondent for Newsweek, covering the White House and Congress.
She previously was the Washington Correspondent for The Advocate | The Times-Picayune, primarily covering the Louisiana delegation, and had stints covering State Capitols in Louisiana for The Advocate; Missouri for the St. Louis Post-Dispatch; and Mississippi for The Clarion-Ledger.
A Mississippi State graduate, Elizabeth spent years covering politics in the United States South before moving to the nation's capital. Through her eclectic career she's covered two Trump impeachments; the 2020 and 2016 presidential races; multiple gubernatorial and U.S. Senate campaigns; presidential debates in 2008 and 2020; and multiple prisoner executions.
She's a member of the White House Correspondents Association and IRE.
You can reach Liz at e.crisp@newsweek.com or securely via elizabethcrisp@protonmail.com.
Catch her on Twitter @elizabethcrisp.