U.S. Accused of Hyping Russia Invasion of Ukraine, Frustrating Kyiv, Moscow
Several current and former U.S., Russian and Ukrainian officials have expressed their concerns to Newsweek that U.S. intelligence of an imminent Russian invasion of Ukraine is being exaggerated, perhaps in a bid to deter further aggression from Moscow and avoid a devastating war.
Russian President Vladimir Putin has massed more than 100,000 Russian troops and supporting equipment along Ukraine's southern, eastern and northern frontiers, while Kyiv and its Western partners wait to see whether the deployment is a bluff or a prelude to Europe's most serious military campaign since World War II.
But while Putin plays his game, some believe the U.S. and its Western allies are playing their own.
Former senior Ukrainian officials who are still in contact with the current administration and intelligence services told Newsweek that some in Ukraine — including within Zelenskyy's inner circle — suspect their U.S. partners are exaggerating the Russia threat.
"Some people believe it," Pavlo Klimkin, Ukraine's foreign minister from 2014 to 2019, told Newsweek.
Klimkin, a co-founder of the Center for National Resilience and Development (CNRD) think tank in Ukraine, pointed out that past U.S. intelligence failures have left some in Kyiv skeptical.
"Intelligence is just an educated guess, an educated risk assessment," he said. "U.S. intelligence has been in many cases terribly wrong."
Klimkin cited the glaring failures during the chaotic recent U.S. withdrawal from Afghanistan as an example.
Regular Western intelligence reports warning of imminent invasion raise the temperature, as do decisions to evacuate non-essential embassy staff and diplomats' family members. The insistence on an imminent Russian threat appears to have raised the stakes for all sides.
Some say that the louder the drums of war, the riskier agitation becomes for Putin.
Oleksandr Danylyuk, the former secretary of Ukraine's National Security and Defense Council, told Newsweek this "clearly could be a possible motive."
"This is something the United States could do," said Danylyuk, also a co-founder of the CNRD. "Russia was not a top priority for the United States. And then Putin put himself on the front pages everywhere and said: 'Here I am, I'm Putin.'
"The United States could be saying: 'OK, so you're Putin. Let's see how Putin you are.'"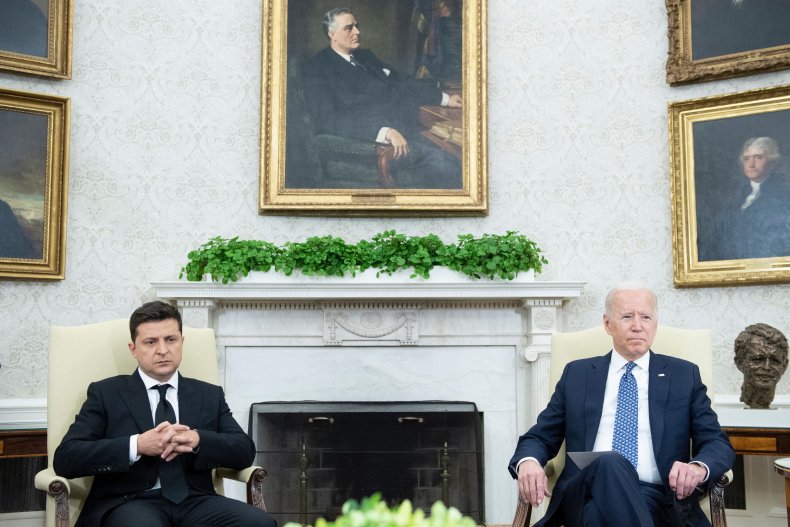 Putin himself referenced the potential risks associated with such an approach during a press conference Tuesday alongside Hungarian Prime Minister Viktor Orbán, whose country is a NATO member but maintains good relations with Russia.
The Russian leader said that the U.S. "is not so much concerned about the security of Ukraine, although they may be thinking about it somewhere in the background, but their main task is to curb the development of Russia."
"In this sense," he added, "Ukraine itself is just a tool to achieve this goal."
He went on to discuss what he sees as the strategic options open to the U.S.
"This can be done in different ways: By drawing us into some kind of armed conflict and forcing, among other things, their allies in Europe to impose against us the very tough sanctions that the United States is talking about today," Putin said, "or draw Ukraine into NATO, set up strike weapon systems there and stimulate some Banderivtsi people to resolve the issue of Donbas or Crimea by force of arms, and thus still draw us into an armed conflict."
The term Banderivtsi refers to right-wing Ukrainian nationalists, some of whom participated in the 2014 uprising that brought to power a pro-West government in Kyiv, and were in action again in the subsequent war against Moscow-aligned rebels who have declared separatists republics in the eastern Donbas region.
Like the Ukrainian government and its international supporters, these Ukrainian nationalists seek the return of the Crimean Peninsula annexed by Russia in the wake of the outbreak of Ukraine's turmoil eight years ago.
But the Ukrainian foreign ministry strongly disputed Putin's speculation on U.S. motives.
"It's a completely perverted logic to think that the U.S. is trying to pull Russia into the conflict or that Ukraine is trying to do so," Ukrainian Foreign Minister Dmytro Kuleba said in response to Newsweek's question during a press conference Wednesday.
"We definitely want to avoid any military conflict," he added, "and we share that goal with the United States."
Kuleba recalled the origins of the latest flare-up of the years-long unrest in Ukraine, noting that it was Kyiv that first raised the alarm on an "unprecedented concentration" of Russian troops near Ukraine's border last spring.
And when this buildup began to accelerate last fall, he said it was the U.S. that first tipped off Ukraine and the international community.
"I appreciate the role of the United States in sharing this information at a very early stage, and allowing others to assess that information and prepare for possible scenarios," Kuleba said.
"Now I also appreciate the role the United States is playing in mobilizing the international support for Ukraine and mobilizing efforts," he added, "diplomatic efforts to prevent the worst-case scenario from happening."
Kuleba denied there was any major misunderstanding between Ukrainian officials and U.S. counterparts when it came to the core issues. He explained that the trigger for the current debate over potential divisions between Washington and Kyiv was sparked simply by the characterization of a possible Russian attack as "imminent," a word he said has varying translations.
"The only beneficiary of this discussion is the Russian Federation that wants to sow divisions among us," Kuleba said. "There are no divisions between me and Secretary [of State Antony] Blinken between President [Volodymyr] Zelenskyy and President [Joe] Biden."
"We understand one thing, every possible scenario should be taken seriously, and that's what we're doing," he added. "Everything else is about interpretations and the tone of voice needed to address specific audiences."
Shortly after the press conference, White House Press Secretary Jen Psaki announced the U.S. had dropped the term "imminent" because "it sends a message that we weren't intending to send, which was that we knew President Putin had made a decision."
But the top Ukrainian diplomat had also said it was "premature" for countries such as Australia, the United Kingdom, and the U.S. to be withdrawing personnel and family members from Kyiv.
Kuleba said that while the Russian military force concentrated along the border and in Donbas itself was "huge" and "puts a lot of pressure on us," he noted that it "is still insufficient for a large scale military operation against Ukraine."
At the same time, he could not rule out "a military operation of a lower scale" intended to destabilize the country.
"What we are saying now is that we have to remain rational," Kuleba said, "and properly in a very reasonable way assess the sequence or the priority of different threats."
That was also the crux of Ukrainian President Volodymyr Zelenskyy's message when he addressed a press conference of his own Friday following a call with Biden. But the Ukrainian leader took it a step further, explicitly criticizing what he called an "exaggeration" by Washington and U.S. media outlets of a potential Russian incursion.
"I'm the president of Ukraine," he said, "and I'm based here and I think I know the details better here."
He referenced an added cost incurred by his country.
"They're saying tomorrow is the war," Zelenskyy said. "This means panic in the market, panic in the financial sector. How much does it cost our country?"
Russian permanent representative to the U.N. Vassily Nebenzia challenged the U.S. on this point during a rhetorical clash at the Security Council on Monday, when the envoy said Washington could "provide no proof to back such grave allegations" of Moscow planning an attack in the near term.
"This, however, does not prevent them from escalating the hysteria to a level that creates rather real economic consequences for our Ukrainian neighbors," Nebenzia said at the time.
Evgeny Buzhinskiy, a retired Russian lieutenant general who serves as chairman of the Russian Center for Policy Research and vice president of the Russian International Affairs Council, also accused the U.S. of whipping up "hysteria" in Ukraine.
"Frankly, I don't understand why the United States is boiling up this hysteria, evacuating diplomatic personnel from Kyiv, evacuating people en mass from Kyiv or the United States saying that Russia will deliver missile attacks against Kyiv against the U.S. embassy," Buzhinskiy told Newsweek. "It's stupid. It's nonsense. I don't understand."
And he too pointed to the incredulity of Ukrainian officials.
"Even the Ukrainians, if you listen to the latest statements by Zelenskyy, by [National Security and Defense Council Secretary Oleksiy] Danilov, they want to calm down and say, 'What are you doing? We don't see any imminent threat from Russia. Even we don't see any signs of an imminent attack,'" Buzinskiy said. "So it's sort of a theater."
He argued a Russian intervention may only occur if Ukraine acted first in seeking to regain control over the rebel republics of Donetsk and Luhansk.
"There is only actually one scenario when the conflict may start," Buzhinskiy said. "That is if Ukrainians decide to regain control over Donbas. That's the only case where Russia will have to interfere, that is my personal opinion."
Even then, he felt a large-scale operation was highly unlikely.
"I don't think that will be the, let's say, big battles with hundreds of tanks, artillery pieces," Buzhinskiy said. "I think that Russia will act on a new technological level, from the air, missiles, high-precision weapons, just actually to destroy critical infrastructure, command and control systems, air force and drones, let's say, naval facilities."
But he was quick to qualify the aggressive scenario he had painted.
"Of course, it's imaginary," Buzhinskiy said. "But I repeat, I don't think that Russia will wage a major war with on the ground."
The U.S. intelligence community has yet to establish a consensus on whether the Kremlin was truly preparing to take on such an intensive military operation despite an influx of Western reports suggesting otherwise.
"There is no pragmatic reason for the Russians to invade on a mass scale," a U.S. intelligence official with two decades of experience working with Russia told Newsweek. "Right now Moscow is showing force and testing the international response. Moscow needs to understand and define the reactions of Western military forces and see what punitive economic consequences the Kremlin might face (i.e. Nord Stream 2)."
Nord Stream 2 is an offshore natural gas pipeline that runs under the Baltic Sea from Russia to Germany and bypasses Ukraine. The company that owns and operates it is a wholly owned subsidiary of Gazprom, a Russian state company.
"I hear a lot of folks saying that the Russian invasion is imminent," the U.S. intelligence official said. "I wholeheartedly do not agree based on my experience."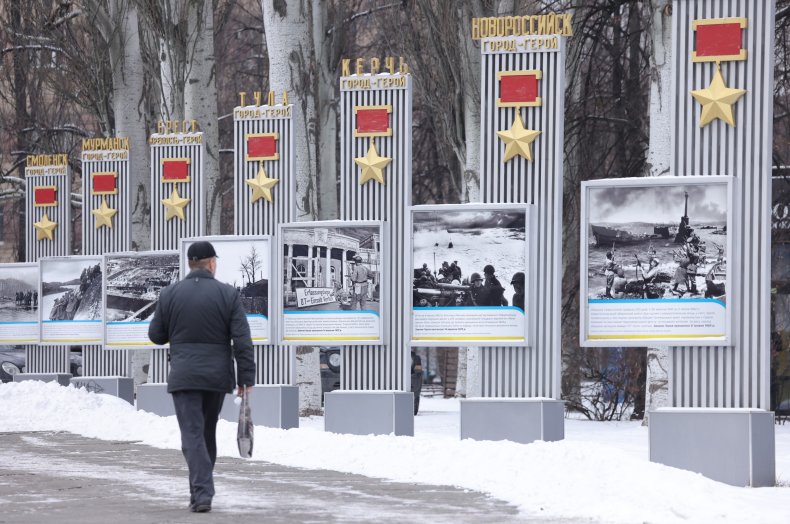 The Pentagon emphasized that Putin is building his capabilities in the region.
"We have been long saying that in addition to the combat capability that Mr. Putin continues to add, and does continue to add to the western part of his country and in Belarus, he has also, over these many weeks, increased his logistics and sustainment capability," Pentagon Press Secretary John Kirby said during a press briefing Tuesday.
He took particular note of indicators such as aviation and medical support being sent to the Russian side of Ukraine's eastern border.
And while he said these developments were "not necessarily" being received as "some sort of tripwire indicator" or "causing alarms to go off that an invasion is imminent," he felt that Putin was now sufficiently prepared to act if it wanted.
"We believe that he has enough capability to move now if he wants to," Kirby said. "And he continues to add to that capability and those options."
"And he could, depending on what his goal is here and what he wants to do," he added, "he could move imminently — at any time."
At the same time, U.S. officials have sought to downplay the difference in the messages coming out of Washington and Kyiv.
"This is not about panic," State Department spokesperson Ned Price told reporters Monday. "To the contrary, this is about prudent preparation."
He listed a number of steps the U.S. has taken, including some $650 million in security assistance to Ukraine last year, the authorization of NATO allies to send U.S. equipment, and the bolstering of NATO's eastern flank.
"None of this an effort to sow panic, to make an invasion more likely," Price said. "And to the contrary, all of this is an effort to deter an invasion and, should Vladimir Putin determine to go forward regardless, to ensure that defenses are appropriately reinforced."
Danylyuk agreed that Washington's intention was likely to both warn the Russians and press the Ukrainians to take the threat more seriously.
"Yes, that's what is happening," Danylyuk said. "This intelligence is a message to Russians and to Ukrainians as well, so we're not just listening to lullabies telling us everything is fine."
Klimkin said he does not believe the U.S. is intentionally overselling the Russian threat, but he warned that the increasingly public disputes are dangerous.
"It's not about listening or not listening, intentional, not intentional," he said. "It's about analyzing and it's about getting prepared...All these discussions are counterproductive in the current reality and counterproductive to our solidarity."
Alexander Khara, a former adviser to the minister of defense and NSDC official, also told Newsweek that intelligence disputes are "counterproductive" in the face of Russian aggression.
"It's not helpful either for Ukraine or for the Biden administration," he said.
Khara, now working for the Centre for Defence Strategies think tank in Kyiv, added that U.S. and allied intelligence should not be ignored.
"You cannot compare the capabilities of the intelligence community of the United States and their partners with what we have in Ukraine," he said.
"Possibly, the Americans see something that we cannot see," he added. "But on the other hand, I would be surprised if this intelligence is not shared or has not been shared before."
Ukrainian intelligence may have a good understanding of what Russian forces are deployed along the borders and the capabilities of Moscow-backed fighters in Donbas, but not of Putin's personal calculations, Danylyuk said.
"Intelligence into Putin's intentions, or already made decisions, that's the key," he said. "Everything else — the ready, not ready — just means nothing."
He then noted the difference in intelligence capabilities.
"As to whether we have this intelligence, I don't think so," Danylyuk said. "It comes from the West."
He made a point of noting that Zelenskyy is highly circumscribed.
"He doesn't have access to this intelligence. He's limited," Danylyuk said. "He has to trust the West."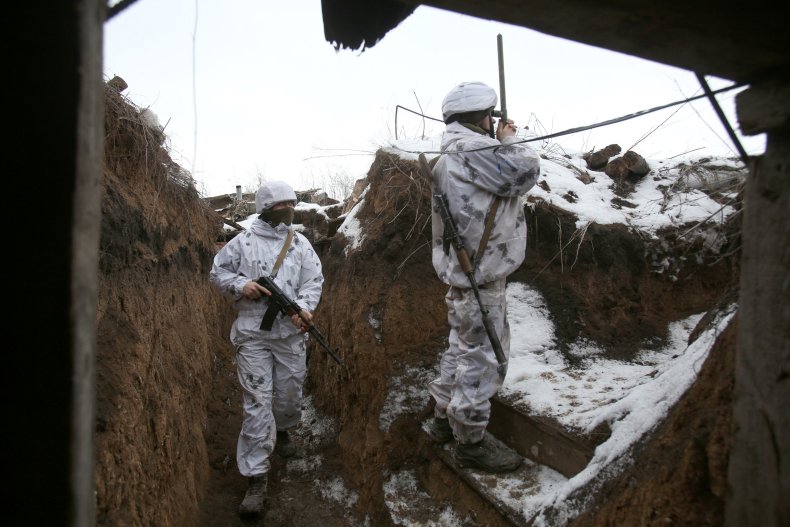 Updated 02/03/22 4:10 a.m. ET: This article has been updated to clarify Alexander Khara's former position at the Defense Ministry.