Joe Biden Ukraine Call Dispute Plays Into Vladimir Putin's Hands
A diplomatic ruckus has imbued the Russia crisis with fresh and dangerous confusion, hinting at cracks in the joint U.S.-Ukraine front that officials have tried so hard to fortify.
Presidents Joe Biden and Volodymyr Zelenskyy spoke by phone on Thursday afternoon, a call intended to underscore the White House's resolute support for Ukraine as more than 100,000 Russian troops are deployed along its northern, eastern and southern frontiers.
But unidentified members of Zelenskyy's team quickly leaked details of a dispute to the media. They claimed that Biden told his counterpart that a significant Russian invasion of Ukraine was "virtually certain" as soon as the ground froze, which would allow Russian tanks to move faster.
Zelenskyy, some of his unidentified aides said, disputed the analysis. The reports—quickly dismissed by the White House and then by Kyiv—are the latest sign that the U.S. and its Ukrainian partners are not on the same page.
"I think any dispute plays into Russia's hands," said Orysia Lutsevych, the manager of the Ukraine Forum at the British Chatham House think tank.
"What we see Russian disinformation spinning is that it's the U.S. and NATO that is militarizing Ukraine, that [they] are the warmongers. Not so much that Kyiv is a warmonger.
"At home in Russia, they will be presenting any military action in Ukraine as destroying NATO, as going hard on American influence in Ukraine. They will not present it as fighting Ukraine; that's not popular."
Ukrainian officials have already rejected U.S.-sourced suggestions that a major Russian invasion is imminent. Russia, Kyiv says, has not yet deployed enough troops and hardware to launch such an attack.
The Ukrainian foreign minister Dmytro Kuleba also criticized the State Department for its "premature" evacuation of embassy staff families in Kyiv, a decision mirrored by the U.K., Canada, and Australia.
Moscow will welcome any hint of dispute, where President Vladimir Putin is refusing to back down on his demands that include NATO permanently blocking Ukrainian membership.
Thursday's incident could be calculated or accidental. "One [explanation] is that it's a malign operation that aims to put a wedge between what is looking like a strong alliance and bilateral relations," Lutsevych said, "Or it's just unprofessionalism."
Either way, the reports speak to real disagreements between Washington, D.C. and Kyiv. This is nothing unusual among partners or even allies. Zelenskyy has at times openly criticized the U.S. for its lack of support for Ukraine and perceived weakness on Russia.
"This has been going on actually for quite some time," said Gustav Gressel, a senior policy fellow at the European Council on Foreign Relations.
There is "a real dismissal" of some U.S. and U.K. intelligence by key figures in Zelenskyy's inner circle, Gressel said, who don't believe that Russia is yet ready or willing to invade.
"The U.S. and the U.K. are pushing different narratives because they predominantly rely on the intelligence they gather from Russian signals and intercepts which Ukrainians don't," Gressel said. "They just look at the military numbers and what is happening."
Ukrainian troops have faced and held Russian tanks before. Plus the nation's armed forces have evolved significantly since Russian troops seized Crimea and supported a separatist revolt in Donbas in 2014. Accelerated military aid and training programs have sharpened their resolve.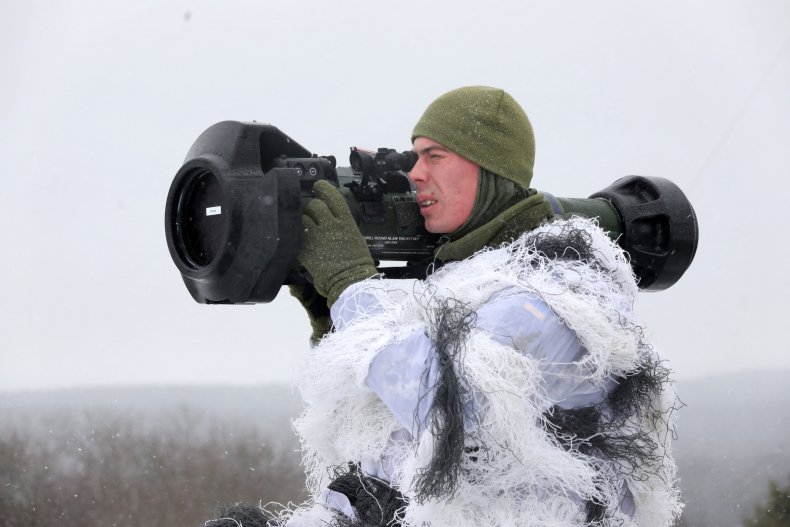 Ukraine's lack of air capacity is a clear defensive gap. This is a serious concern for U.S. and British intelligence, Gressel said: "They know how our power works and they have a lot of experience applying our power to other countries."
Mass panic is one reason for Kyiv's public stoicism. Zelenskyy's government is "walking the tightrope to keep society calm and focused," Lutsevych said, despite the "torrent of psychological pressure and cyber attacks."
The stakes of any intelligence divergence are much higher with more than 70 Russian battle groups surrounding Ukraine. Especially when the Kremlin is betting on NATO and European disunity in its Ukraine gamble.
"The Russians may certainly have their own way of misreading this," Gressel said.
"It's this hope that the Americans might just throw Ukraine under the bus, and then everything will crumble in Kyiv because it's all just American-fabricated. Which of course it's not, and it will not crumble."
Gressel said of possible Russian action they "will probably start slow, because they want to see how united the West really is."
"They still believe that the Kyiv puppet regime will crumble once you increase the military heat, and you can increase the military heat with strikes, with limited incursions, et cetera," he said.
"The problem is the Russians believe it. It represents the political correctness of Russian military and political thinking. And political correctness can overlay reality to a very large extent.
"I mean, look at the Americans invading Iraq and perceiving themselves as liberators.
"Belief in these common myths is very strong, and disregards everything that does not fit into this very particular picture of the government being a Western puppy and Ukraine actually being split in the middle."
NATO and the EU have repeatedly warned Russia that any invasion would have massive costs, not only in retaliatory international sanctions but also in the casualties inflicted by Ukrainian troops armed with Western weapons.
Putin might think Kyiv is a pushover, but it will be a costly mistake if he is proven wrong.
"I don't think they fundamentally understand that Ukraine is a democracy," Lutsevych said. "They believe it's some kind of oligarchic kleptocracy where things are captured by elites. And if you change the elites, you change the course of the country.
"They also underestimate Western results to help Ukraine, definitely. They've been shocked themselves by the degree to which the West was prepared to take risks and help Ukraine."
America's confirmation bias in Iraq cost trillions, killed hundreds of thousands, and set the Middle East alight. Russian miscalculation in Ukraine could spark Europe's most significant conflict since World War Two.
"They really underestimate the Ukrainians," Gressel said. "And the Ukrainians have a hard time understanding that."
Russia has an extensive intelligence network in Ukraine. Troops and agents are already believed to be operating behind Ukrainian lines, top officials have been found in Moscow's pay, and a significant minority of Ukrainians still sympathize to some extent with Kremlin talking points.
As such, "it's incomprehensible" for the Ukrainian leadership that Russia could misjudge the situation so badly, Gressel said.
"It will rather harden the resistance if they push forward... That is the danger out there, and that Russian miscalculation is very, very likely."