Ukraine War Will Put U.S., Russia Forces at High Risk of Clashes Around World
The outbreak of a major war in Ukraine and an ensuing mobilization by the United States, its allies and Russia would have global repercussions, putting the world's top two nuclear powers on high alert and raising the risk of direct confrontation between them.
While the current crisis appears localized in Eastern Europe, Russia is the world's largest country. It maintains bases across a wide span of regions including the Baltic Sea, the Black Sea, the Arctic and the Pacific.
Beyond its borders, Russia also has Mediterranean military installations in Syria and on the steppes of Central Asia, but its homeland positions alone span enough territory to severely raise the stakes if troops were ordered to prepare for potential combat.
"I think we can expect Russia to go on heightened alert, not necessarily in Syria but across their domestic commands, i.e. Northern Fleet, Pacific Fleet, etc. especially the Western and Southern Military Districts," a U.S. intelligence official told Newsweek on the condition of anonymity.
And the intelligence official said that other moves could occur that might not be "super evident to us" in the U.S. For example, the official said, "Leave might be canceled, increase in daily readiness drills, some local maneuvers, small-scale exercises."
Such maneuvers carry both practical and symbolic weight. The official said that "Russia has always used exercises as a deterrent as well as a show of force and readiness watermark," and already, "they're doing just that given the heightened military situation," one the official noted that Russia had "created."
The Russian Defense Ministry announced last week that naval forces across all of the nation's military districts would hold drills throughout this month and next, a demonstration of Moscow's might.
If the situation worsens significantly, Russia may even consider showing its hands closer to the U.S. in the Western Hemisphere, along with further boosting of ties with powerful strategic partner China.
Russian Deputy Foreign Minister Sergey Ryabkov's refusal earlier this month to rule out such deployments in Latin America has sparked a media frenzy in the West, followed by Russian President Vladimir Putin holding a series of calls with the heads of Nicaragua, Venezuela and Cuba.
And as Putin prepares to travel East in February to hold his first in-person meeting with Chinese President Xi Jinping since the onset of the pandemic, Moscow and Beijing have held a series of joint exercises in the Indian Ocean region.
The official with whom Newsweek spoke predicted further developments on both fronts.
"I would expect future port calls in Cuba and Venezuela," the official said, "but more importantly, I would anticipate announcements on Russia-China military exercises, bilateral agreements and enhanced cooperation."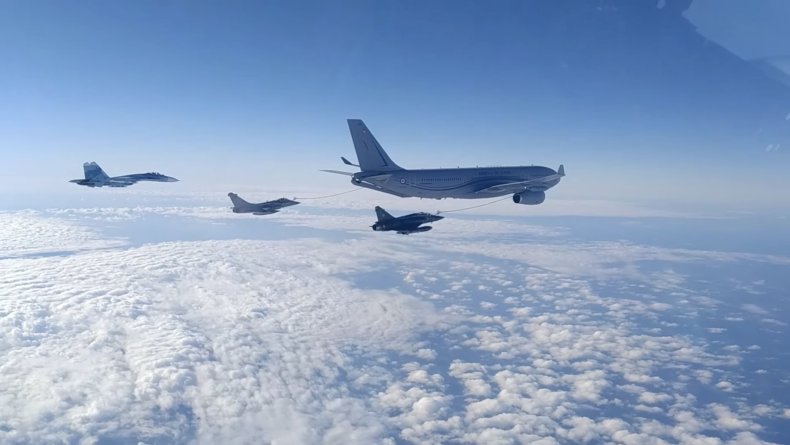 While recent talks in Paris among representatives of the so-called Normandy Format comprised of France, Germany, Russia and Ukraine have produced a stated commitment to a ceasefire along the restive border between Russia and Ukraine, broader negotiations between Washington and Moscow on the future of Eastern European security have stalled, as the U.S. appears to have largely dismissed a set of far-reaching set of demands from Russia.
These demands include limits to the military activities of both sides within post-Soviet states and excluding Ukraine from joining NATO. The alliance has not set a timeline for Kyiv's membership, but has also refused to reject it.
Moscow, for its part, has repeatedly stated that it had no intention of acting militarily against Ukraine, but a failure for Russia and the West to come to an understanding on the scope of NATO, which has expanded eastward over the past three decades, has created a lasting flashpoint in the region.
And though President Joe Biden has ruled out sending U.S. troops to Ukraine in the event of a conflict, he has threatened sweeping sanctions against the Kremlin and the deployment of thousands of troops to NATO allies in the Baltic that also share a border with Russia.
Pentagon Press Secretary John Kirby told reporters Thursday that "many of the rotational troops are already on a heightened posture" and domestic units in the U.S. were "ready to deploy."
It was the opposite of the message Moscow had hoped to hear.
"If you speak about U.S. reinforcements in the Baltics, of course, that's possible, that's what Russia actually insists the United States should not do if they take seriously Russian demands for guarantees for the security of the Russian Federation," Evgeny Buzhinskiy, a retired Russian lieutenant general who serves as chairman of the Russian Center for Policy Research and vice president of the Russian International Affairs Council, told Newsweek.
"In that case, of course, Russia will reciprocate by stationing troops along the border in Kaliningrad, in the Western military district," he added. "I don't think that's in the interests of Europeans."
Nor, he argued, would it be in the interest of the U.S. if the Biden administration sought to de-escalate mounting tensions on the continent.
Such a U.S. deployment, Buzhinskiy said, would only make sense "if the United States wants to just increase tensions, put the continent on the brink of war, which may lead to very serious consequences, and not only for Europeans, but for the United States, because if the fighting between Russia and NATO starts, it will lead to global catastrophe."
I'm absolutely sure about that," he added.
Such frictions invite miscalculation. In the 1980s, both the U.S. and the Soviet Union shot down civilian airliners; the former struck down an Iranian passenger plane in the heat of the Iran-Iraq War in the Persian Gulf, and the latter attacked a Korean flight over the Sea of Japan, marking one of the tensest moments of the Cold War.
More recent examples include the shootdown of a Malaysian flight as Ukraine's war first began to unfold in 2014 and the downing of a Ukrainian flight by Iranian anti-air defenses in the explosive aftermath of the U.S. killing of top Iranian General Qassem Soleimani two years ago.
In the military realm, NATO and Russia have regularly scrambled jets to intercept one another's fighters flying close to borders, and have accused one another of unsafe and unprofessional behavior. If a conflagration erupts over Ukraine, ground forces would also likely have their missile systems at the ready.
Michael Koffman, director of the Russia Studies Program at the CNA think tank, forecast that Russian officials would warn of possible doomsday scenarios in the event that Washington and Moscow came in direct contact.
"Both sides will work to keep any conflict contained, but Russia, in particular, likes to signal by reminding the U.S. that the risk of escalation can have nuclear consequences," Koffman told Newsweek. "Anything nuclear always gets attention, and Moscow is often keen to remind audiences of the potential stakes."
Such language serves as a potent reminder to a nation thousands of miles away from the frontline. To Russia, the threat feels too close to home already, and officials are quick to remind the U.S. of this discrepancy.
"After the collapse of the USSR, the security situation in Europe deteriorated sharply," Russian ambassador to the U.S. Anatoly Antonov told Newsweek earlier this month. "Five 'waves' of NATO expansion have brought the Alliance States forces closer to our borders. The continuing advance of the North Atlantic bloc to the east is one of the main threats to Russia's national security."
"As the bloc approaches our border proper, the flight time of NATO air and missile weapons to Moscow, St. Petersburg and other cities in the European part of the country is reduced," he added. "How would the U.S. Government react if Washington, New York or Los Angeles were 'under the bombsight?'"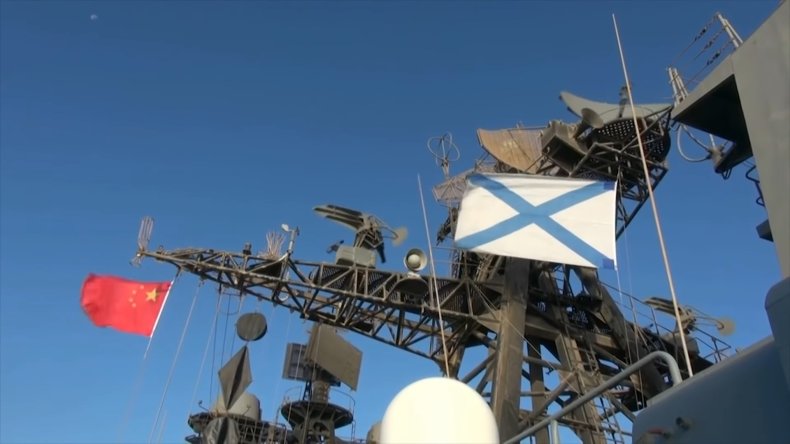 The Biden administration has also sought to control the narrative, however, casting Russia as the undisputed aggressor in the Ukraine conflict and repudiating counterclaims as "disinformation" efforts.
"As we speak, Russia is escalating its threat toward Ukraine," U.S. Under Secretary of State Wendy Sherman said via video link on Wednesday during the Yalta European Strategy conference. "Russia has amassed more than 100,000 troops on Ukraine's borders in an unprovoked buildup of military force, and has sent additional troops to Belarus, allegedly for large-scale military exercises."
"Moscow is continuing to use increasingly bellicose and inflammatory rhetoric," she added, "and to spread disinformation and propaganda in an obvious effort to paint Ukraine as the aggressor."
She argued that "there is no defensive justification for Russia to amass so many troops in such a short time on Ukraine's borders," and that "Ukraine poses no threat to Russia."
NATO, however, has increased its activities in the region, especially within the Baltic states and Poland, since unrest first gripped Ukraine in 2014. A political uprising at the time brough to power a government in Kyiv seeking closer ties with the West, but pro-Moscow separatists rose up in the eastern Donbas region and Russian forces helped to secure the strategic Crimean Peninsula, which was later annexed in a referendum not recognized by Ukraine nor its Western supporters.
Since then, the U.S. and other NATO states have supplied Ukrainian forces with weapons in their ongoing war effort, and this assistance has increased with the buildup near the border of Russian troops they already accuse of backing the eastern rebellion.
And even if Washington stood out of an all-out conflict with Russia, other NATO nations may step up, raising the stakes of a potential clash.
"I would be concerned about the entanglement of NATO member states," Koffman said. "If there's a war there could be refugees, efforts to arm insurgents, close military to military encounters. The United States will try to lead and coordinate policy, but it does not control the reactions of allies, who will seek to ensure their own security and defend their interests."
And even sweeping sanctions such as those previewed against Putin himself and his nation's new Nord Stream 2 gas pipeline to Germany may have unforeseen ramifications.
"Russia is not in a good position to retaliate using economic levers of power, but if the U.S. inflicts strategic levels of damage to their economy, it could lead to a series of follow-on crises," Koffman said.
"Russia is unlikely to sit back and take the punishment, especially if it has implications for regime stability," he added. "Moscow has means to lash out, even if they're not symmetric in nature."
Kremlin spokesperson Dmitry Peskov told reporters earlier this month that Putin has made clear to Biden that sanctions would threaten the very relationship between Washington and Moscow, ties that, although often strained, withstood the Cold War and date back interrupted to 1933.
And in his own words, Putin has warned of a "military-technical" response if Russia perceived any threatening moves by NATO near his country's borders.
Rajan Menon, a City College of New York professor who also serves as senior research scholar at Columbia University's Saltzman Institute of War and Peace Studies, a non-resident scholar at the Carnegie Endowment for International Peace and director of the Grand Strategy program at the Defense Priorities think tank, emphasized the potentially global nature of any escalation.
Menon told Newsweek that much of the discussion on the tense situation in Eastern Europe focused "appropriately on Ukraine, that's where the troops are."
He added a caveat that the threat may extend much further.
"But I will just remind you that when the Russians have used the term military-technical means," he said, "they have not necessarily always followed it up with military-technical means against Ukraine. They have talked about Europe, or generally, and indeed, outside of Europe."